"Everything's gonna be alright"…..(Rod Stewart reference)…..
I see by the clock on the wall….it is time to end my posting day……..I leave my readers with one last thought…….BACON! (Sorry must be on-set Touret's)….
Yes we have a GOP debate to night…..there will be a "kiddie" table one first and then the Big Event….the Trump Show will commence…..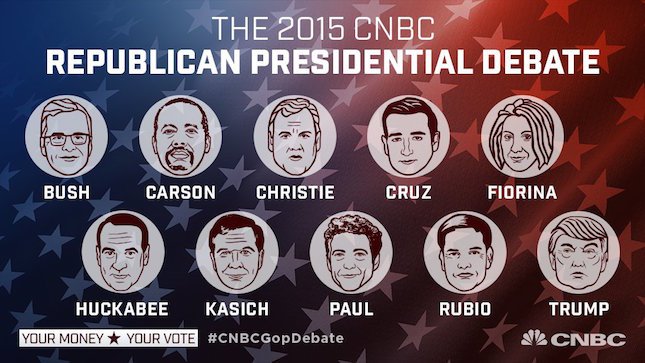 I will go on record as saying that there will be NOTHING new here…Trump will perform…all others will try to play catch up….
But I guess if you must amuse yourself with silliness….then what you need to watch for in tonite's matinee……
The Republicans debate again Wednesday night, with a field still big enough to require two events. The undercard is at 6pm Eastern on CNBC (Rick Santorum, Bobby Jindal, George Pataki, and Lindsey Graham), followed by the main event at 8pm on the same network with the remaining 10. (Their rankings, according to cumulative polls: Donald Trump, Ben Carson, Marco Rubio, Jeb Bush, Carly Fiorina, Ted Cruz, Mike Huckabee, Chris Christie, John Kasich, and Rand Paul.) Given that CNBC is a business news network, expect a heavy focus on economic issues, notes USA Today. Some things to watch:

Trump vs. Carson: Trump has lost his lead to Carson in the latest polls (though he still leads cumulatively), which means "the Donald will be looking to tear him down," notes Slate. Will Carson's cool demeanor crack now that he's a bigger target as a frontrunner?
Me?  I have a really excellent bottle of Spanish Sherry…..I will sleep like a baby.