A new attack this time in Belgium and all the cross-eyed idiots have come out of the woodwork to offer some sort of solution to this growing problem…..and that, if implemented, will cause more problems to the problems.
The usual suspects have come out with all the extreme measures to control terrorism, the problem is what they propose will not stop any attacks in the future but it all sounds good when you are talking to mental midgets.
We have candidates promising to defeat terrorism (a promise they cannot guarantee) and others that want to basically wall off "Muslim" neighborhoods and turn them into a reflection of a "ghetto" from WW2…..then there are those that think that bombing someone will create some sort of submission….a delusional art of the thought.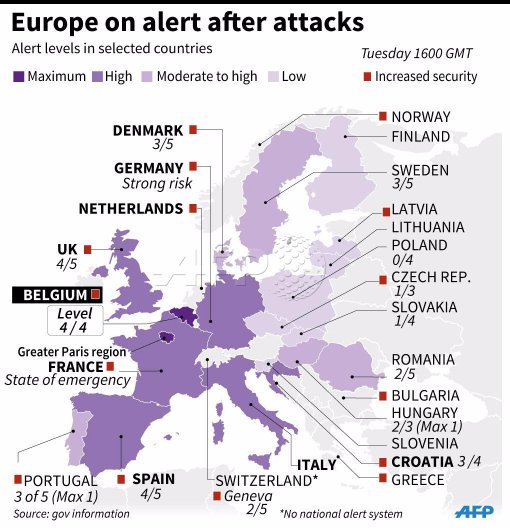 Let's look at the three suspects that did the dirty deed in Brussels……all three are known for violent attacks in the past and were known by the authorities and yet they could not be stopped from carrying out their attacks of terror.  Should that not question the effectiveness of security measures?
Yes, there needs to be a response to all this violence…..the problem is any emotional outburst or mindless bravado is not the answer needed to stop this thing.  Some solutions would infringe on a persons rights but that is okay….. that is until their rights are infringed upon and then it is the 'new world order' taking over.  As usual some people's rights are more important than others….at least in the US, that is…… Enough about the people (a polite word….I had another in mind but it would have been too insulting to type)…….that would crap on our Constitution because they are afraid and not thinking like an American.
I am sure there are those that have taken offense to what I have typed and will inevitably insert….if you are so damn smart then what is your answer to this problem"?
Fair enough….and until like my detractors that deal in insults, innuendoes and emotional dribble…….I do have an idea on how to combat this growing violence……
To counter the growing threat will take two prongs…..a short term and a long term program.
First, contrary to the popular belief by some so-called Americans….not all Muslims are terrorists…..I know it may be hard to believe but most are not connected to any terrorist thought no more so than say all Christians are terrorist because some whacked out d/bag blew up an abortion clinic.  Accusations are not a plan that will work!
First, do not send in the storm troopers into the communities….this will force them to close ranks and any valuable assistance will be lost.  This has been the reaction for the last couple of months and what has it accomplished?
Next reach out to community leaders….they will want to see to the safety and the security of their people.  Then use these people to reach out to the others within the community for they will be easier for others to communicate with and possibly find out what the strong arm tactics could not.
If a country truly wants to stop these types of attacks then the best way to do so is by using the very people that the terrorists hide among.  Without their cooperation then the police and security forces will have to apply more harsh tactics that will force the people to withdraw even further and in the same time frame help create more extremists from within the ranks of the community.
This would be a beginning that will be appreciated and in so will be rewarding.
Long term…….this is a more difficult program to design……because of the web of multiple agencies that must be involved…..The fundamental dilemmas and contradictions relate to treating domestic terrorism as a law enforcement or a national security issue and the tensions among public safety, privacy, security and civil liberties. Additionally, in a federalist system, with fifty separate states and widely differing laws and regulations, ensuring coordination and integration is a Sisyphean labor. On one hand, obviously intelligence and information are crucial to checking domestic terrorism.
But, on the other hand, with seventeen federal intelligence agencies and many-fold more state and local capabilities from cops on the beat to fusion centers, and liaison capabilities with foreign governments along with huge challenges that relate to security, clearances and information exchanges, integration and coordination present formidable obstacles in improving efficiencies and effectiveness. Clearly, no simple or single formula to balance these often competing and conflicting forces exists or is likely to be invented soon. But without removing or bypassing these obstacles, domestic terror will always remain "a clear and present danger."…..or is it?
So few Americans have traveled to the Middle East to fight for ISIS that the threat from the even fewer who returned to the U.S. is "low" and "will likely be manageable," says a new report from the New America Foundation, a Washington-based think tank that maintains a sprawling database on terrorists.
Source: New Study Says U.S. Threat from Returning Jihadis Is Low | TIME
Of course this study will be ignored by those that live in a perpetual state of uncontrollable fear like Alex Jones and about 1000 blogs that have little else to write about daily.
Intel sharing seems to be the most obvious problem.  The intel is shared but is it shared in a timely manner?  For if it does not fit the paradigm then it is wrong.
In case you have not noticed….terrorism is not on the forefront of some people's minds right now…..they are more concerned with who pees where……I do love the minds of some people……seems they can only cope with a minute amount of info at a time.