It is a question that many people are asking….well not everyone just the sane ones.
They lost the White House and the Senate and the House….you would think that after such defeats that they would take a hard look at their party and do what is needed to make some adjustments…..well you would be mistaken.
I mean the GOP of 1956 was an excellent party that cared about the people and the country….but since then it has slid into worthless jingoism.
And yet they cannot see this failure and do some rebranding….
Typically, after losing a presidential election, a political party will undertake an intense intra-party debate over why it didn't win and how the party needs to change to take back the White House. Democrats did so after losing in 1988, 2000, 2004 and 2016. In fact, even after winning in 2020 — taking control of the White House and U.S. Senate and maintaining control in the U.S. House — Democrats are having an intra-party debate, trying to figure out why they didn't win more House seats and struggled with Latino voters. Republicans, too, have had such debates, after losses in 1996, 2008 and 2012. 

But not this time.
Why The Republican Party Isn't Rebranding After 2020
No rebranding…..just the same obstructionism that has plagued this nation for years…..and the esteemed leader of the Senate GOP will do nothing to change the slide of the GOP…..
Senate Minority Leader Mitch McConnell made clear what he hopes to do this term: obstruct President Joe Biden's administration in the same way he obstructed then-President Barack Obama's.

"One hundred percent of my focus is on stopping this new administration," McConnell said at a press conference. "What we have in the United States Senate is total unity from Susan Collins to Ted Cruz in opposition to what the new Biden administration is trying to do to this country." McConnell later caveated his comments slightly, noting: "I'm anxious on stopping the Biden agenda — depending on what it is."
https://www.vox.com/2021/5/12/22421064/mcconnell-poll-bipartisanship
So Mitch is going to destroy the GOP….and no one asked…..why?
But nobody is asking the bigger question: "Why would a professional, lifelong politician and master tactician like Mitch McConnell make such a huge mistake?"

I believe the answer is that McConnell does not think he's making a mistake. He thinks he's right. He thinks he's going to win.

I believe he has completely deluded himself. He has bought his own BS. And it won't be the first time senior Republican leadership has done this and then destroyed the GOP in the process.
https://www.rawstory.com/mitch-mcconnell-is-about-to-destroy-the-gop/
Personally the sooner the idiots in the GOP destroy the party the better the country will be….then maybe the GOP will return to support of the country…..just like in 1956…..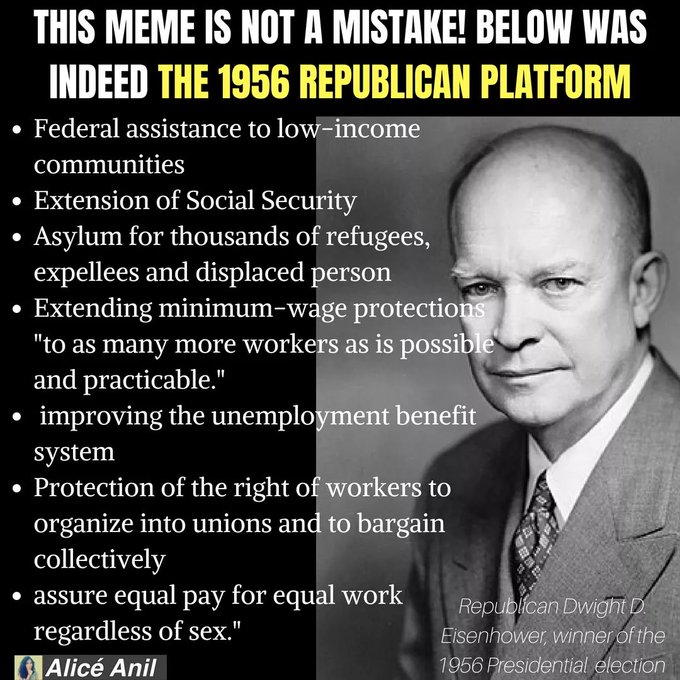 Now there is policies of a party that cares about this country and not serving as some sort of spoiler to any social progress.
Will the GOP ever find its way out of the fog it has created for itself?
Some say that there is a civil war within the GOP…..and the GOP lost.
House Republicans voted Rep. Liz Cheney out of her leadership position and replaced her with compliant quisling Rep. Elise Stefanik. On the same day, 100 current and former Republican officials wrote a letter threatening to form a third party, a move that The Washington Post described as vowing to begin a "civil war" within the party.

Still on the same day, at a House hearing in which former acting Sec. of Defense Christopher Miller testified to events on Jan. 6, Republican after Republican stepped up to not just ignore the attempted overthrow of democracy, but to embrace it. Republicans described the deadly assault on the Capitol as a "normal tourist visit" in which "peaceful patriots" were "hugging and kissing" the police. It was a description so out of touch with reality that, as CNN reports, Republican Sen. Lisa Murkowski declared that she was "offended." 

All of this certainly gives the impression of a party awash with conflict. As one CNN analyst declared, this is what happens "when political parties implode." But right across the virtual page, a second CNN editorial strikes a different note. There is no civil war within the party, Instead, Republicans are "in near-perfect lockstep with Trump" and "with the politics of Trumpism."

And honestly, that's the correct view. The war in the Republican Party is already over. And the Republican Party lost. 
https://m.dailykos.com/stories/2021/5/15/2030616/-The-civil-war-in-the-Republican-Party-is-over-and-the-Republican-Party-lost
I think it can but it will take a hard look at the stupidity that has taken the party by the 'nads and exorcise its demons (begin with Trump and his sycophants)
But that is years away….this is the new normal in politics…..stupidity over rational thought.
I weep for my country.
Watch This Blog!
I Read, I Write, You Know
"lego ergo scribo"