This round of protesting over the death of a black person at the hands of the police….these protests turned violence laced with destruction and arson…..and once again the talk is about reform of the police departments and their attitudes toward the minority communities….
All the focus on the PDs and politicians to step up and do the right thing…..and Minnesota took a step backwards…..
Legislators in Minnesota—the state where George Floyd was killed—huddled all night over police reform and walked away empty-handed, the New York Times reports. Democrats called for major changes to police oversight and Republicans more "common-sense reforms," leading the two chambers to adjourn at around 6am Saturday without a deal. "I am deeply disappointed Senate Republicans chose to leave before finishing our work," said Susan Kent, Senate minority leader for the Democrats, per the Star-Tribune. Paul Gazelka, the state Senate's Republican leader, said "if they're not interested in" his latest offer, "I don't think personally that they'll ever be interested in something that we can agree to."

Democrats wanted Minnesota to beef up deadly-force laws, allow convicted felons to vote, and let the state's attorney general (a Democrat) oversee the prosecution of police killings. Republicans called for milder measures, like prohibiting chokeholds in most police encounters and requiring police to stop officers from using excessive force. Democrats called those half-measures that haven't helped elsewhere, then made a counter-offer at midnight that didn't include voting felons and AG investigations. But the Democrat-led House and Republican Senate still couldn't reconcile. "Minnesotans expect us, like they do in their jobs, to finish when the work is done," said Gov. Tim Walz, who added that this "is at the center of what we should be doing."
My question is…if reforms cannot get a foothold in the place this round began is there any hope for real reform….anywhere?
With all the chaos and protests and NYPD Commission finds they acted properly…
The New York Police Department (NYPD) commissioner on Monday defended the officers who drove into protesters against police brutality late last month, saying they did not violate the department's use-of-force policy.
Politicians are doing what they always do….Lots of talking loud and proud and saying nothing…..and inaction prevails.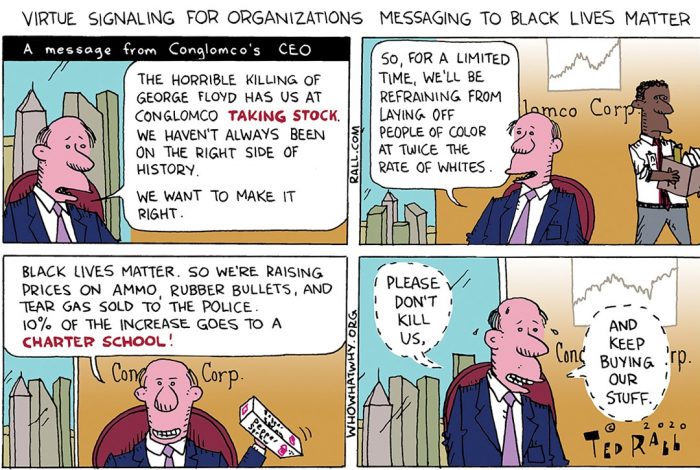 What started in Minneapolis should never be allowed to cease…..if government will not listen then take it to the streets…..and stay there until these "fat cats" grow ears.
I Read, I Write, You Know
"lego ergo scribo"