This pandemic has seen the loss of revenue (profit) for many firms and the Congress has put together several stim plans to help business weather this viral storm……
The latest industry to get lots of taxpayer money is Military-Industrial Complex……
The Pentagon has begun to bail out U.S. companies that have seen large parts of their business dry up amid the coronavirus pandemic, in a bid to make sure they can still build weapons.

On Wednesday, officials announced that five mid-tier defense companies had received a total of $135 million to "help sustain defense-critical workforce capabilities in body armor, aircraft manufacturing, and shipbuilding," according to a Defense Department statement."These actions will help to retain critical workforce capabilities throughout the disruption caused by COVID-19 and to restore some jobs lost because of the pandemic," Lt. Col. Mike Andrews, a Defense Department spokesman, said in the statement
https://www.defenseone.com/business/2020/06/pentagon-starts-bailing-out-companies-have-lost-business-due-coronavirus/166106/
How will this effect the industry and the DoD?
First of all we cannot afford the weapon systems that the DoD is drooling over…..will the Pentagon be capable of choosing what system to get over another?
The Pentagon cannot afford all of the new weapons it wants to buy and will be forced to choose winners and losers, absent an influx of cash, a new assessment from data and analytics firm Govini.

More cash is unlikely, experts say, regardless of whether President Trump wins a second term or is defeated by his Democratic challenger Joe Biden. Moreover, they predict the Pentagon will face increased competition for dollars as the United States tries to dig itself out of a recession brought on by the coronavirus pandemic, which has left more than 30 million American without jobs.

"I don't see a Biden administration making big, big cuts to defense," said Robert Work, a deputy defense secretary during the Obama administration who is now chairman of Govini, an artificial intelligence-driven analysis firm. "But what I see a potential Biden administration doing is defining the priorities within defense in a different way."
https://www.defenseone.com/business/2020/06/pentagon-cant-afford-all-weapons-it-wants-new-report-says/166034/
I say if it does not protect the homeland from imminent attack then it should be scrapped until better days are here again.  After all that is what families have to do in these days of dwindling funds…if it is not essential then it can wait.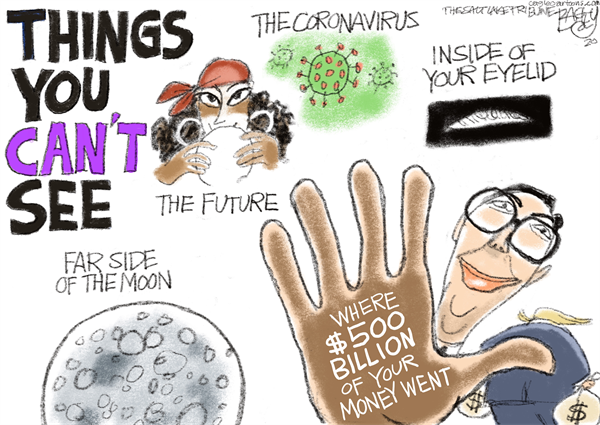 "lego ergo scribo"