Yesterday Donald the Orange had to go outside and show his fascist tendencies and venture to a church for a photo op and use a Bible as a prop…..
After President Trump's dramatic threat to bring out the military to quell protests, he walked from the White House to the nearby "Church of the Presidents" to pose for photographers while holding a Bible. He also invited his attorney general, national security adviser, chief of staff, press secretary, and defense secretary to join him for photos before he walked back across Lafayette Square Park to the White House. Some faith leaders weren't happy with the move. The Right Rev. Mariann Edgar Budde, bishop of the Episcopal Diocese of Washington, to which St. John's Church belongs, said she was "outraged" by the moment and noted that Trump didn't pray during his visit. "He took the symbols sacred to our tradition and stood in front of a house of prayer in full expectation that would be a celebratory moment," Budde told the AP.

"There was nothing I could do but speak out against that." She told the Washington Post the church was used as a "prop" and that she was not notified Trump would be visiting. And Rabbi Jack Moline, the president of Interfaith Alliance, slammed the fact that peaceful protesters near the White House were gassed and shot with rubber bullets before Trump held his photo op. "Seeing President Trump stand in front of St. John's Episcopal Church while holding a Bible in response to calls for racial justice—right after using military force to clear peaceful protesters out of the area—is one of the most flagrant misuses of religion I have ever seen," Moline said in a statement. "This only underscores the president's complete lack of compassion for Black Americans and the lethal consequences of racism."
Not to worry his words have been recorded for all to see in years from now……
In an act unprecedented in American history, Donald Trump has repudiated the Constitution and is attempting to establish a presidential dictatorship, supported by the military, police and far-right fascistic militia acting under his command. The Socialist Equality Party appeals to the working class and all those committed to the defense of democratic rights to oppose this criminal action.

Speaking on national television, Trump proclaimed: "I am your president of law and order… Our nation has been gripped by professional anarchists, arsonists, looters, criminals, Antifa and others."

Trump's fascistic rant came only minutes after he ordered massively-armed military police to launch a violent attack on citizens engaged in a lawful and peaceful assembly outside the White House to protest the police murder of George Floyd.
https://www.wsws.org/en/articles/2020/06/02/pers-j02.html
Is it me or did Trump look like his diaper was full while standing in front of the church….plus the Bible was upside-down…..if you cannot see any of this then you should not call yourself an American.
There is one problem with his lame ass threat……think 1878……
The 1878 Posse Comitatus Act places strong guardrails against a president using active duty military troops to uphold civil laws on US soil. Congress can waive the law, but it is not likely Democrats would cede such authority to Mr Trump given the politically and racially sensitive nature of the protests.
https://www.independent.co.uk/news/world/americas/us-politics/trump-george-floyd-protests-army-general-mark-milley-a9543496.html
What a douche bag…he still thinks that he was elected to have unlimited power with NO one to answer to…..and he surrounded himself with milquetoast sycophants that would rather spend time on their knees than tell the dumb ass the truth.
Look at this photo of Donald the Orange…..
Appears he is not sure what a book is used for….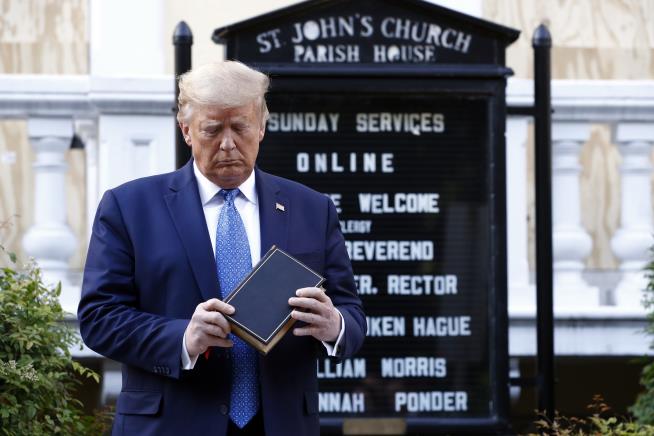 (AP photo by Patrick Semansky)
Any Christian that supports this fool after this display is no more a Christian than I am…..enuff said!
One last question…what did they think would happen?
Did they really think that putting a man bereft of character, decency, and empathy in charge of the country wouldn't make a difference?

Did they really think that dismissing each instance of his racism, bullying, fecklessness, megalomania, corruption, lies, and stupidity it wouldn't have a cumulative effect?
What Did They Think Would Happen?
Here I want to throw a favorite Jefferson quote of those mentally challenged slugs in the Tea Party…."when injustice becomes law, resistance becomes duty".
I'll bet your thought I was going to use the "Tree of Liberty" quote right?
Oh Hell I cannot disappoint….."the tree of liberty must be refreshed from time to time with the blood of patriots & tyrants. it is it's natural manure."
Happy now?
We are witnessing a petty dictator trying to look like he is in control….being bully is not a strong leader…..it is nothing but a petty fascist struggling to appear to be in control.
Time to stand up or spend more time on your knees.
"lego ergo scribo"