Closing Thought–10Aug20
This is for all those old farts that still support the president…that would be Trump in case you are not sure…..
Trump has liberally used the power of the Executive Order when he cannot get his way from Congress and he has a new idea for his next EO.
A cut in payroll taxes,,,,yes it will give the worker more money but at the same time will begin the gutting of Social Security…..
An advocacy group representing more than four million American retirees warned Thursday that President Donald Trump took a dangerous step toward "single-handedly" dismantling Social Security by announcing he plans to sign an executive order suspending collection of the payroll tax as early as Friday afternoon.

With congressional negotiations over the next Covid-19 stimulus package still at an impasse, Trump told reporters Thursday that executive orders to suspend the payroll tax, extend boosted unemployment benefits, and reestablish an expired eviction moratorium are "being drawn now" despite questions over whether the president has the authority to unilaterally take any of those actions.

Trump said he expects to sign the orders "tomorrow afternoon or maybe the following morning" if White House negotiators and Democratic leaders don't reach a deal. Both Democrats and Republicans in Congress have rejected the idea of cutting the payroll tax, the primary funding mechanism for Social Security.

Richard Fiesta, executive director of the Alliance for Retired Americans, said in a statement that "after learning that Democratic and Republican congressional leaders would not go along with his harebrained scheme to cut Social Security's dedicated funding source, President Trump lashed out and announced he would begin dismantling the system single-handedly."
https://www.commondreams.org/news/2020/08/06/retirees-vow-fight-attempt-gut-social-security-trump-announces-executive-order/
Once again the seniors will take a good screwing and yet they will continue to vote for the toads that are raping their benefits.
I am still working on where the logic in that sort of politics….
But I will admit I can see Trump's point……his proposed EOs…..
The workweek came and went without a deal in Congress for pandemic relief, and that's despite a two-hour meeting Friday with Nancy Pelosi, Chuck Schumer, Treasury's Steven Mnuchin, and White House chief of staff Mark Meadows. Afterward, the latter two said they would recommend that Trump issue executive orders, and the president pledged to do just that in a Friday evening press conference, reports USA Today. Details are scarce—including on where the money would come from—but Trump said he planned to tackle four main issues, per the Hill:

Pay enhanced unemployment benefits through the end of the year
Defer student loan payments and forgive interest for the near future
Reinstate a federal moratorium on evictions
Defer the payroll tax until year's end
Gridlock brought this about……
Trump signed four executive orders to act where Congress hasn't, contending Washington's gridlock had compelled him to act as the pandemic undermined the country's economy and imperiled his November reelection hopes. Perhaps most crucially, Trump moved to continue paying a supplemental federal unemployment benefit for millions of Americans out of work during the outbreak.

However, his order called for up to $400 payments, one-third less than the $600 people had been receiving. Congress allowed those higher payments to lapse on Aug. 1, and negotiations to extend them have been mired in partisan gridlock, with the White House and Democrats miles apart. Now, Trump, who has not spoken with Democratic House Speaker Nancy Pelosi since last year, sought to play the role of election-year savior, with the $400 weekly assistance, as well as a deferral of payroll tax and federal student loan payments and the continuation of a freeze on some evictions during the crisis. "It's $400 a week, and we're doing it without the Democrats," Trump said, asking states to cover 25% of the cost.
This according to the conservs of Lincoln Project……
This defunds Medicare.
This defunds Social Security.
Tax collection is just deferred.
You'll still owe these taxes next year.
Stop calling it Washington gridlock…it is the Senate that does nothing and I mean NOTHING….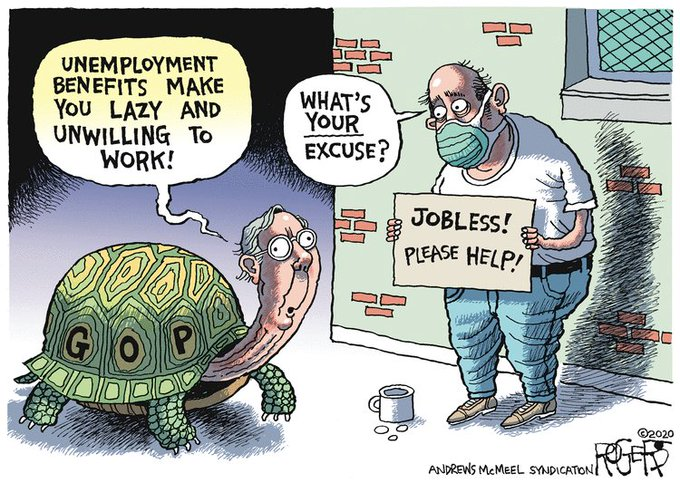 I still think the payroll tax thing is the beginning of the assault on Social Security and Medicare……I give Trump his props for doing what the Congress could not….but I still question his motives.
Something to think about……
President Donald Trump on Saturday afternoon openly vowed to permanently "terminate" the funding mechanism for both Social Security and Medicare if reelected in November—an admission that was seized upon by defenders of the popular safety net programs who have been warning for months that the administration's threat to suspend the payroll tax in the name of economic relief during the Covid-19 pandemic was really a backdoor sabotage effort.

Announcing and then signing a series of legally dubious executive orders, including an effort to slash the emergency federal unemployment boost by $200 from the $600 previously implemented by Democrats, Trump touted his order for a payroll tax "holiday"—which experts noted would later have to be paid back—but said if he won in November that such a cut would become permanent.
https://www.commondreams.org/news/2020/08/08/trump-just-admitted-live-television-he-will-terminate-social-security-and-medicare
Learn Stuff!
Watch This Blog!
I Read, I Write, You Know
"lego ergo scribo"