AS Memorial Day approached the US Army thought it would try something new….it ran a survey that asked veterans on Twitter a simple question…..the answers were not what the Army was hoping to get…..
……..the US Army asked veterans on twitter a simple question, "How has serving impacted you?" As Memorial Day approaches, whoever is in charge of the Army's social media was probably hoping for some nice responses about all the benefits they think come with serving, college education, the bonds formed with fellow soldiers or the invaluable life experience. But the sad reality that our nations veterans and their families face showed itself in the thousands of heart-breaking replies to the question.

Michael J Neel replied, "26 brothers dead. Only 8 in theater. Psyche ward myself after 3 attempts. Everything we accomplished in Mosul was wasted. Every life we gave was spat on. That's how serving impacted me." Veteran Drew Turner said, "Let's see. Lost the functional use of a hand, developed a rare movement disorder and cancer both likely from burn pit exposure, enjoy sleeping 3 to 4 hours most nights due to nightmares and during the day random anxiety attacks all due to PTSD, 7 herniated discs, arthritis…"
These veterans are begging for help….IS ANYONE LISTENING?
AS I wrote…not exactly what the Army intended……these are the stories the media needs to report and stop cheer leading for war and aggression and adventurism.
And then forgotten heroes that are with us and we choose to look away…..
Every Memorial Day, we remember the great heroes who perished, from Gettysburg to Normandy to the streets of Basra. Our country was founded, defended and defined on the backs of those who gave the ultimate sacrifice for our nation and our freedoms.

We think today of the lives that were cut short. Of the men and women in their twenties who never made it home. The children they never had, or the birthdays and graduations they never saw. We must pause to reflect on those lives that were shortened in the name of letting the rest of us live on. We remember their sacrifice on the battlefields in defense of our nation, as we rightfully should.
https://www.nydailynews.com/opinion/ny-oped-the-casualties-of-war-we-often-forget-20190527-nht36h46kvcjnej3lasew5bstu-story.html
Once again these are the stories that should make the news nightly…instead of what a royal baby is named or what shoes some model wore in Cannes.
None of that is life changing or will make a difference in society….so why bother?
A closing thought is mine and mine alone……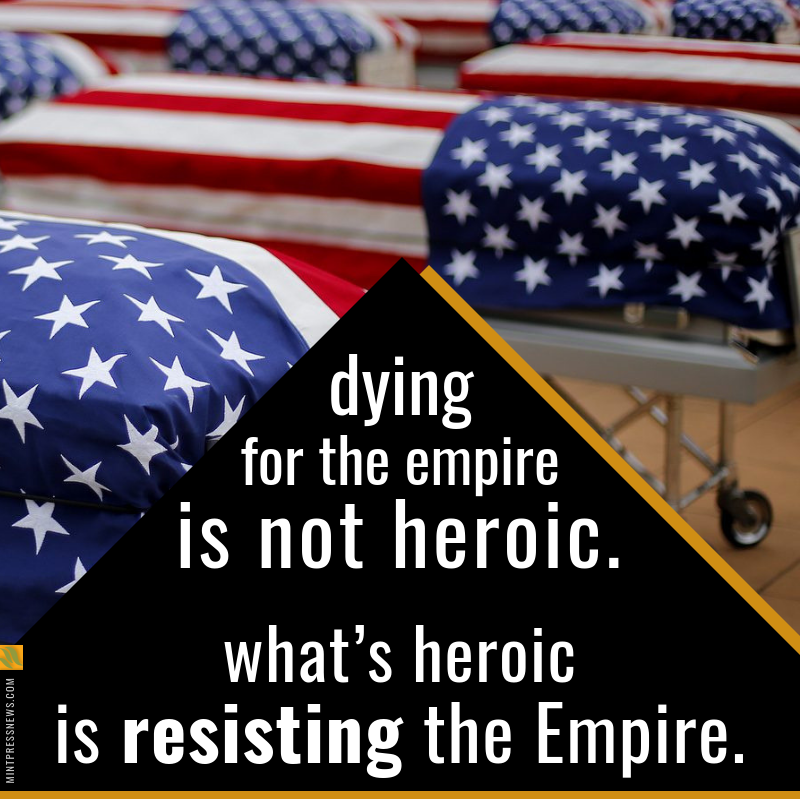 Be a hero and resist the warmongers among us.