On the second day of Trump's day in the Senate….the Dem managers were a 1000 times better and more articulate than the two baboons that Trump had pleading his case on Tuesday.
That babbling idiot that was pleading now says that his inept handling of the opening argument was on purpose….
"That was by design," Castor said. "I don't like reading bad stuff about me in the newspaper any more than anyone else does, or my legal colleagues around the country saying I'm stupid, but the reason I made the change was precisely so that in lowering the temperature in the room, the public coverage would be more about what I said than about what the House Managers said."

Read the full report.
This whole trial thing just proves one thing….it is as always party over country….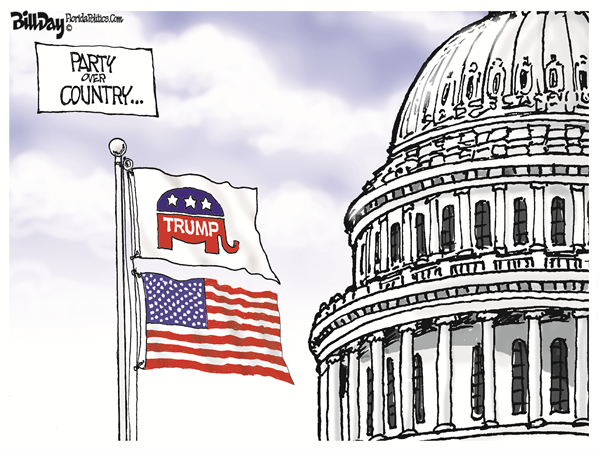 I say this because evidence means nothing….and the minds of the GOP are already decided the outcome…it is not a trial it is theater of the absurd.
I step down off my soap box and go to Day 2…..
"We are having a trial on the facts." More:

The "inciter-in-chief." Raskin said Trump was "no innocent bystander" in the Jan. 6 attack. "There was method in the madness that day," Raskin said, per the BBC. "This was an organized attack." Raskin said Trump "surrendered his role as commander-in-chief" to become the "inciter-in-chief." "This was the greatest betrayal of the presidential oath in the history of the United States," he said.
First Amendment argument targeted. Raskin targeted arguments made by Trump lawyers Tuesday that Trump's fiery speech before the attack was protected free speech. "This case is much worse than someone who falsely shouts fire in a crowded theater," Raskin said, per the Guardian. "It's more like like a case where the town fire chief, who's paid to put out fires, sends a mob not to yell fire in a crowded theater, but to actually set the theater on fire."
"The provocation." Rep. Joe Neguse, another impeachment manager, said the prosecution's case would be broken down into "the provocation," "the attack," and "the harm." He started the "provocation" segment by playing clips of Trump urging supporters to challenge the results of the November election. "People listened. Armed supporters surrounded election officials' homes. The secretary of state for Georgia got death threats," Neguse said, per Politico. "Officials warned the president that his rhetoric was dangerous and it was going to result in deadly violence," Neguse said. "He didn't stop it. He didn't condemn the violence. He incited it further."
"Deliberate, planned, and premeditated." Impeachment manager Rep. Eric Swalwell displayed Trump tweets and speeches that he said showed Trump built the "rigged" election claim for months before and after the election, the Post reports. He showed a "save the date" tweet from December, in which Trump said of Jan. 6: "Be there. Will be wild." "The evidence here is overwhelming," Swalwell said. "President Trump's conduct leading up to Jan. 6 was deliberate, planned, and premeditated."
"The actions of a desperate president." Rep. Madeline Dean, another impeachment manager, described Trump's attempt to overturn the election result as "the actions of a desperate president" and played recordings of Trump pressuring officials, including a call in which he urged Georgia Secretary of State Brad Raffensperger to "find" enough votes to change the result.
Trump "ran out of nonviolent options." Impeachment manager Rep. Ted Lieu told senators that Trump turned to the "violent mob" after he "ran out of nonviolent options to maintain power," the Hill reports. Another impeachment manager, Del. Stacey Plaskett, looked at other violent actions by Trump supporters, including an October incident in Texas where Trump supporters tried to force a Biden campaign bus off the road. She noted that Trump tweeted video of the incident with added music and the comment "I LOVE TEXAS!"
Impeachment managers also showed video of then-Vice President Mike Pence and his family being evacuated from the Senate chamber after rioters had already breached the building, the Guardian reports. Plaskett said rioters at one point came within 100 feet of the room where Pence was sheltering before Goodman led them away.
Other footage showed rioters using wooden beams to smash their way into the Capitol, coming close to the Senate chamber where the trial is now taking place, the Los Angeles Times reports. "They were just feet away from one of the doors of this chamber, where many of you remained at that time," Plaskett told senators. Footage from security cameras inside the Capitol showed a lone police officer quickly being overwhelmed by rioters.Plaskett also showed the trial new footage of rioters hunting for House Speaker Nancy Pelosi, shouting "Where are you Nancy" as they make their way through the Capitol, the BBC reports. She also showed video of Pelosi's staffers barricading themselves in an office minutes before rioters arrive. "You can hear the terror in their voices as they describe what's happening as they are barricaded inside," Plaskett said. She said Pelosi was rushed to a secure location offsite because some rioters had declared their intention to kill her.
Impeachment manager Rep. Eric Swalwell showed security footage of Capitol police officers blocking a hallway to illustrate how close to danger senators had come. "You know how close you came to the mob. Some of you, I understand, could hear them," Swalwell said. "But most of the public does not know how close these rioters came to you. As you were moving through that hallway, I paced it off. You were just 58 steps away." Swalwell also showed video of violence against law enforcement, including graphic footage of an officer being crushed in a set of doors, and of the shooting of Ashli Babbitt as she tried to climb through a broken window to the House lobby.
Swalwell also showed previously unreleased security footage of Sen. Chuck Schumer, who is now Senate Majority Leader, and his security detail walking up a ramp and then running back down after encountering rioters, CNN reports. "They came within just yards of rioters," Swalwell said.
The evidence was compelling…..well compelling to anyone with an open mind…..that omits the Senate GOP for the most part.
Day Three will be more evidence.
Watch This Blog!
Be Smart!
Learn Stuff!
I Read, I Write, You Know
"lego ergo scribo"