First I would like to wish all my readers a very Happy Valentine's Day…..
Surprise! Surprise!
Former Pres. Trump has been acquitted in the Senate.
I am aghast!
Who could have seen this coming? (BTW that is sarcasm in case you missed it)
Whiz Bang!
57-43 (a predictable outcome days ago)
The Senate voted Saturday to acquit Donald Trump of inciting insurrection, ending the effort to hold the former president responsible for the Jan. 6 attack on the US Capitol. Seven Republicans voted with Democrats to convict, the AP reports, providing the largest show of bipartisan support for conviction of any of the four times a president has been impeached. But a two-thirds vote was required for conviction. Without a conviction, per New York Times, Senate Democrats were unable to move to what would have been the next step: voting on whether to disqualify Trump from holding office in the future.

House managers wrapped up their case before the vote by arguing that Trump sparked the Capitol riot in a desperate attempt to stay in office after arguing he lost the November election because of fraud. "If that is not ground for conviction, if that is not a high crime and misdemeanor against the republic and the United States of America, than nothing is," Rep. Jamie Raskin told his colleagues. Defense lawyer Bruce Castor said Trump didn't intend to turn loose the rioters: "He wanted them to support primary challenges" to bring about "sweeping election reforms."
What a complete farce this was.
The Leader of the Senate GOP had something to say about the whole thing…
Minority Leader Mitch McConnell delivered a stinging indictment of former President Trump from the Senate floor on Saturday, but not until minutes after the impeachment trial ended in acquittal. Trump was charged with inciting an insurrection in connection with the attack on the US Capitol on Jan. 6. "Former President Trump's actions that preceded the riot were a disgraceful, disgraceful dereliction of duty," McConnell said, CNN reports. "Trump is practically and morally responsible for provoking the events of the day." The Republican's attack was more forceful than many of the floor speeches calling for conviction, the New York Times points out. In what appeared an internal compromise, he basically argued that Trump is guilty, but that the Senate can't do anything about it because he's out of office. "A mob was assaulting a Capitol in his name," McConnell said. "These criminals were carrying his banners, hanging his flags and screaming their loyalty to him." He pointed out that Trump remains subject to actions in criminal and civil court, per the AP. "He didn't get away with anything yet," McConnell said.
Remember these names!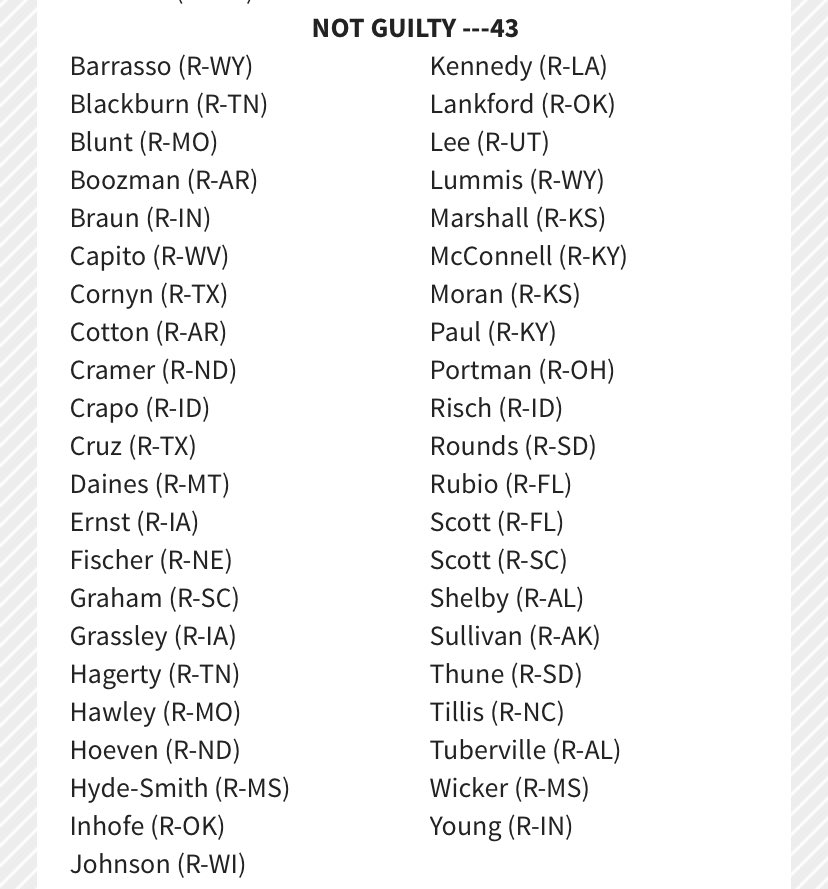 Then it was Pelosi's turn to mouth off….
At a press conference after the trial, House Speaker Nancy Pelosi attacked the 43 of 50 GOP senators who voted to acquit Trump. "What we saw in that Senate today was a cowardly group of Republicans who apparently have no options, because they were afraid to defend their job, respect the institution in which they serve," she said, per the Washington Post. The Democrat said she was unimpressed with the minority leader's speech after the vote, saying it was McConnell who ensured the trial wouldn't begin until Trump had left the White House. Democrats defended the House managers' back-and-forth on whether to call witnesses. "We could have had 5,000 witnesses, and Mitch McConnell would be giving the same speech," said Rep. Jamie Raskin, the lead manager. As the trial ended, Majority Leader Chuck Schumer also criticized the other party. "Just look at what Republicans have been forced to defend," he said, per the AP. "Look at what Republicans have chosen to forgive."
AS one would think….the King Snake came out of his hidey hole and thump his chest like some sex crazed baboon….
Former President Trump welcomed victory in his Senate impeachment trial on Saturday, suggesting he's not finished politically. "This has been yet another phase of the greatest witch hunt in the history of our Country," Trump said in a statement. "No president has ever gone through anything like it." He did not include a condemnation of the Jan. 6 Capitol attack that prompted his impeachment or apolotize for anything, the Washington Post reports. The Senate acquitted Trump of one article of impeachment, inciting insurrection, on a 57-43 vote. Seven Republican senators voted to convict. In his statement, Trump blamed Democrats, per Politico, calling it "a sad commentary" that one party "is given a free pass to denigrate the rule of law, defame law enforcement, cheer mobs, excuse rioters, and transform justice into a tool of political vengeance, and persecute, blacklist, cancel and suppress all people and viewpoints with whom or which they disagree."

With the impeachment trial over, Trump hinted at a return to the political spotlight in his statement, issued shortly after the Senate's vote. "Our historic, patriotic and beautiful movement to make America Great Again has only just begun," he said. "In the months ahead, I have much to share with you, and I look forward to continuing our incredible journey together to achieve American greatness for all our people. There has never been anything like it!" Trump didn't say anything specific about his plans. He also thanked his lawyers, after being critical of them earlier in the week.
It is mercifully over except for the endless analysis by the media.
Move On!
Turn The Page!
I Read, I Write, You Know
"lego ergo scribo"