You still do not believe that there two justice systems in this country?
Let's look at recent events…..
Terrill Thomas died in April 2016 after being denied water for seven days at Milwaukee County Jail.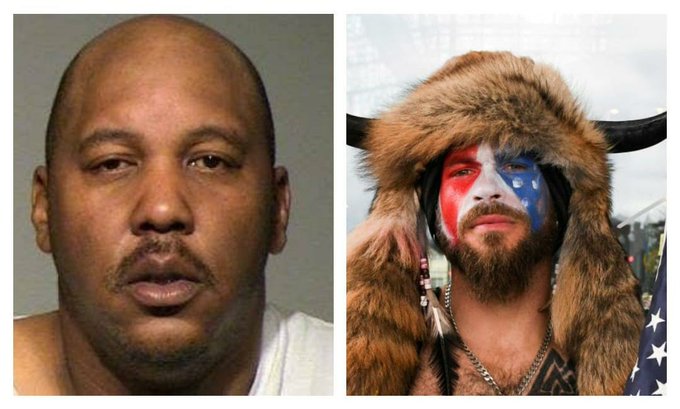 And silly ass white boy gets moved so he can have organic food……Jacob Chansley stormed the U.S. Capitol and was moved to a Virginia jail so corrections officials can provide him with organic food.
A man who stormed the U.S. Capitol while sporting face paint, no shirt and a furry hat with horns was moved to a jail in Virginia on Thursday after a federal judge ordered authorities to provide him with organic food while he's in custody.

Jacob Chansley was transferred to the Alexandria Detention Center after his attorney argued that his client had gone nine days without eating because organic food wasn't served at the jail in Washington. A judge ordered corrections officials to provide the special diet.

Chansley lost 20 pounds since being transferred from Arizona to Washington last week, his attorney, Albert Watkins, told the judge. Chansley, who calls himself the "QAnon Shaman," considers eating organic food to be part of his "shamanic belief system and way of life," the lawyer said.
https://www.nbcnews.com/news/us-news/man-who-wore-horns-capitol-riot-moved-virginia-jail-serves-n1256836
Explain that!
Two separate systems….and this is not a one off event….this happens all the time…..
This is pathetic!
I Read, I Write, You Know
"lego ergo scribo"