The forthcoming posts are for all those that did not take in the doings in this trial…..or for those that had important things to do like watch the Kardashians…..
Yesterday the Senate trial of Donald Trump and his part in the insurrection of 06 January……but how will all this play out for the cameras and nation….
It's impeachment, take II. The Senate on Tuesday begins the second impeachment trial of Donald Trump. Barring surprises, the smart money points to a short trial, maybe lasting a week, that results in Trump's acquittal. Democrats (and a few Republicans) accuse Trump of inciting the Jan. 6 Capitol riot, but Trump's lawyers say he didn't encourage violence, was just exercising his First Amendment rights about the election results, and can't be impeached anyway because he's out of office. How things are expected to play out:

Tuesday: At 1pm Eastern, the Senate will begin a four-hour debate on whether the trial is constitutional given that Trump is a former president. As Vox notes, this holds little suspense because Democrats have the numbers to prevail. The vote will set the stage for Wednesday's opening arguments.
Arguments: House impeachment managers will go first, beginning at noon Wednesday, and their arguments are expected to last into Thursday. The House team is led this time by Rep. Jamie Raskin of Maryland, per USA Today, which has a look at him and the eight other impeachment managers.
The defense: Trump's legal team is expected to begin their arguments on Friday and run into Saturday, per the AP. Originally, the Senate was going to skip Saturday to honor the Jewish Sabbath, as requested by one of Trump's lawyers, but that request has been withdrawn, reports CNN. This late development was throwing the weekend schedule into flux.
Questions: After the arguments wrap up, senators get four hours of questions, a big reduction from the allotted two days in the first trial, notes the Hill.
Wild card: Will witnesses be called? If so, this could delay the trial beyond a week. As of Tuesday morning, however, witnesses looked unlikely. Instead, the final vote is expected to happen early next week, after closing arguments.
Biden: As all this is happening, don't expect to hear much from President Biden, reports Politico. The White House strategy approceedings…pears to be to keep Biden as far removed from the developments as possible. His spokesperson isn't even saying whether he will receive daily updates.
It all began with the Constitutionality of the trial….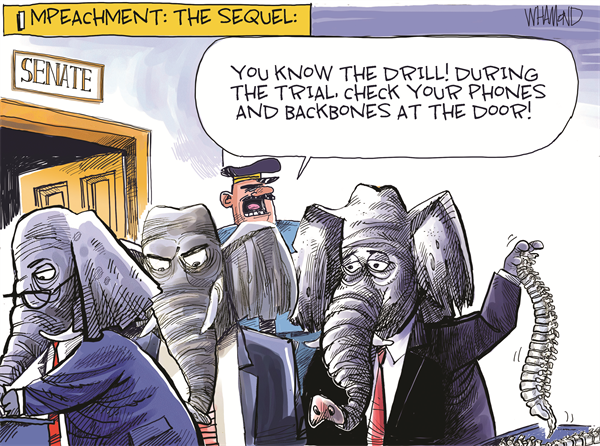 Holy crap!
Trump's lawyer rambled and babbled….contradicting himself over and over…..here are some of the big lines from day one……..
Trump's lawyers argue that it is unconstitutional to put a former president on trial, while the House impeachment managers say there is no "January exception" that permits an outgoing president to commit offenses, the Guardian reports. Some big lines:
But the best line was on Twitter…."I could eat a bowl of alphabet soup and crap out  more coherent sentence than Trump's lawyer"…well said and very observant.
After all the rhetoric the Senate had it's vote…..
A day of debate on whether it is constitutional to put a former president on trial in the Senate succeeded in changing the mind of one senator. Donald Trump's second impeachment trial was declared constitutional in a 56-44 vote, with six Republican senators voting with the chamber's 50 Democrats. Last month, five Republicans voted against dismissing the trial. On Tuesday, GOP Sen. Bill Cassidy of Louisiana flipped and said he believes the trial is constitutional, the Hill reports. He was joined by Republican Sens. Susan Collins, Lisa Murkowski, Mitt Romney, Ben Sasse, and Pat Toomey, who voted the same way last month. "I have always said I was approaching this with an open mind," Cassidy said, per the AP. He said the House impeachment managers delivered "strong arguments."
I said before that Trump's lawyers spoke and spoke and had very little to actually say…..even the 'accused' thought his lawyers were a joke…..
After the first day of Donald Trump's second impeachment trial, his lawyers are getting bad reviews from Republicans—and the former president himself, according to Politico. Sources say Trump, who spent the day at Mar-a-Lago watching the Senate trial, was not impressed by the dry, technical arguments made by lead attorney Bruce Castor. The sources tell Politico that Trump was frustrated by the contrast between the contrast between his attorneys' performance and the effective opening arguments made by House impeachment managers, who showed a graphic video of the Jan.6 Capitol riot. GOP Sen. John Cornyn also criticized Castor, saying he's seen "a lot of lawyers and a lot of arguments," and Castor's "was not one of the finest," the Washington Post reports.

Castor, who spoke for 48 minutes, "just rambled on and on and on and didn't really address the constitutional argument," Cornyn said, adding that second lawyer David Schoen did a better job. Sen. Ted Cruz, another Trump ally, said he didn't the former president's lawyers did "the most effective job," while lead House impeachment manager Rep. Jamie Rankin was "impressive," the AP reports. Sen. Bill Cassidy—one of six Republicans to vote with Democrats in favor of proceeding with the trial, and the only one to flip after the previous vote on its constitutionality—told reporters that Trump's lawyers were "disorganized" and "random," while House impeachment managers made a "compelling, cogent case." When asked about the criticism from Republicans, Castor said, "We had a good day.
I understand why some think this is necessary….but the final tally is already set.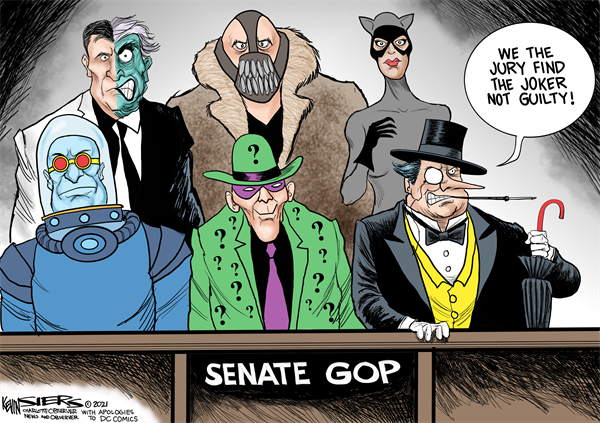 Watch the Dems opening video….
Be Smart!
Learn Stuff!
I Read, I Write, You Know
"lego ergo scribo"