In case you are totally weary of the virus news and would like to learn something that does not relate to Covid-19 then IST is your logical choice on the weekends.
A warm Sunday here in the South…..rains have flooded a lot but it will soon be over…..now on to the news……
It is official now….the Space Force has its first recruitment ad…..
Just in time for the new Space Force……a new comedy on Netflix by the same name……
Netflix is about to skew one of the newest bits of cultural phenomenon that's arrived in the last few years: the US government's Space Force initiative. Ever since the current administration announced in 2019 that it was investing in Space Force, there have been plenty of jokes at its expense.

Netflix's Space Force

series is looking to give all that mockery a nice home, with a strong comedic ensemble led by Steve Carell. But is

Space Force

really going to be the next

Office, Parks and Rec,

and/or

Veep

? The

Space Force

score on

Rotten Tomatoes

is out, and it may reveal that very answer!
Speaking of space……the US is basically selling the Moon….
The accords seek to establish 'safety zones' that would surround future moon bases to prevent what the U.S. National Aeronautics and Space Administration called "harmful interference" from rival countries or companies operating in close proximity.

They would also permit companies to own the lunar resources they mine, a crucial element in allowing NASA contractors to convert the moon's water ice for rocket fuel or mine lunar minerals to construct landing pads.

The accords are a key part of NASA's effort to court allies around its plan to build a long-term presence on the lunar surface under its Artemis moon program.
More Moon stuff…..when we finally establish we own the Moon…..the most precious element may well be….human urine…..
As humanity pushes to settle the Moon, we'll need to find ways to quickly build shelters and replenish the water supply. As it turns out, the solution to those life-and-death challenges may lie — well, within.

When it comes to fulfilling humanity's base needs — food, water, and shelter — on the Moon, the European Space Agency (ESA) thinks that the secret ingredient could be human urine, Wired reports. According to ESA research, it could serve as a crucial component of the best building material available to lunar settlers.
https://futurism.com/the-byte/moon-real-gold-human-urine
One final space thought….the "Heavenly Palace"……the Chinese want to go into competition with the West on Space stuff…..
China has laid out an ultra-ambitious timeline to construct its "Heavenly Palace" space station — a plan that involves launch 11 missions before 2023, SpaceNews reports, to construct an orbital three-module lab.

The first piece to be launched into space is a massive, 20-ton core module that will eventually serve as astronaut quarters. China is hoping to launch the module as early as 2021, according to SpaceNews.
https://futurism.com/the-byte/chinas-heavenly-palace-space-station-dazzling
Move on….shall we?
I am a dog person…..and my buddy MoMo has a great nose and that got me thinking about a story I read the other day…..a story about Indiana Bones…..
n a sunny summer day in Croatia several years ago, an archaeologist and two dog handlers watched as two dogs, one after another, slowly worked their way across the rocky top of a wind-scoured ridge overlooking the Adriatic Sea.

Bodies had lain in beehive-shaped tombs on this necropolis, part of the prehistoric hill fort of Drvisica, since the Iron Age. The two dogs, trained to detect human remains, were searching for scents that were thousands of years old.

Panda, a Belgian Malinois with a "sensitive nose", according to her handler, Andrea Pintar, had begun exploring the circular leftovers of a tomb when she suddenly froze, her nose pointed towards a stone burial chest. This was her signal that she had located the scent of human remains.
https://www.independent.co.uk/news/science/dog-archaeology-ancient-human-remains-bones-croatia-a9522776.html
The South is about to get a lot more noisy than normal…..
Some communities in the U.S. are about to get yet another surprise from what is shaping up to be a way-too-eventful 2020: Millions of cicadas making their comeback after 17 years underground. Sure, they may not be as menacing as as the giant murder hornets. But the large, winged-insects with giant bulbous eyes will definitely make their presence known with what Virginia Tech describes as their pronounced "cacophonous whining." "Communities and farms with large numbers of cicadas emerging at once may have a substantial noise issue," Eric Day, Virginia Cooperative Extension entomologist in Virginia Tech's Department of Entomology, said in a news release. Up to 1.5 million cicadas per acre are expected to emerge in Southwest Virginia, West Virginia, and parts of North Carolina this summer, according to Virginia Tech. 
https://www.thedailybeast.com/millions-of-cicadas-are-about-to-emerge-after-17-year-slumber
Now in closing I have found the idea of the decade…..Fur Oil.
What is Fur Oil?
Good Question…..
Fur Oil has become a game-changer in beauty for targeting a long-forgotten part of our bodies: pubic hair. Instead of promoting hair removal, the brand praises proper care and maintenance of our bodies' natural pubic hair growth via their rich, luxurious oil that's meant to soften and nourish your hair "down there."

We have haircare and skincare routines, but what about pube-care? Whether you're fully waxed, trimmed, or au naturale with your pubic hair, you understand the hairy situations that come with maintaining your nether regions: ingrown hairs, itchiness, and a brittle feel, just to name a few.

So, if you haven't already, it's time to give your pubes some TLC!

No, we're not talking about Kourtney Kardashian's old-school mayonnaise trick — but don't yuck someone else's yum, guys. We're talking about the cult-favorite Fur Oil, a soothing hair oil that's made specifically for your pubic area in mind, but can also be used on any area of your body that sprouts hair (eyebrows, armpits, legs, you name it!).
https://www.bestproducts.com/beauty/a32478910/fur-oil-review/
Yesterday I found a great deal on fresh corn……13 ears for $1.56….and I went to the grill….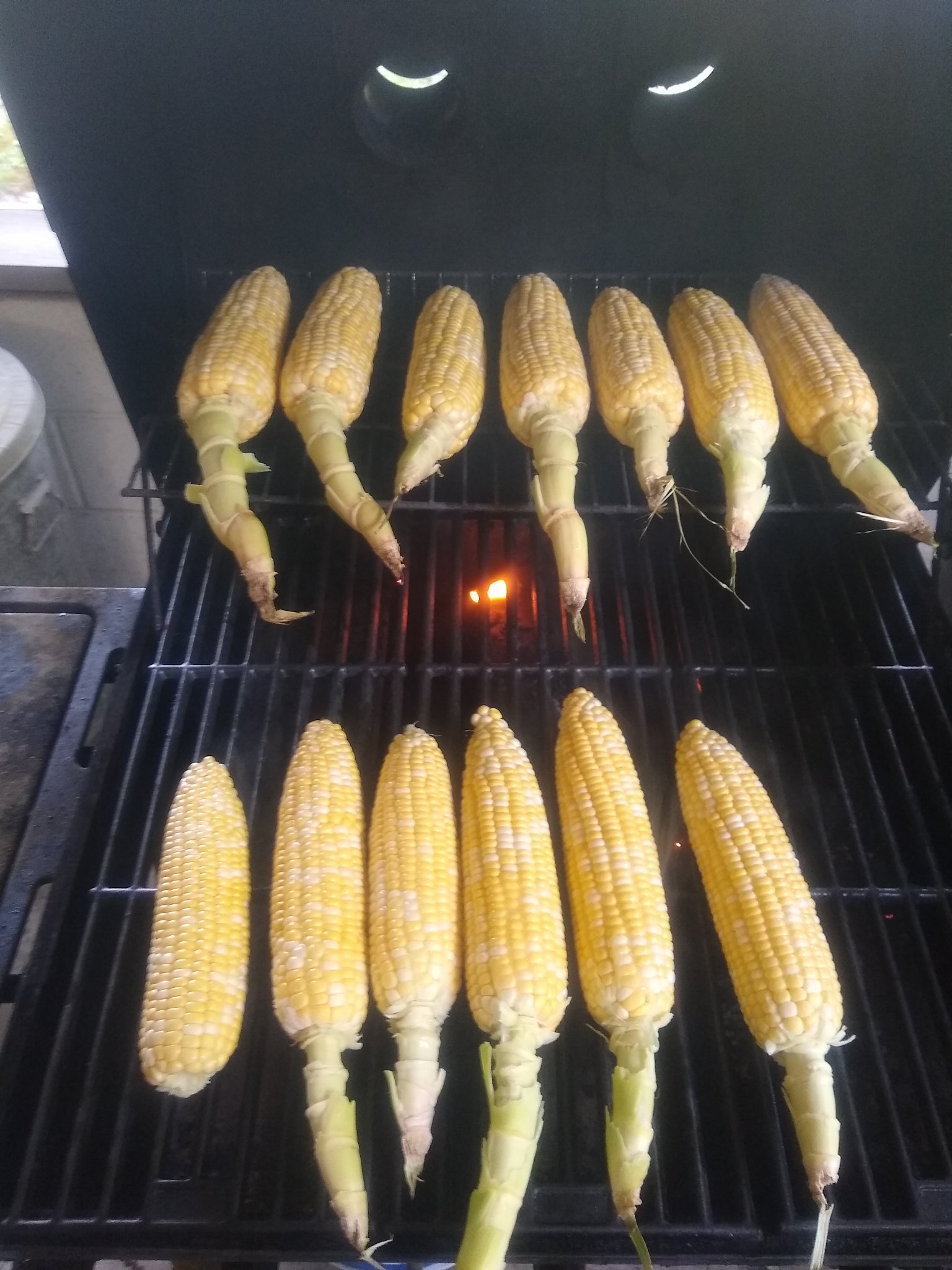 This will feed the two of us for a couple of days…..grilled corn…….yummy.
Be well….Be Safe…….
I Read, I Write, You Know
"lego ergo scribo"