Yes Irene yet another blog with yet more Covid-19 news….the news that is not sensational to make the major outlets.
Someone has to read this stuff and try to keep the unwilling to be informed….so why not the old professor who needs stuff for weekends?
There had been some confusion about whether the virus can be passed on surfaces……the CDC tries to clarify….
Wiping down groceries to protect yourself from the coronavirus might be overkill, according to the latest guidance from the Centers for Disease Control and Prevention. The agency says in its updated guidelines that while it "may be possible" for someone to become infected by touching a surface with the virus on it and then touching their face, it "does not spread easily" in this manner, USA Today reports. The risk of the virus spreading from animals to people or vice versa is also considered low. "COVID-19 is a new disease and we are still learning about how it spreads," the CDC says. "It may be possible for COVID-19 to spread in other ways, but these are not thought to be the main ways the virus spreads."

The agency warned, however, that the virus "is spreading very easily" between people. Dr. John Whyte, chief medical officer for WebMD, tells Fox that the updated guidance "may help reduce anxiety and stress." "Many people were concerned that by simply touching an object they may get coronavirus and that's simply not the case," he says. "Even when a virus may stay on a surface, it doesn't mean that it's actually infectious," Dr. William Schaffner, medical director of the National Foundation for Infectious Diseases, says infected surfaces are "little paths" and person-to-person contact is a "highway." "The safest thing is to continue social distancing, wear masks, and wash hands frequently and thoroughly," he says.
More depth info……https://www.eatthis.com/only-way-to-contract-coronavirus-while-grocery-shopping/
What the virus and exercise?
Amidst a global pandemic, it's becoming increasingly difficult to sort the safe from the risky. Should we wear masks outdoors? What happens when a cyclist or runner passes by while not wearing one?

That's why University of Massachusetts Dartmouth associate professor of biology Erin Bromage decided to start a blog about how to keep safe — and his latest post is going viral because it confronts difficult and common questions.

"A big part of me writing these posts is just to give some tangible advice to friends, family, about what risks they should really be worrying about and wasting mental energy on," Bromage told CNN.
https://futurism.com/neoscope/biologist-advice-covid-risks
What about public restrooms?
When Steven Soifer, a social work professor at the University of Mississippi, and his wife finally left social isolation for the first time since early March, they encountered a familiar problem: the call of nature. They first stopped by a Starbucks, but the franchise was taking drive-through orders only — the bathrooms were closed. Eventually, the couple came across a gas station, where one toilet seemed to be open.

"I walked in, and I had my face mask on and rubber gloves, so I figured, no problem at all," explains Soifer, who also heads the American Restroom Association. "And so I lift up the toilet seat, and I realized: Oh my god, that touched the rubber gloves. So I've got a problem here."
https://www.vox.com/recode/2020/5/22/21266335/coronavirus-covid-public-bathroom-safety-clean
This pandemic has been yet another nail in the unity of the nation's coffin….the country is more divided than before……the time for unity has been lost….
Red- and blue-state America was already divided before the coronavirus epidemic hit. Globalization had enriched the East Coast and West Coast corridors but hollowed out much in between.

The traditional values of small towns and rural counties were increasingly at odds with postmodern lifestyles in the cities.

There were, of course, traditionalists in blue states. And lots of progressives live in red states. But people increasingly self-segregate to where they feel at home and where politics, jobs, and culture reflect their tastes.

The ensuing left/right, liberal/conservative, Democrat/Republican divide not only intensified in the 21st century, it also took on a dangerous geographical separatism.

The coasts vs. the interior reflects two Americas — often in a manner similar to the old Mason–Dixon line that geographically split the U.S. for roughly a century.
https://www.nationalreview.com/2020/05/coronavirus-crisis-growing-american-divide-red-states-blue-states/
Take a break from missed news…..Speaking of the National Review……that bastion of conserv thought….it has finally said what they think…"F*ck White People"….that is according to one blogger….
Kevin Williamson for The National Review had this to say about poor whites:

Nothing happened to them. There wasn't some awful disaster. There wasn't a war or a famine or a plague or a foreign occupation. Even the economic changes of the past few decades do very little to explain the dysfunction and negligence — and the incomprehensible malice — of poor white America. So the gypsum business in Garbutt ain't what it used to be. There is more to life in the 21st century than wallboard and cheap sentimentality about how the Man closed the factories down.
https://amerortho.wordpress.com/2016/03/25/the-national-review-finally-just-comes-out-and-says-it-fuck-poor-people/
Trump screws Guardsmen…..
In 2017, Donald Trump signed something called the "Forever GI Bill" at his company's golf course in Bedminster, New Jersey. The law expanded the educational benefits that had been made available under the "Post-9/11 GI Bill," which was passed in 2008, and which supplemented various benefits that can be traced back to the original 1944 GI Bill. The White House would later tout the "Forever GI Bill" as an example of how Trump was "working tirelessly to provide the benefits and services that our veterans deserve."

In late March, the Trump administration authorized the deployment of members of the National Guard to help local authorities conduct coronavirus tests, set up field hospitals, and perform other critical public health tasks that carried a risk of infection. More than 40,000 service members have been deployed in total, but Politico now reports that they will all be recalled on June 24—one day before the first group sent into the field would reach the 90-day active-duty minimum that's required to qualify for GI Bill education benefits and for a retirement benefit that was also created in 2008. Says the news site (the "official" is a FEMA staffer):
https://slate.com/news-and-politics/2020/05/national-guard-deployments-to-fight-coronavirus-will-end-day-before-benefits-kick-in.html
Finally….in case you have not gotten your "special" letter from Trump…here is what it looks like….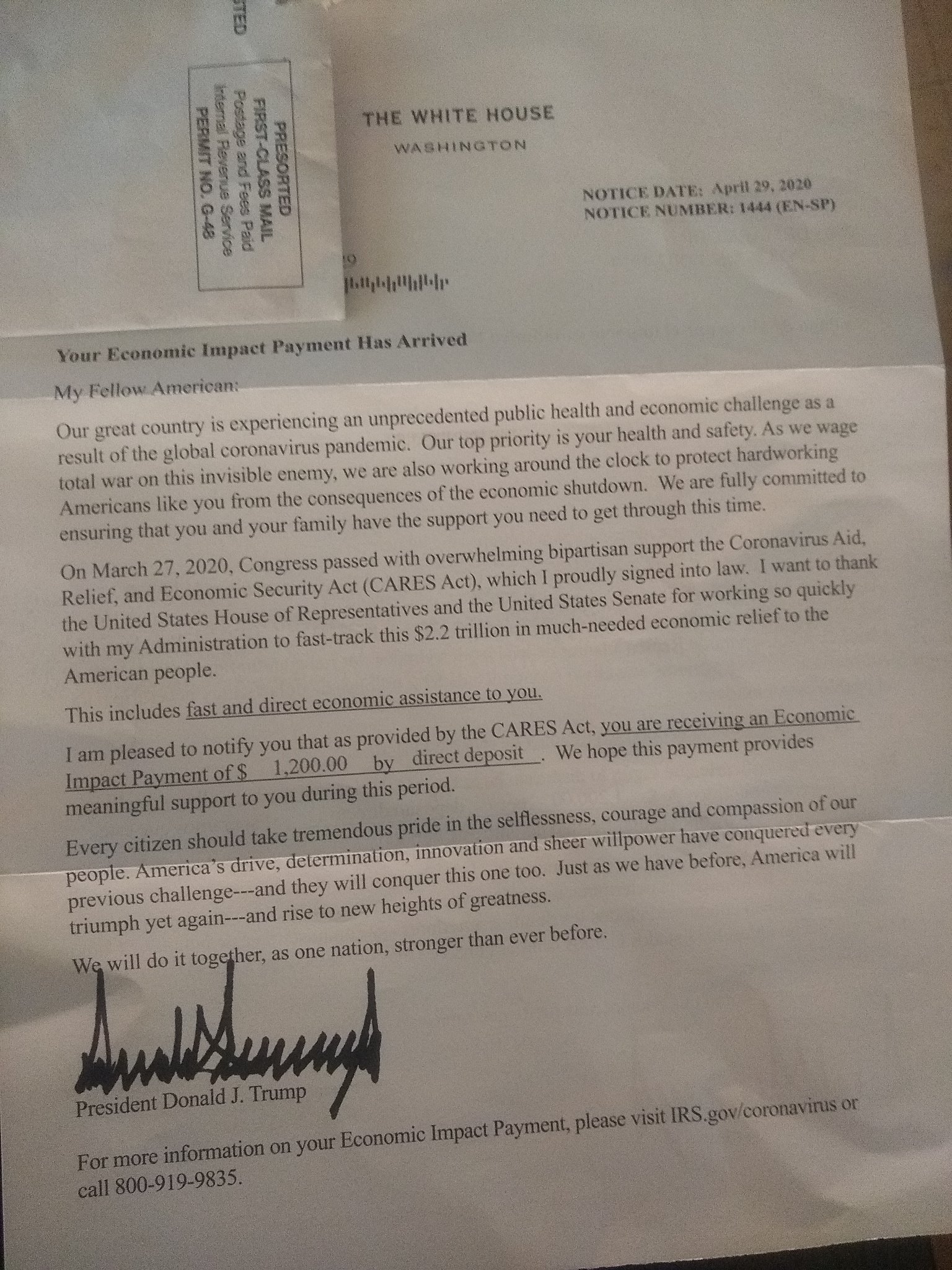 BTW…the flip side is in Spanish….
I hate to tell him this but 45% approval is not the entire nation….just the low life slugs that support him.
Finally……what are your chances of dying from the virus?
You know by now that nothing about the coronavirus is predictable. Yet in order to plan for each and every scenario, the CDC and the Office of the Assistant Secretary for Preparedness and Response have just crafted Pandemic Planning Scenarios that "are designed to help inform decisions by modelers and public health officials who utilize mathematical modeling." One of these scenarios, dubbed Scenario 5, "represents a current best estimate about viral transmission and disease severity in the United States." And it includes a guesstimate about what percentage of those in your age group will die from COVID-19.
The CDC Just Predicted Your Chances of Dying From Coronavirus
Finally, one of the few success stories of this pandemic….New Zealand….
The popularity of New Zealand's Labour prime minister, Jacinda Ardern, is, presently, stratospheric. With the confidence of popularity, her government is positioned to promote political ideas that were almost beyond imagination only a few months ago. One of them, mooted on Wednesday, is encouraging the country into a four-day working week.

Ardern's leadership of New Zealand through the coronavirus crisis has compounded credentials well established by her government's deft and empathetic handling of the horrific massacre in Christchurch last year. When corona hit, the lockdown of the country was swift, draconian and effective; there have only been 21 deaths from the disease to date in New Zealand, and while the rest of the world grapples with a rising number of daily cases, no new cases have been reported in New Zealand in three days.
https://www.theguardian.com/commentisfree/2020/may/21/snap-back-jacinda-ardern-snaps-forward-with-a-four-day-week-no-wonder-shes-popular
Be Well….Be Safe….Be Informed….
I Read, I Write, You Know
"lego ergo scribo"