Closing Thought–01May20
Today is the celebration of workers internationally….but where did it all begin?
Celebrations on May 1 have long had two, seemingly contradictory meanings. On one hand, May Day is known for maypoles, flowers and welcoming the spring. On the other hand, it's a day of worker solidarity and protest; though the U.S. observes its official Labor Day in September, many countries will celebrate Labor Day on Monday.
I am a former union organizer for the Industrial Workers of the World (IWW)…so first of May means the struggle of the workers for equality and a better life…..
Most people living in the United States know little about the International Workers' Day of May Day. For many others there is an assumption that it is a holiday celebrated in state communist countries like Cuba or the former Soviet Union. Most Americans don't realize that May Day has its origins here in this country and is as "American" as baseball and apple pie, and stemmed from the pre-Christian holiday of Beltane, a celebration of rebirth and fertility.

In the late nineteenth century, the working class was in constant struggle to gain the 8-hour work day. Working conditions were severe and it was quite common to work 10 to 16 hour days in unsafe conditions. Death and injury were commonplace at many work places and inspired such books as Upton Sinclair's The Jungle and Jack London's The Iron Heel. As early as the 1860's, working people agitated to shorten the workday without a cut in pay, but it wasn't until the late 1880's that organized labor was able to garner enough strength to declare the 8-hour workday. This proclamation was without consent of employers, yet demanded by many of the working class.
https://archive.iww.org/history/library/misc/origins_of_mayday/
Today as it was in the early days of the 20th century the US needs a strong union atmosphere for the workers will NEVER gain the things they are working for as the atmosphere is today.
This pandemic could be the wake up call and unions could come alive once again….all we need is the energy of activists and the people to listen.
American workers in the 1950s had much to be grateful for on May 1, International Workers' Day. Back then, one-third of all workers were unionized, and they were sharing in the nation's prosperity.

Flash forward 60-plus years, and workers can't be blamed for finding little to celebrate. In 2019 union members comprised a little over 10 percent of the workforce, or about 14.6 million people. This decline has translated into flat wages and eroding benefits for all workers.

Since 1979, workers have witnessed their real wages stagnate and their safety nets vanish, leaving many housing- or food-insecure. Now, in the midst of a historic pandemic, the stakes are even higher. This week, President Donald Trump issued an executive order to keep meatpacking plants open, jeopardizing not only workers' livelihoods but their lives.
As an aging activist…I hope so…..
I leave you with songs from the IWW (my union)…..first Robeson sings Joe Hill…..
Joe Hill is a hero to most union organizers…..a man that was killed but could not die…..
This is the man…
On Nov. 19, 1915, Joe Hill sat facing a five-man firing squad on the grounds inside Utah State Prison. He seemed to be enjoying the last few minutes of his life despite being strapped to a chair, blind-folded with a paper target covering his heart. As the squad prepared to pull their triggers, Hill was reported to yell his final words, "Fire! Go on and fire!" A smile appeared on his face just before three bullets struck his heart, killing him. At this moment, Joe Hill had transcended from a labor organizer into a labor legend.
Hill made two requests: "Don't waste any time morning, organize!" and "Could you arrange to have my body hauled to the state line to be buried? I don't want to be found dead in Utah."
A thought…what better time to revive the labor movement then NOW?
The COVID-19 pandemic has brought into stark relief the inequalities baked into the U.S.'s capitalist system—one that deems nurses and grocery workers "essential," but leaves them with just as few rights and privileges as they had before the crisis struck. The scenario before us, where society depends more than ever on the bottom rung of the working class, offers a perfect storm for these "essential workers" to use their leverage and demand better protections for themselves now and in the future. This perfect storm may well unfold on May 1—a day with historic roots in the U.S., marked by workers all around the world to demand their labor rights.
Celebrate those on the front lines of this fight…..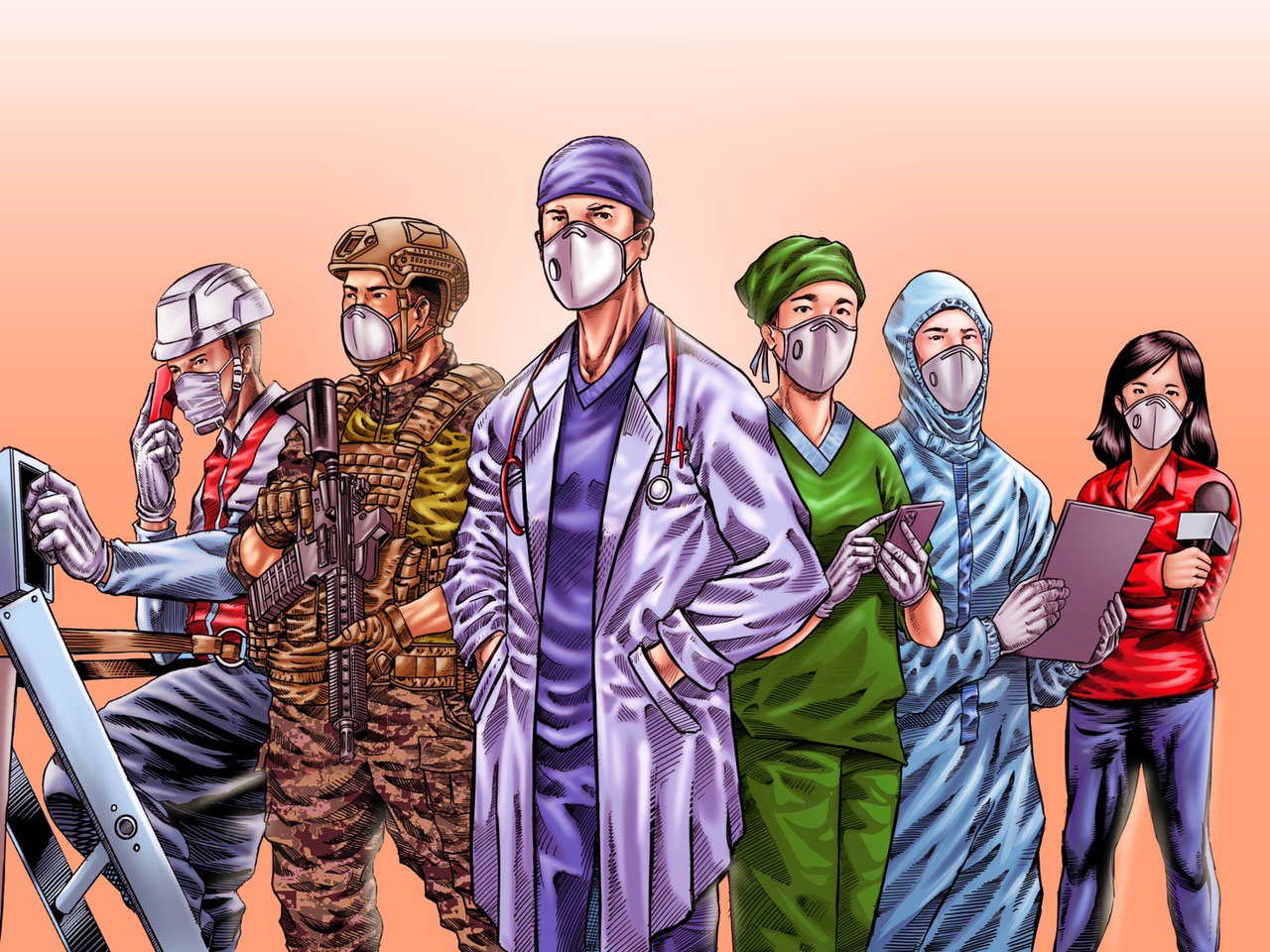 Be well and be safe…..
Have a great weekend my friends.
I Read, I write, You Know
"lego ergo scribo"