By now the world has witnessed the protests being lead by students of the school last visited by gun violence…….too many are bad mouthing the students for their activism even to the point of claiming that they are puppets or even actors….
One FOX anchor person even went so far to try and bully a 17 year old…..it backfired miserably (but what can you expect from anyone on FOX)…in case your nose picking got in the way of your current events…
Laura Ingraham offered an apology to Parkland school shooting survivor David Hogg Thursday—after multiple major advertisers heeded his call to pull their ads from her Fox News show. Hogg, who has become a prominent gun-control advocate since the mass shooting, called for the boycott after Ingraham taunted him for "whining" about being rejected from colleges, the New York Times reports. "On reflection, in the spirit of Holy Week, I apologize for any upset or hurt my tweet caused him or any of the brave victims of Parkland," Ingraham tweeted Thursday, inviting the 17-year-old to appear on her show.

At least nine advertisers have announced their intention to boycott Ingraham's show, including TripAdvisor, Nestle, Hulu, Wayfair, Nutrish, and Stitch Fix, reports the Hill. "In our view, these statements focused on a high school student cross the line of decency," TripAdvisor said. Hogg rejected Ingraham's apology, noting that it was only issued after advertisers started pulling out. "I will only accept your apology only if you denounce the way your network has treated my friends and I in this fight," he tweeted. "It's time to love thy neighbor, not mudsling at children." The Washington Post notes that the episode shows the Parkland survivors have power "not just in organizing rallies but in spurring corporate America to act."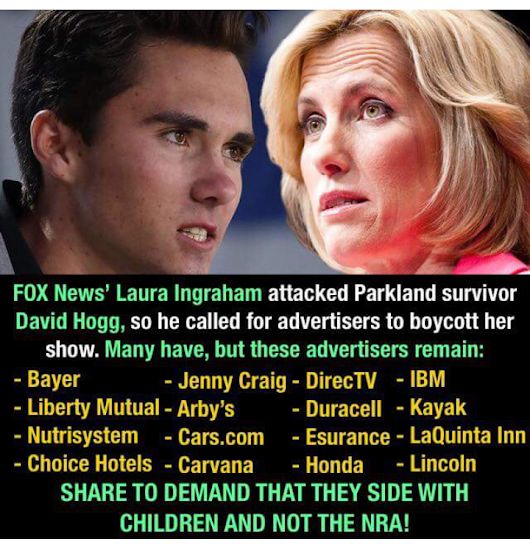 BTW in about 24 hours she lost 4 sponsors and she offered an apology…but it was a typical Right Wing apology….tried to toot their horn and not a heart felt apology just trying to save their butts…did she mean her apology?  Only to the point that her career would suffer….so NO not sincere.
When I saw this and read the news I immediately thought of the Queen song…..
The grand kids of the 70's protesters…..so activism must be like male baldness….skips a generation…..
The vile response of Right Wingers to these kids has me worried for their safety……in the same thought I am proud of their activism.
Some even claim some protesters want to kill gun owners…..
A Republican state lawmaker in North Carolina claimed this week that speakers at the March For Our Lives rally in Washington, D.C. on March 24 — many of them shooting Parkland shooting survivors — wanted to "murder" gun owners. She provided no evidence to support her outlandish accusation.

"They're out to take your guns, and our freedoms," State Rep. Beverly Boswell wrote in a Facebook post on Monday, above a photo of Marjory Stoneman Douglas High School students Tyra Hemans and Emma Gonzalez, who lived through a mass shooting at their school last month that left 17 people dead.
My time is nigh…..sorry had to wax poetic……be well, be safe….hope to see you guys tomorrow….chuq
PS:  After I wrote this draft news has been leaked that Laura will take next week off from her gig on FOX.  Is she being punished or is she going into hiding to wait this storm out?
Plus the total number of lost sponsors has hit a dozen probably more by now…..