I have watched about a ga-zillion TV docs that try to say they are on the track of the Russian Amber Room looted by the Nazis in 1942…..wait!
What the Hell is the Amber Room?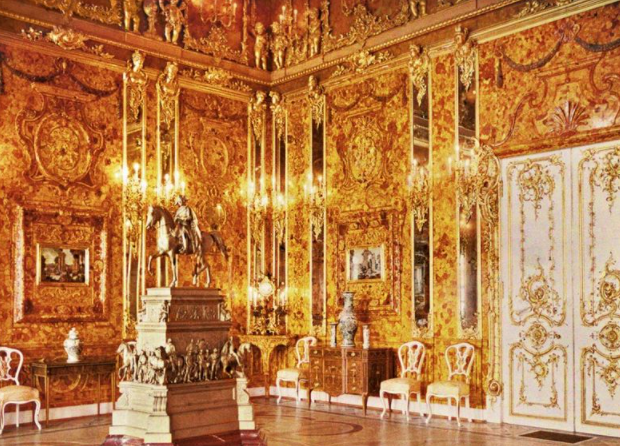 Construction of the Amber Room began in 1701. It was originally installed at Charlottenburg Palace, home of Friedrich I, the first King of Prussia. Truly an international collaboration, the room was designed by German baroque sculptor Andreas Schlüter and constructed by the Danish amber craftsman Gottfried Wolfram. Peter the Great admired the room on a visit, and in 1716 the King of Prussia—then Frederick William I—presented it to the Peter as a gift, cementing a Prussian-Russian alliance against Sweden.
The Amber Room was shipped to Russia in 18 large boxes and installed in the Winter House in St. Petersburg as a part of a European art collection. In 1755, Czarina Elizabeth ordered the room to be moved to the Catherine Palace in Pushkin, named Tsarskoye Selo, or "Czar's Village." Italian designer Bartolomeo Francesco Rastrelli redesigned the room to fit into its new, larger space using additional amber shipped from Berlin.
Now you know and there have been treasure hunters looking for it since the end of the war, that is WW2…..some say it was destroyed by Russian artillery barrage….others think it is somewhere in a cave in Western Poland….and others think it was shipped to Germany and stored for later plunder.
This last story that I recall was that it was in a cave and that some "hunters" using the top notch equipment have located it…..
Third Reich scientists used the cave complex during the war – but all records of just what went on there have mysteriously vanished from local archives.

Now homeopath Leonhard Blume, 73, scientist Günter Eckardt, 67, and georadar specialist Peter Lohr, 71, believe they know where the treasure lies.

Lohr used specialist radar imaging to detect underground booby traps and what appear to be bunkers under the soil.

He scanned the hill in September after Lohr claimed a "reliable source" told him of the missing treasure's whereabouts in 2001.
https://www.thesun.co.uk/news/4724263/amber-room-germany-mountains-nazi-loot/
That was three years ago and so far no news that the artifact has been located.
That is in a cave…but recently news has been leaking out that it may be located on a Nazi shipwreck……
Divers say they have found a shipwreck that could solve one of World War II's most enduring mysteries: The fate of the dazzling Amber Room looted from a Russian palace by Nazi soldiers. The Polish divers say they have found the wreck of the Karlsruhe, a cargo steamer that was sunk with a heavy cargo in 1945 after leaving Koenigsberg, the last known location of the dismantled chamber, reports Reuters. Records show that the Karlsruhe left the port in a hurry during the evacuation of East Prussia. It was sunk by Soviet warplanes off the coast of what is now Poland. Diver Tomasz Stachura says the wreck is almost intact. "In its holds we discovered military vehicles, porcelain and many crates with contents still unknown," he says.

"The history and available documentation show that the Karlsruhe was leaving the port in a great hurry and with a large load," says diver Tomasz Zwara, per UPI. "All this put together stimulates the imagination," he says. "Finding the German steamer and the crates with contents as yet unknown resting on the bottom of the Baltic Sea may be significant for the whole story." It's not clear when divers plan to return to the site. The room, donated to Tsar Peter the Great by a Prussian king in 1716, was looted from St. Petersburg's Catherine Palace in 1941. A reconstruction at the palace was completed in 2003.
For more info…..https://newseu.cgtn.com/news/2020-10-06/Could-Nazi-shipwreck-discovery-solve-World-War-II-mystery–UlIpFdVU9a/index.html
Still NO concrete evidence that it has been located….but these treasure hunters just want to keep hope alive.
As long as we are talking about "legend"….is it possible that Nessie has been located in the Loch?
The object picked up by sonar technology is said to be 'solid and pretty big' sonar contact.

It measures around 10m and was detected by a boat owned by Cruise Loch Ness, in Fort Augustus, Scottish Highlands.

The mystery creature is likely to feed on trout and eels at the bottom of the loch, which has the largest volume of freshwater in Britain.

Director Ronald Mackenzie, 48, said: "Who knows what it is, there is quite a lot of fish at the bottom of the loch, there is carnivorous trout and eels.
https://www.mirror.co.uk/news/uk-news/loch-ness-monster-found-sonar-22801900
Whatcha think?
I Read, I Write, You Know
"lego ergo scribo"