We all know the downside of this virus….the unemployment, the food shortages, the confusion and the hysteria…..but could there be anything positive about this disease?
As an aging radical from the 60s and 70s I look for possibilities for organizing for a better country….at least in my thinking.
First as an IWW delegate in the past I look for ways to organize labor into better unions for the workers……this pandemic could very well be one of those times…..
September 1945, a little-remembered frenzy erupted in the United States. Japan had surrendered, ending World War II, but American meat packers, steelworkers, telephone installers, telegraph operators, and auto assemblers had something different from partying in mind. In rolling actions, they went on strike. After years of patriotic silence on the home front, these workers, along with unhappy roughnecks, lumberjacks, railroad engineers, and elevator operators — some 6 million workers in all — shut down their industries and some entire cities. Mainly they were seeking higher pay — and they got it, averaging 18% increases.

The era of raucous labor is long past, and worker chutzpah along with it. That is, it was — until now. Desperately needed to staff the basic economy while the rest of us remain secluded from Covid-19, ordinarily little-noticed workers are wielding unusual leverage. Across the country, cashiers, truckers, nurses, burger flippers, stock replenishers, meat plant workers, and warehouse hands are suddenly seen as heroic, and they are successfully protesting. For the previous generation of labor, the goal post was the 40-hour week. New labor's immediate aims are much more prosaic: a sensible face mask, a bottle of sanitizer, and some sick days.
https://marker.medium.com/america-is-about-to-witness-the-biggest-labor-movement-its-seen-in-decades-3aa47f0edf52
IWW?  What the Hell?
The IWW is a member-run union for all workers, a union dedicated to organizing on the job, in our industries and in our communities. IWW members are organizing to win better conditions today and build a world with economic democracy tomorrow. We want our workplaces run for the benefit of workers and communities rather than for a handful of bosses and executives.

We are the Industrial Workers of the World because we organize industrially.

This means we organize all workers producing the same goods or providing the same services into one union, rather than dividing workers by skill or trade, so we can pool our strength to win our demands together. Since the IWW was founded in 1905, we have made significant contributions to the labor struggles around the world and have a proud tradition of organizing across gender, ethnic and racial lines – a tradition begun long before such organizing was popular.

We invite you to become a member whether or not the IWW happens to have representation rights in your workplace. We organize the worker, not the job, and recognize that unions are not about government certification or employer recognition but about workers coming together to address common concerns.

Sometimes this means refusing to work with dangerous equipment and chemicals.

Sometimes it means striking or signing a contract. Other times it mean agitating around particular issues or grievances in a workplace or industry.

The IWW is a democratic, member-run union. That means members decide what issues to address, and which tactics to use and we directly vote on office holders, from stewards to national offices. Why wait? Join the IWW and organize for a better future.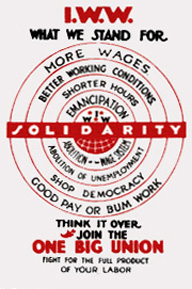 Now that part of your education is done…..
What about politics?
And yes I was a political activist as well back in the Dark Ages (60s and 70s)……
This pandemic could change the political scene in the US…..for the better…..only if we are paying attention and not looking for easy answers….there are NONE!
There is a future that makes itself, and a future that we make. The real future is composed of both. The future that makes itself, including a pandemic, we can never modify. The future we make is within our grasp to change, but to do so favorably demands that we look at the world with clear eyes. Government officials across the political spectrum have not always done so during the pandemic. I sometimes sense a kind of attentive passivity in them, of the kind I demonstrated in my own case. They are aware of what is happening, but somehow their thoughts seem tied to other forces that come along. Their minds are on the alert, but still vulnerable, a kind of target; they are sensitive, receptive to everything, and therein lies the problem: Their thinking risks succumbing to human nature and ideology.
Diagnosing America's Pandemic Response
We can get this thing right this time…..but only if we stop looking for the easy answers and falling for promises that cannot be delivered….or looking for partisan answers….it will take the whole country to fight this thing since we have a president that will not step to do the hard work.
If you work then time for some unity and some demands to be met.
Learn Stuff!
I Read, I Write, You Know
"lego ergo scribo"