We have enough Covid-19m news…minute by minute…..but there are other thoughts that I want to share with my readers.
A couple of psychedelic news……we begin with a the news around 'shrooms……
New research provides evidence that the active ingredient in so-called magic mushrooms can affect brain processes related to emotional functioning long after the substance has left one's body. The findings, published in Scientific Reports, shed new light on the long-term effects of psilocybin.

Rather than examining the brain while it's under the influence of psilocybin, the researchers from Johns Hopkins University School of Medicine were interested in the enduring impact of the substance.

"Nearly all psychedelic imaging studies have been conducted during acute effects of psychedelic drugs. While acute effects of psychedelics on the brain are of course incredibly interesting, the enduring effects of psychedelic drugs on brain function have great untapped value in helping us to understand more about the brain, affect, and the treatment of psychiatric disorders," said Frederick S. Barrett (@FredBarrettPhD), an assistant professor and the corresponding author of the study.
https://www.psypost.org/2020/04/a-single-high-dose-of-psilocybin-alters-brain-function-up-to-one-month-later-56399
Cannabis is growing more popular by the month….and because of it more and more research is finding its way to the public…..
There have been dramatic changes worldwide in the attitudes toward and consumption of recreational and medical cannabis. Cannabinoid receptors, which mediate the actions of cannabis, are abundantly expressed in brain regions known to mediate neural processes underlying reward, cognition, emotional regulation and stress responsivity relevant to addiction vulnerability. Despite debates regarding potential pathological consequences of cannabis use, cannabis use disorder is a clinical diagnosis with high prevalence in the general population and that often has its genesis in adolescence and in vulnerable individuals associated with psychiatric comorbidity, genetic and environmental factors. Integrated information from human and animal studies is beginning to expand insights regarding neurobiological systems associated with cannabis use disorder, which often share common neural characteristics with other substance use disorders, that could inform prevention and treatment strategies.
https://www.nature.com/articles/s41593-020-0611-0
Women have been available for combat for years and now we have a 5 year status report…..
It has been five years since the ban on women in combat was lifted in 2015 and women began integrating previously closed combat arms billets in January 2016. Five years is the length of a service academy contract and longer than the average enlistment contract. Two years ago, there was mostly good news on integration efforts and there have been coverage of female "firsts" since. Now, sufficient time has passed to note the status of integration across components and to see returns on recruitment and retention.

The military personnel model has traditionally been premised around a young male force supported by stay-at-home spouses. Such a model is built into how the military conceives of its personnel, from the language embedded in parental leave policies that assumes a woman is the primary caregiver to the names of base support and spouse groups. An industrial-age model leaves much to be desired for dual-professional couples as well as those service members who want to have families. Updating this model to become more agile is not just critical for supporting talent management across the force, but also is essential for creating inroads and support for women in combat arms billets, where women are still a significant minority.
https://www.cnas.org/publications/commentary/women-in-combat-five-year-status-update
A Final Note–do you want to be a "Starship Trooper"?
The Space Force will start taking applications on 01 May……
The U.S. Space Force next month will start accepting applications from current military service members who are interested in moving over to the new space branch. The initial window for applicants starts May 1 and only lasts for 30 days, officials said April 16 during a town hall event live streamed on Facebook.

The timeline seems fast, but it's necessary so the Space Force can start planning its future, said Chief Master Sgt. Roger Towberman.

Towberman on April 3 was sworn in as the top enlisted leader of the U.S. Space Force. During the town hall forum, Towberman and Chief of Space Operations Gen. John Raymond answered questions on a range of topics, mostly on administrative and personnel issue
U.S. Space Force to start accepting applications May 1
Did you know that if you criticize someone for insider trading then you are a "socialist"?
Sen. Kelly Loeffler (R-GA), who has become a lightning rod for criticism after she dumped major portions of her stock portfolio shortly after receiving classified briefings of the COVID-19 pandemic earlier this year, is now denouncing her critics as "socialists."

The Daily Beast reports that Loeffler went on Fox News Friday to defend herself against charges that she profited by using insider knowledge of the COVID-19 crisis.
https://www.rawstory.com/2020/04/gops-kelly-loeffler-says-its-socialist-to-criticize-her-alleged-covid-19-insider-trading/
Her profit taking was an criminal enterprise so she should forfeit her ill gotten gains and do time…..5 years ….no parole….
Then there is that total douche bag in the House….Jim Jordan, you know him he is under investigation for knowing about sexual abuse of students at Ohio State…..he is a Trump BJ giver is now on the band wagon with the persecution of governors that have been mean to the president…..
Anger at COVID-19 shutdown orders boiled over on Fox News on Saturday night.

As ABC, CBS and NBC aired the Global Citizen "One World: Together At Home" concert to raise money for the World Health Organization's battle against the coronavirus pandemic, Fox chose to air "Justice" with former Judge Jeanine Pirro.

The show began with an angry rant from the host about a "Wuhan virus" for which China must be punished.
https://www.rawstory.com/2020/04/jim-jordan-tells-fox-news-he-wants-congress-to-investigate-governors-for-coronavirus-shutdown-orders/
There is a reason he runs to FUX News when he pretends to act like a person who cares……FUX is where truth and accuracy goes to die.
Finally, at least someone is doing the right thing and prosecuting LIARS!
The United Arab Emirates (UAE) will fine people up to 20,000 dirhams ($5,500) if they share medical information about the coronavirus that contradicts official statements.

Its government, which issued the decision, made the health ministry and other state health institutions responsible for distributing "true" health information and guidelines to the nation.

"It is forbidden for any individual to publish, re-publish or circulate medical information or guidance which is false, misleading or which hasn't been announced officially … using print, audiovisual or social media, or online websites or any other way of publication or circulation," state-run news agency WAM reported on Saturday, citing the government directive.
https://www.aljazeera.com/news/2020/04/uae-announces-5500-fine-coronavirus-fake-news-200418153715552.html
I am NOT a fan of the UAE but on this I agree with them 100%….it should be considered by all nations as they fight this disease.
All those mental midgets protesting the re-opening of the nation….make them sign this statement…..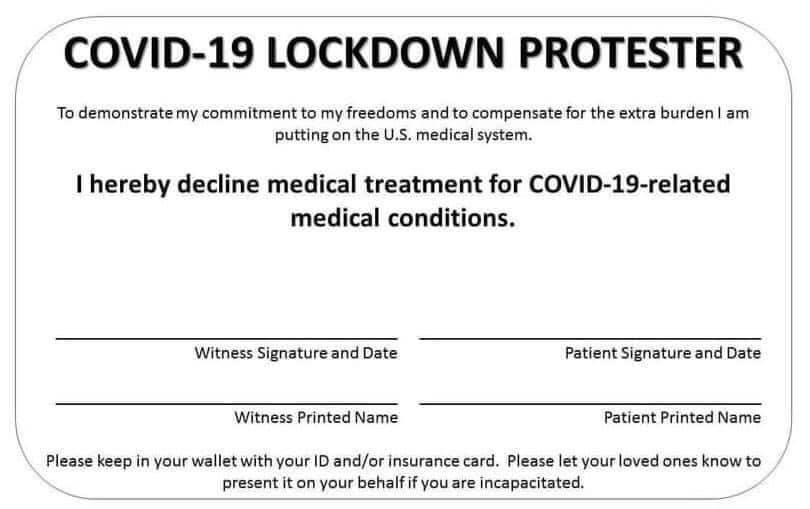 There you have my small news round-up…..
I Read, I Write, You Know
"lego ergo scribo"