A little diversion on the Sunday from all the news around the Covid-19…..
There is a patch of woods on my property, we have started calling it the 40 ft wood, and MoMo spends time back there doing what she does best….hunting.  After all she is a Hound….her official AKC title is Redbone Coonhound…..her breed has been bred for hunting and MoMo takes it very seriously.  An American original breed of dog, the Redbone Coonhound is a tenacious hunter used for hunting raccoon, deer, bear, boar, cougar, or any other large game. The breed originated in the Southern United States and is highlighted by their deep red coat.
The breed's development was heavily influenced by George Birdsong, who began with a pack he obtained in the 1840s. As more people became interested in the breed, they set about to create a faster, hotter-nosed dog that was even quicker to locate scents. They mixed the existing dogs with later imports of hot, swift Red Irish Foxhounds. These early dogs were sometimes called Saddlebacks because they tended to be red with black saddles. However color was emphasized for several generations, resulting in the solid-colored red dogs. The breed became known as Redbone Coonhounds, either in recognition of its color or after Peter Redbone, a Tennessee promoter of the breed.
When we walk her nose is glued to the ground….she lives by the smells around her….plus her hearing is excellent…….watching her stare at the ground until she zeros in on the mole is just amazing to witness.
Now on to her successful scorecard……
She has caught and executed several different species….mostly varmints like mice, rats, squirrels and her favorite moles.
In her two years since she moved in with us her total keeps going up…..
4 field mice
5 wood rats
3 squirrels
9 moles…..5 of which she got just in one weekend…..apparently she found a new litter and wiped them out.
This is the first of 5 in one weekend….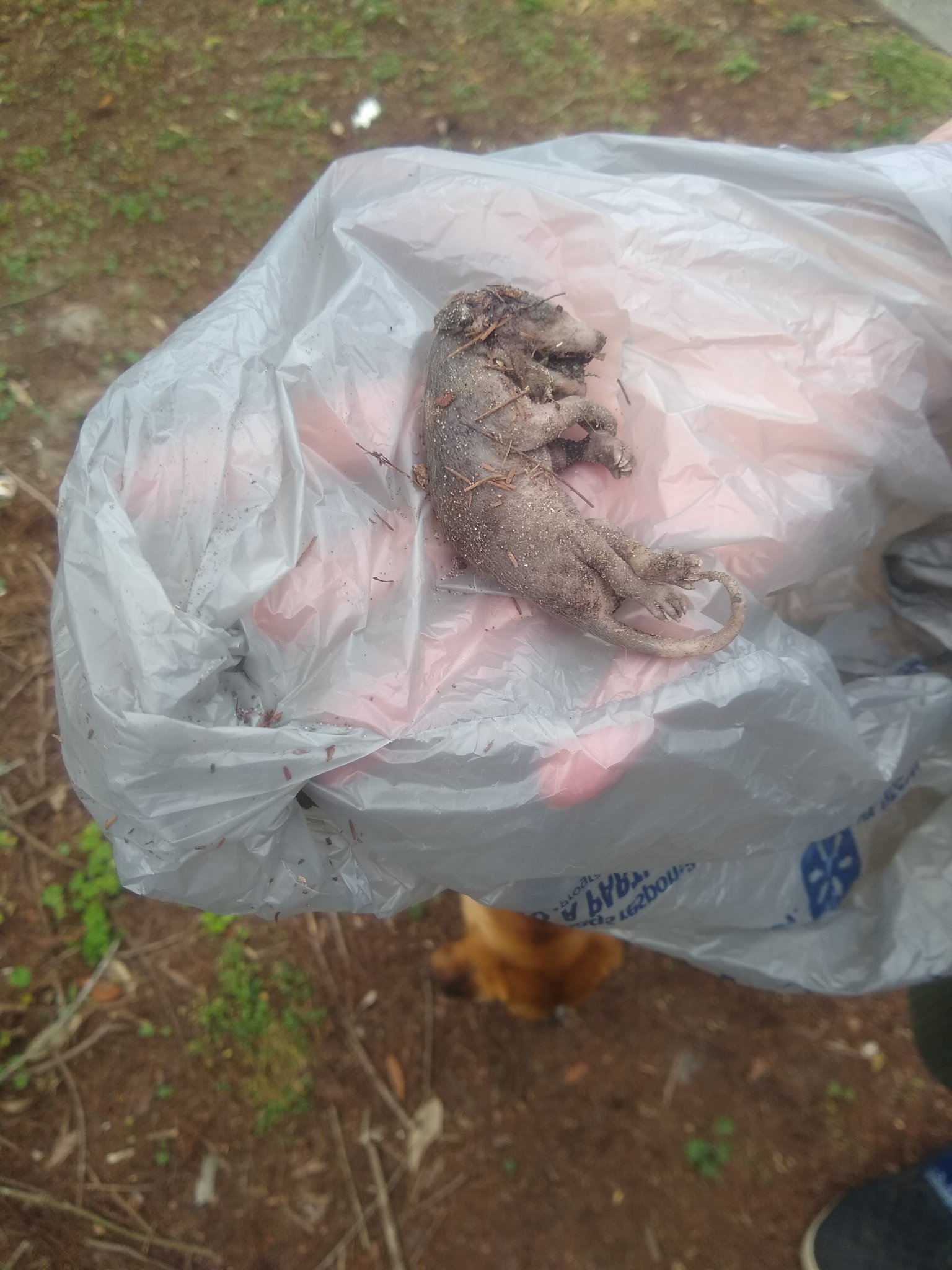 That is her below the bag in the photo looking for her lost prize….
And this is how she got the litter out of the ground……it is just a bit of the digging she did to get her prey.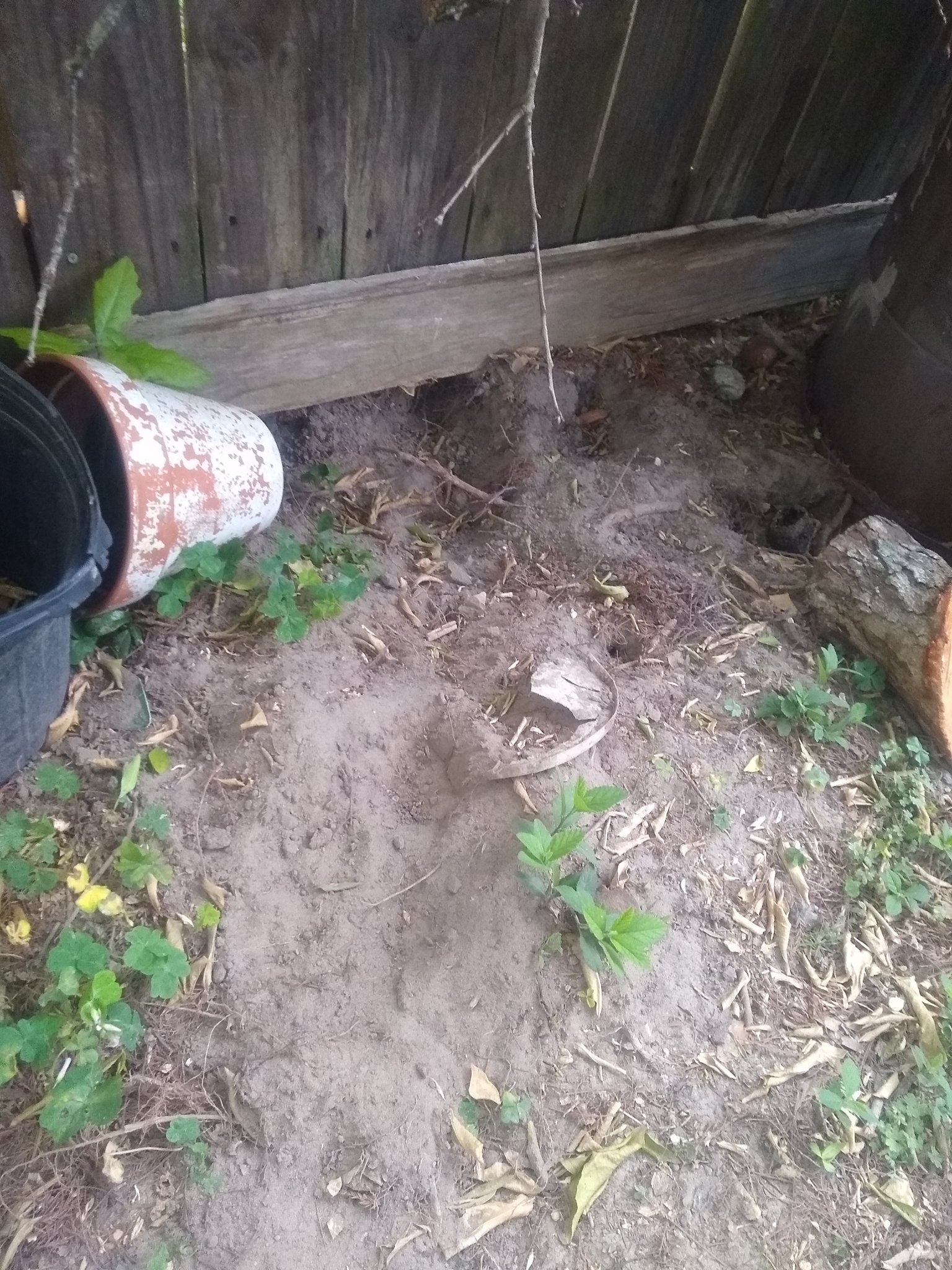 There were holes along a straight line for about 25 feet…..they started along the fence and under the Cypress tree and ended in the photo.
The good news is that flower bed I promised Sue will take less digging to complete.
Finally…..she nailed 1 dove….but Sue got there in time and told her to release and she let it go though she did pout for most of the afternoon at the loss of a hard win victory.
She now waits under the tangerine tree…..waiting to strike again………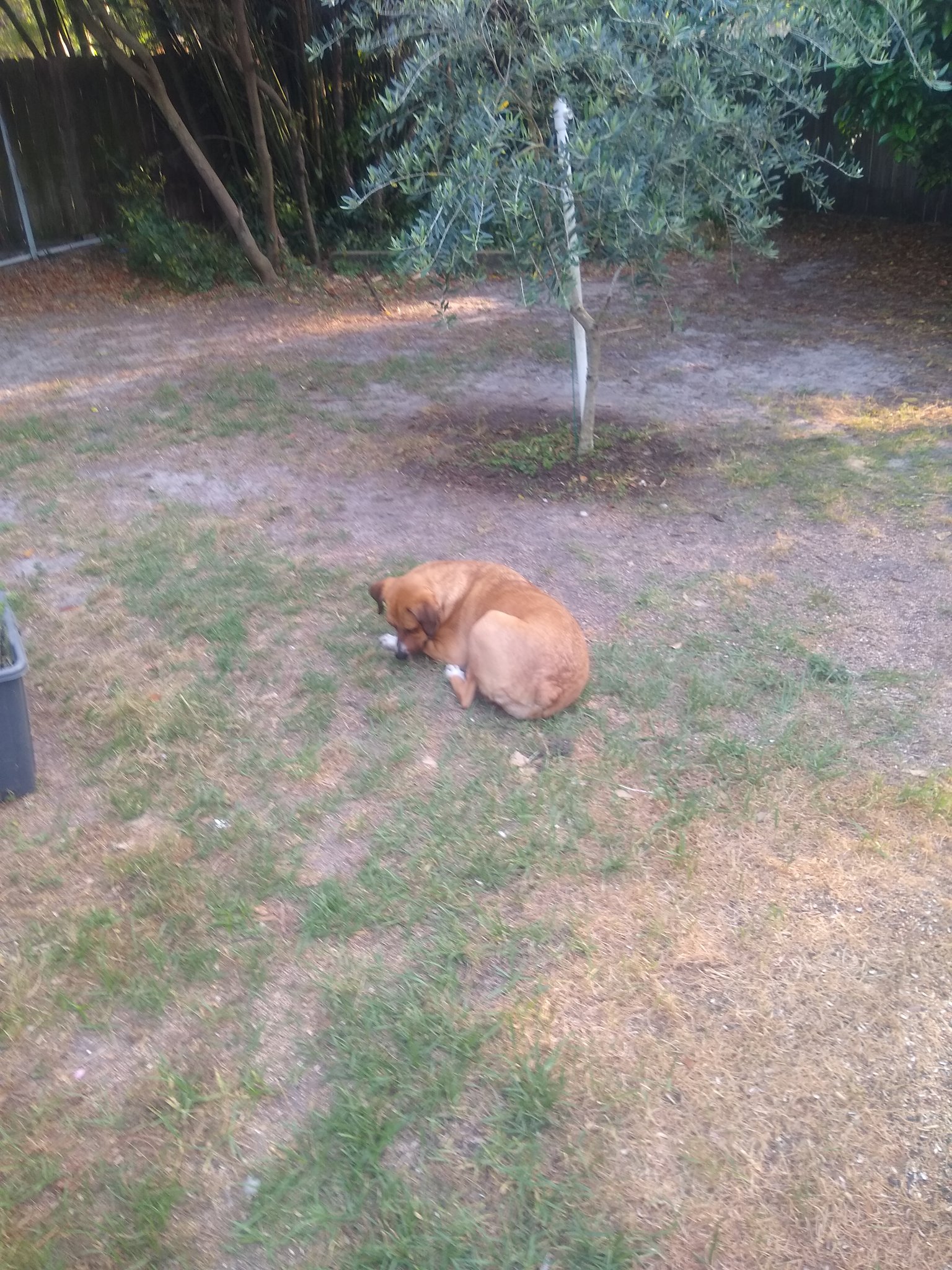 By the way….in this photo a bug has her full attention…..not a mole….
A final thought…..I walk MoMo at 0430 hrs to avoid any other people….this morning it was 77 as a low temp….that is more in line with Summer not April…..we are in our Summer cycle…..high temps, little rain and high humidity……it does have its upside and I will write about that soon…….but according to some there is NOTHING to see with the climate…..
Have a good Sunday……be well…..be safe…..
"lego ergo scribo"