Donald of Orange wants to see his name on everything about virus….especially the give-a-ways…..he has it on the postal warnings (see below)……
Front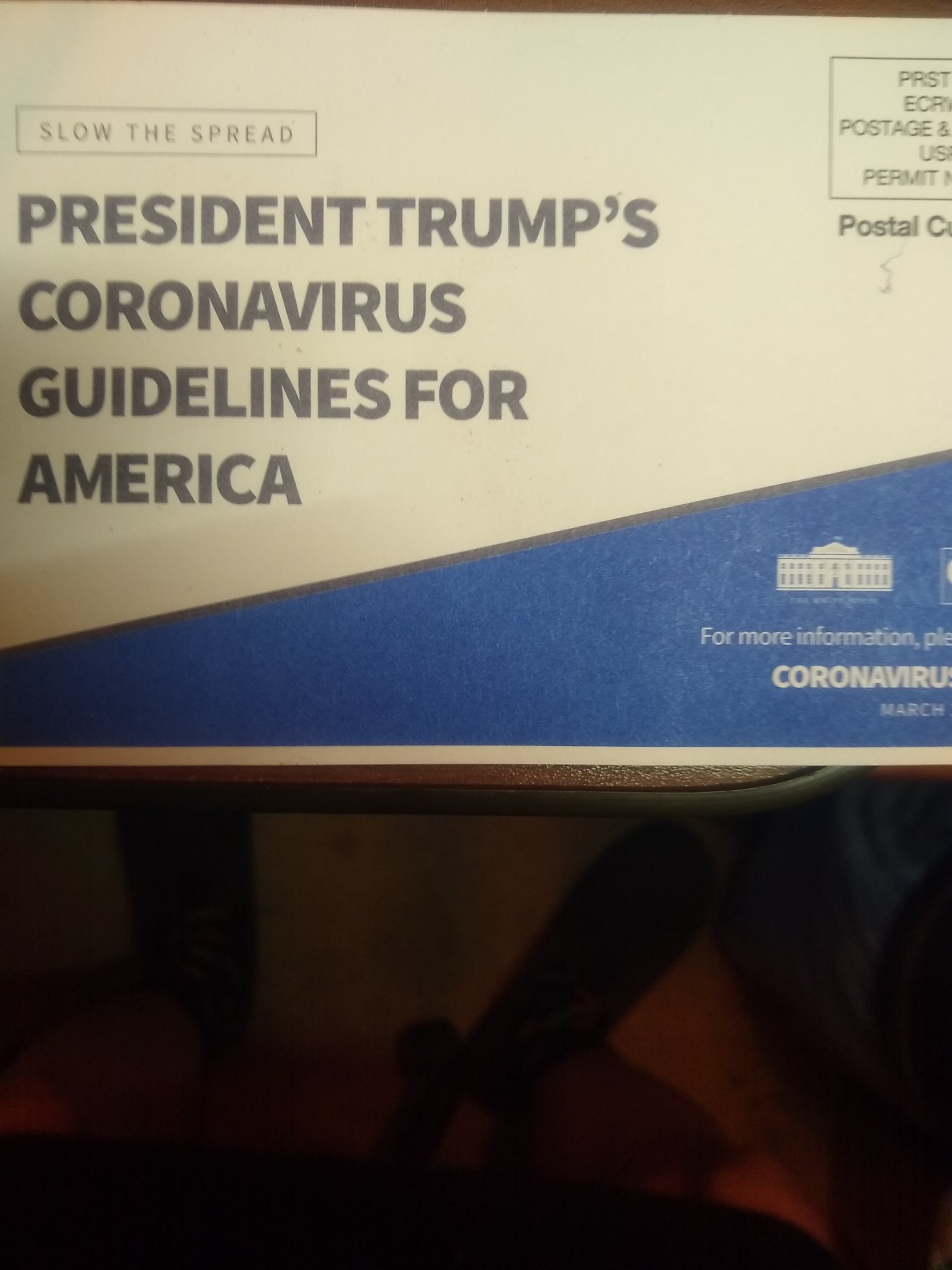 Back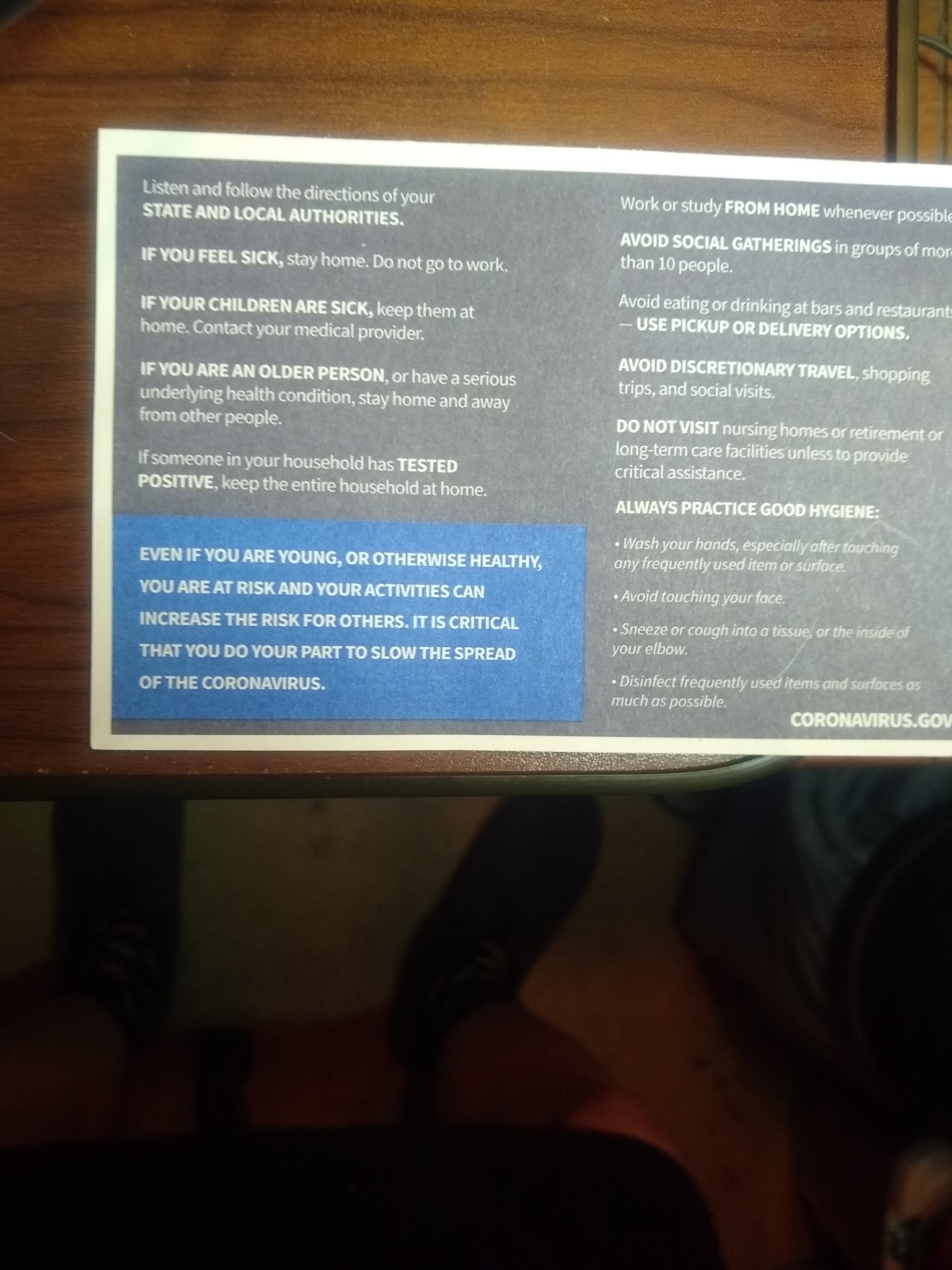 …and now he wants his signature on those free cash checks…….
President Trump has told people he wants Americans to see his signature on the stimulus checks that will be sent out after he signed a $2.2 trillion coronavirus relief package into law Friday, according to an administration official cited by The Wall Street Journal. Such checks would normally be signed by a disbursing officer, not the president. While signing the bill into law in the Oval Office on Friday, the president appeared to express awe at the price tag attached to the legislation, calling it a "great honor" and saying, "I never signed anything with a T on it." Trump, who has faced criticism recently for what some see as overly optimistic assessments about the coronavirus pandemic, went on to predict a "rebound like we have never seen before" by the end of the year.  The legislation he signed includes expanded unemployment benefits, direct cash payments to every American earning less than $99,000 a year, and billions in job retention loans for small businesses. 
The quarantine breakers are being rounded up…….
New Yorkers seeking refuge in Rhode Island might want to think again. The state's police and National Guard are pulling over drivers with New York plates, and knocking on doors for recent travelers from the Empire State—America's epicenter for the coronavirus outbreak, NBC News reports. Such visitors are told to quarantine for two weeks, or face 90 days in prison and a $500 fine. "I know this is unusual," says Gov. Gina Raimondo. "I know this is extreme. And I know some people don't agree with it. It's absolutely not a decision I make lightly." Raimondo says her state isn't ready for a major spike in COVID-19 cases: "We are not set up for that," she explains. For more:

But she's getting some pretty serious pushback, Fox News reports. "I don't like it socially or culturally," New York Gov. Andrew Cuomo said Friday. "I don't like what it says about us as one state, one family. Also, I don't believe it's medically justified."
For its part, the ACLU calls Raimondo's plan "ill-advised and unconstitutional" because the "under the Fourth Amendment, having a New York state license plate simply does not, and cannot, constitute 'probable cause' to allow police to stop a car."
But consider the math: New York state has 52,000 cases, per CNN, and Rhode Island a little over 200. "Right now we have a pinpointed risk," Raimondo tells Bloomberg. "That risk is called New York City."
Texas, Massachusetts, and Florida are also ordering quarantines for recent visitors, Politico reports. They vary in scope, but appear to be focused on the stream of residents flowing out of New Orleans and New York City.
Donald of Orange is thinking of a 3 state quarantine……
President Trump said he was considering a quarantine as early as Saturday for coronavirus hotspots in New York, New Jersey, and Connecticut, though it wasn't clear whether he had the power to order state residents to stay put, the AP reports. Trump told reporters that he had spoken with Republican Gov. Ron DeSantis of Florida, among others, and that "a lot of the states that are infected but don't have a big problem, they've asked me if I'll look at it, so we're going to look at it." New York Gov. Andrew Cuomo, who criticized the federal government's response as his state became the country's virus epicenter, said the issue did not come up in a conversation he had with Trump earlier Saturday. "I don't even know what that means," the Democrat said in New York.

"I don't know how that could be legally enforceable, and from a medical point of view, I don't know what you would be accomplishing. … I don't like the sound of it," Cuomo added. Trump made his remarks while on a trip to Norfolk, Virginia, to see off a US Navy hospital ship heading to New York City to help with the pandemic. At the event, he spoke to a sparse crowd and cautioned Americans to take virus protections. The federal government is empowered to take measures to prevent the spread of communicable diseases between states, but it's not clear that means Trump can ban people from leaving their state. It has never been tested in the modern era — and in rare cases when any quarantine was challenged, the courts generally sided with public health officials.
The president is still acting like an immature 7 year old…..now he wants to punish those that are "mean" to him……
Shortly after the U.S. death toll from the coronavirus pandemic reached 1,500 on Friday, President Donald Trump took to the podium at a White House press briefing and complained that certain state's governors  are not "appreciative" enough of the federal government's help—so much so that he said he'd told Vice President Mike Pence, the leader of the coronavirus task force, to skip calling governors of some hard-hit areas.  

Trump singled out the Democratic leaders of Washington and Michigan, noting that he had advised Pence not to call them as the healthcare crisis plagues their states and people fall sick and die. 
https://www.thedailybeast.com/trump-says-he-told-mike-pence-to-ignore-governors-in-hard-hit-areas-if-they-are-not-appreciative
Finally, Donald of Orange is still pushing the "back to work" strategy to defeat this virus…..;a moronic belief….
The coronavirus pandemic continues to spread throughout the world. The total death toll globally is over 22,000. On Thursday, there were more than 6,000 new cases and 712 new deaths reported in Italy; 6,600 new cases and 500 new deaths in Spain; and 6,000 new cases and 56 deaths in Germany. The virus is only beginning to spread in Indonesia, Brazil, India and other countries in Asia and Latin America.

The center of the accelerating pandemic is the United States. It has now surpassed Italy and China with the largest number of confirmed cases, at more than 85,000. The US counted 17,000 new cases yesterday, almost three times that of any other country. The death toll has surged to nearly 1,300.

Amidst this escalating crisis, the Trump administration is intensifying its efforts to promote a speedy return to work.
https://www.wsws.org/en/articles/2020/03/27/pers-m28.html
Just a few thoughts for this weekend…..
Be calm…..avoid crowds…..wash hands often….stay prepared
Watch This Blog!
I Read, I Write, You Know
"lego ergo scribo"