The news is that our climate has made bears come out of hibernation a month too early…..
"Rising temperatures are affecting ecosystems and wildlife across the globe — even causing some bears to come out of hibernation early. Connecticut's Beardsley Zoo reports that this year it has seen an emergence of its native black bears in early March — almost a month earlier than usual. … This could lead hungry bears into confrontations with humans as they desperately search for something to eat." Photo credit: Mark Levisay / Flickr (CC BY 2.0)
Weeks ahead of schedule……my fruit trees are in bloom…..
Satsuma…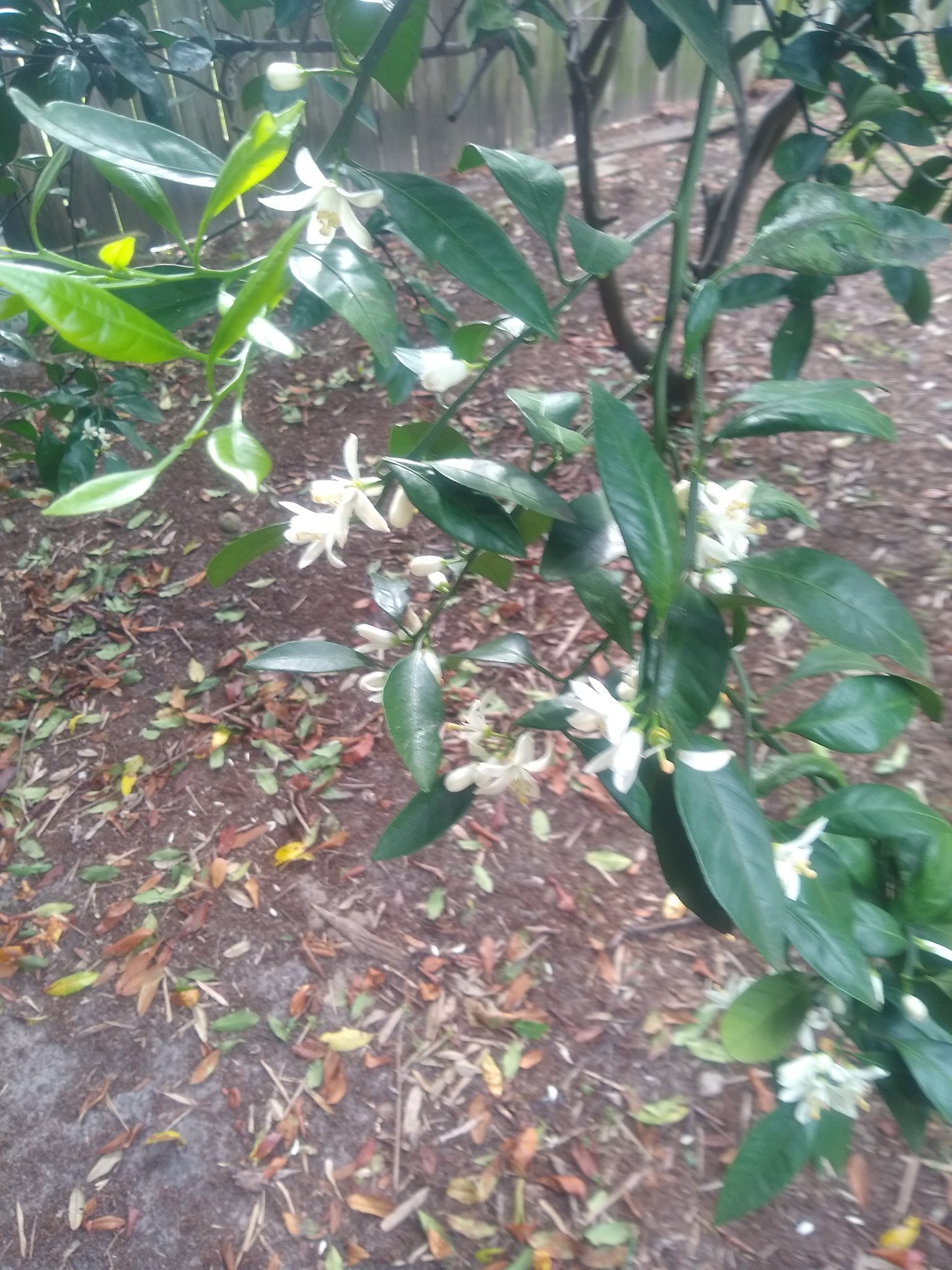 Peach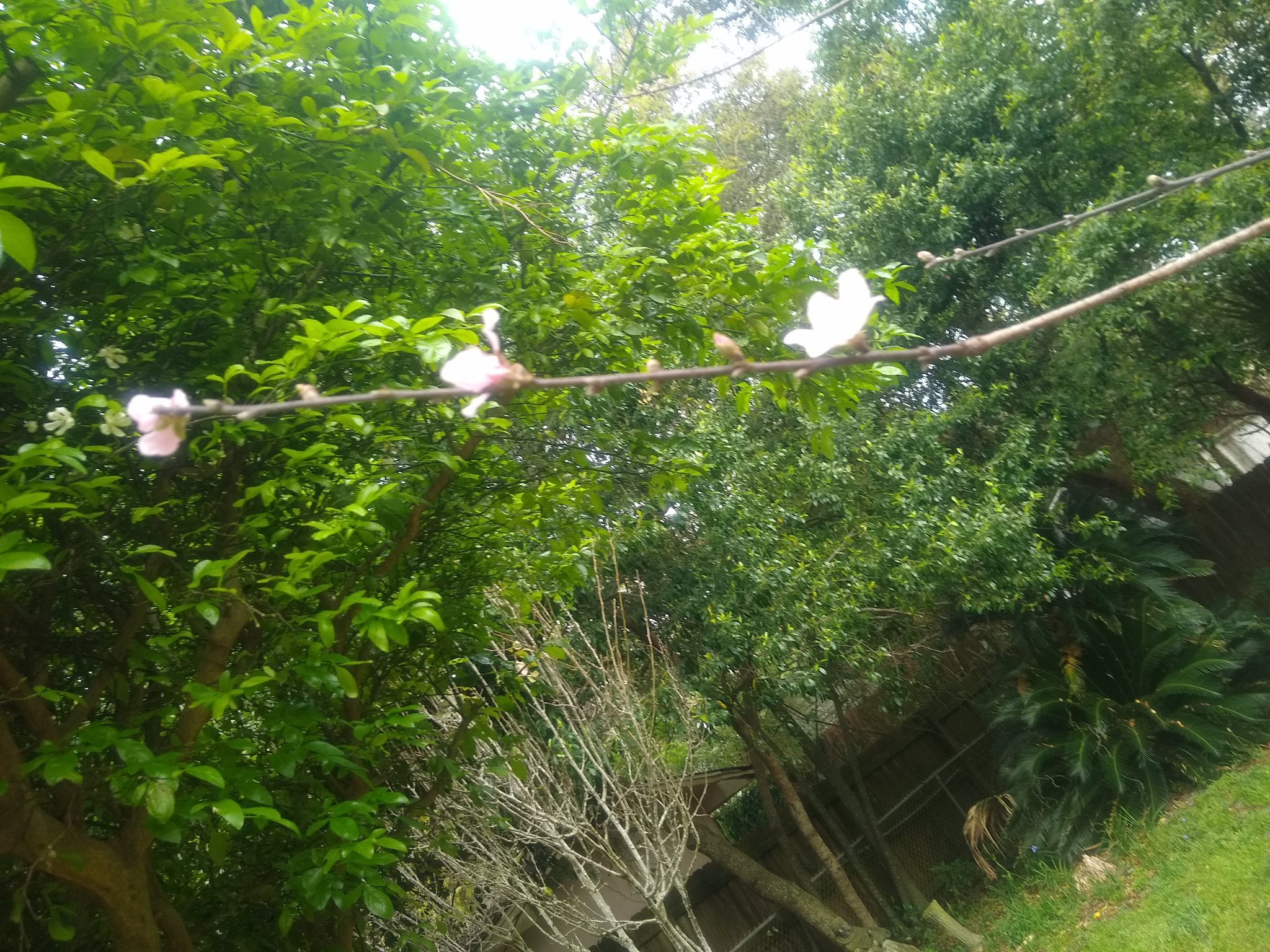 Plums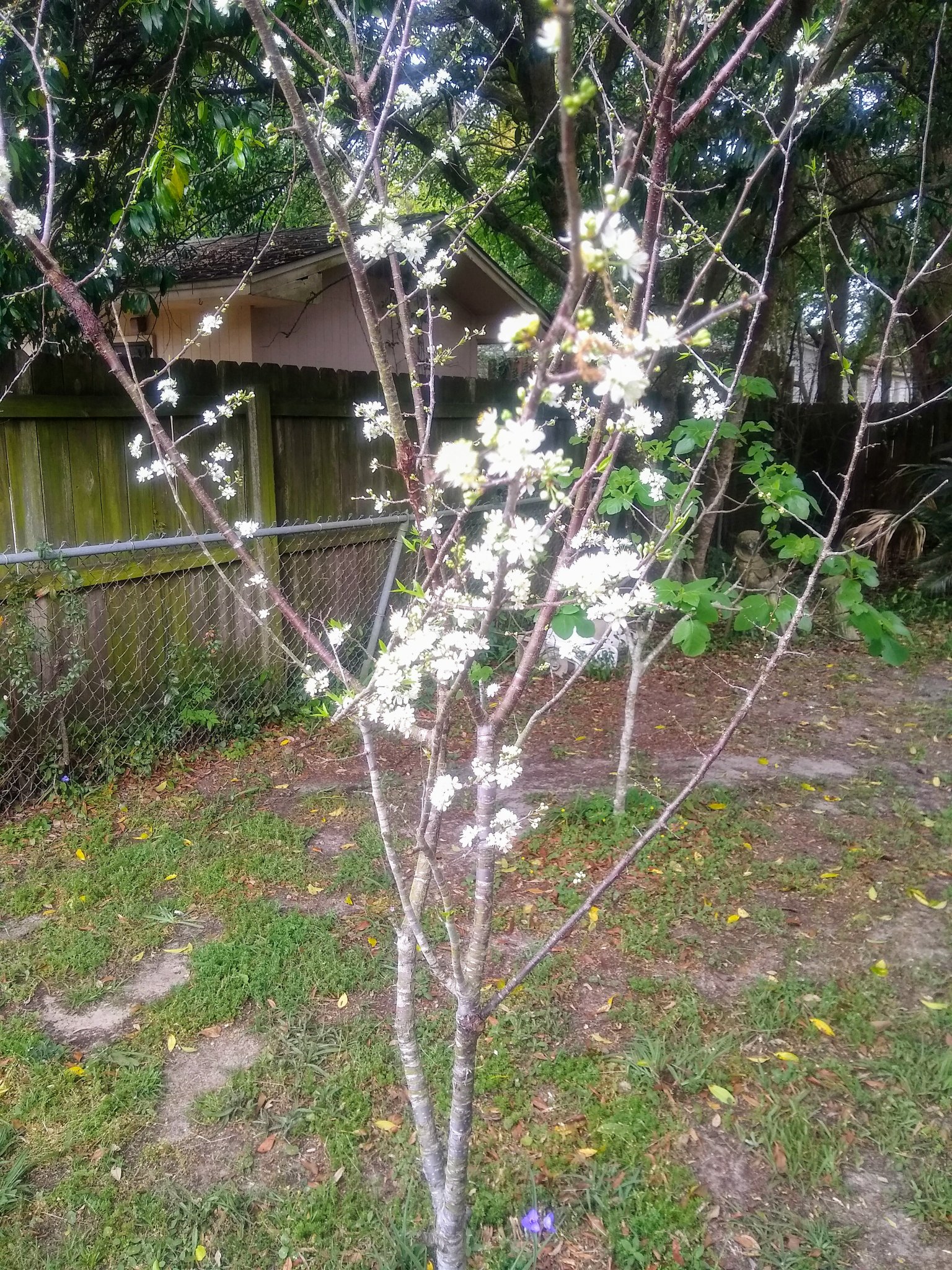 With luck we will have a great fruit crop this year.
The smells of Spring is just amazing….sorry I do not have smell-a-vision.
The one thing that sucks is having to use the A/C in March when early May is about the norm.
Let's get down to business…..
This article is one that really got my attention……one of my favorite books is Fahrenheit 451…….in one case you need permission to read a book about censorship….
Fahrenheit 451, Ray Bradbury's popular dystopian novel about book censorship, was written as a response to the paranoid political climate of the McCarthy era. But its message is apparently just as relevant in modern times as when it was first published back in 1953. Some students are still not allowed to read the book without a permission slip from their parents.

Daniel Radosh, a dad and a writer at The Daily Show, was asked to sign a note to permit his son to read the classic novel for his school book club. Apparently over the years parents have been concerned by the light swearing contained in the book (like "hell" and "damn") and the depictions of Bible burning. But the irony of parents trying to censor a book about book censorship was not lost on Mr. Radosh.
https://www.considerable.com/entertainment/books/fahrenheit-451-permission-slip-response/
We are now being bombarded by so many "plant based" products….how about something for all of us?
Meat companies are making it easier for you to eat your vegetables by blending them into burgers, meatballs, and sausages, reports the AP. Applegate is introducing a line of meat-and-veggie burgers and meatballs at grocery stores next month. Tyson Foods is already selling a beef-and-pea protein patty, as well as blended sausages. Perdue Farms has chicken-and-vegetable nuggets, while the Better Meat Co., a California startup, makes blended ground beef, pork, and chicken. All are hoping to quell consumers' growing misgivings about meat and its impact on health and the environment. Companies like Tyson have already jumped into pure plant-based products, like its Raised and Rooted pea protein-based nuggets that imitate chicken. That competes squarely with startups like Beyond Meat and Impossible Foods, which sell plant-based burgers that closely imitate meat.

But David Ervin, Tyson's VP of alternative protein, says internal research shows only 17% of consumers have tried plant-based meat, though 69% would. The top barrier to that: taste. Blended burgers, with the familiar taste of meat, "are an entry point." Applegate is introducing burgers that mix 72% lean organic beef with one-third of a cup of veggies. It's not as juicy as an all-beef hamburger, but the vegetables give it more flavor. One burger has 200 calories and 15 grams of fat; a 73% lean beef burger from Walmart has 340 calories and 30 grams of fat. In some cases, blended burgers are healthier than plant-based ones. Tyson's Raised and Rooted blended burger has 150 calories, 7 grams of fat, and 260 milligrams of sodium. Impossible Foods' burger has 240 calories, 14 grams of fat, and 370 milligrams of sodium. For now, though, there's one big stumbling block: price. Applegate charges $9.99 for four Well Carved burgers. Aldi charges $5.29 for the same amount of organic beef.
Okay this article shows just how ignorant this world has become…..
In times of a viral outbreak, why not make a viral video? That was the thought process of TikTok user Ava Louise, who once appeared on Dr. Phil's show as a rebellious teen and confessed, "I want to have purpose and meaning." The self-proclaimed Instagram influencer tried to give herself just that by making a TikTok video showing her licking an airplane toilet seat, with the words "coronavirus challenge" overlaying the clip. "Please RT this so people can know how to properly be sanitary on the airplane," Louise posted. As of Wednesday, the video had more than 460,000 views on Twitter. Per Louise herself, she'd hoped the TikTok would catch on. "I'm looking for a record deal and a reality show about my messy life," she tells People, which notes she'd posted inflammatory tweets about the virus previously, including one that read "coronavirus is for poor people and poor people only."

Many weren't happy with Louise's stunt. "Put her ass in jail!" tweeted The View's Meghan McCain—to which Louise responded with an Instagram post showing her posing in a bikini, noting, "Meghan McCain could NEVER." Business Insider—which notes Louise said she created the video to "trick boomers into giving her attention," thanking media outlets for calling attention to it all—reports on a follow-up video by Louise that went up after the TikTok. In it, the 21-year-old, who says she's a public relations major at Rutgers University, drinks a White Claw and reads from a scripted response, per Heavy.com. "You're all so f—king stupid," she says. "There's a reason coronavirus is taking out people over 50, because you're all idiots who ruined our country … Darwinism's doing its job by knocking you out with this virus." Response from the internet? "I'm sure her parents are proud," tweets one observer.
This type of crap makes the idiots in the movie "Idiocracy" look like geniuses….
And now for the important stuff…..
I have been told that it is time for that walk I promised an hour ago…..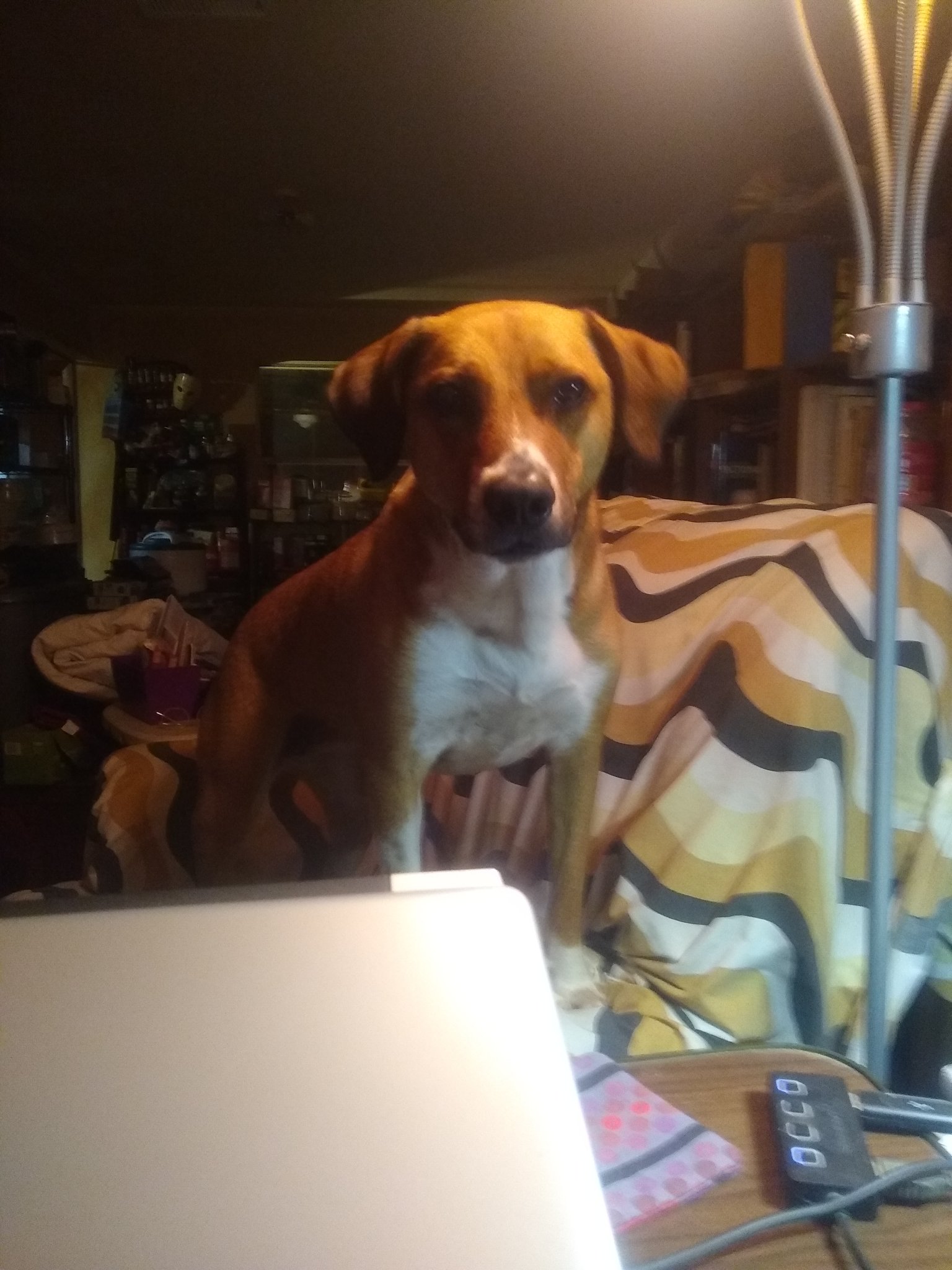 Have a day my friends.
"lego ergo scribo"