Last night was a much awaited (not sure by whom) debate between Harris and Pence….the VP candidate debate.
First this debate was a bit calmer than the first presidential debate….at least it was easier to watch this time.
As the coronavirus sweeps through the upper reaches of government, Republican Vice President Mike Pence and Democratic challenger Kamala Harris faced off Wednesday night in a debate highlighting the parties' sharply conflicting visions for a nation in crisis, per the AP. The candidates appeared on the stage in the University of Utah's Kingsbury Hall exactly 12.25 feet apart and separated by plexiglass barriers, with warnings to all guests that anyone who refuses to wear a face mask will be removed—an extraordinary backdrop for the only vice presidential debate of 2020. Some critics say Pence shouldn't have even been there in person, as he attended an event last week at the White House with Trump and others who've since tested positive. Pence's staff and doctors, however, insist he doesn't need to quarantine, under CDC guidelines. Moderator Susan Page, the Washington bureau chief for USA Today, kicked off the 90-minute debate on the topic of COVID-19:

Harris first criticized what she called "the greatest failure of any presidential administration in the history of our country" in dealing with the pandemic, accusing Trump's team of minimizing the severity of the disease and still not having a real plan in place to adequately address it. Pence pushed back, hailing the Trump administration's Operation Warp Speed and saying the Biden-Harris plan simply resembled Trump's. "It looks a little bit like plagiarism," he noted. More here on their virus conversation.
Page also asked about transparency, specifically on whether information about the president's health should be public information. "The American people have a right to know about the health and well-being of their president," Pence answered first. Harris' short answer: "Absolutely." She then addressed the concept of transparency overall, citing the recent bombshell of the revelation of Trump's tax returns. Pence hit back by saying Trump had paid "tens of millions of dollars in taxes."
Next up: the economy. "There couldn't be a more fundamental difference between Donald Trump and Joe Biden" on this topic, Harris noted, criticizing Trump's 2017 tax cuts and his hyperfocusing on the stock market; a Biden administration, she noted, would repeal those tax cuts and invest in the environment and immigration, among other areas. Pence defended the tax cuts, noted the Trump administration had worked hard to keep the economy going during the pandemic, and said, "You just heard Sen. Harris say, on day one, Joe Biden is going to raise your taxes," per WCTI. Harris corrected him, saying taxes wouldn't go up for those making less than $400,000 per year.
On the subject of climate change, Pence wouldn't say whether he thought it was an "existential threat." "The issue is, what's the cause?" he noted, per Reuters. "And what do we do about it?" Harris, however, acknowledged climate change is an "existential threat" and called out the Trump administration for not following the science. "Joe understands the West Coast of our country is burning; Joe believes, again, in science," she said.
The talk then turned to the trade war with China, which Harris said was a failure set off by Trump, per the Los Angeles Times. Pence's response: Biden has been "a cheerleader for communist China" for decades. The vice president also pointed fingers at China for COVID-19. "China is to blame for the coronavirus, and President Trump is not happy about it," he said.
A larger discussion on foreign policy brought forth a lecture on loyalty from Harris. "Donald Trump has betrayed our friends and has embraced dictators around the world," she noted, per the Detroit News, adding that Trump has seemed to side with Vladimir Putin over the word of our own intel communities. Pence took issue with that, noting "we've strengthened our alliances … and stood strong against those who would do us harm," bringing up the death of Iraqi terrorist Abu Bakr al-Baghdadi as an example.
On the subject of abortion, Harris stood firm. "I will always fight for a woman's right to make a decision about her own body," Harris said, while Pence said just as firmly," I'm pro-life. I don't apologize for it." Neither candidate went into depth on what they think should happen if the Supreme Court strikes down Roe v. Wade, the New York Times notes.
Regarding health care, Pence called ObamaCare a "disaster" and said that "President Trump and I have a plan to improve health care and to protect preexisting conditions for every American." Harris went on the attack against that statement, claiming the Trump administration wants to gut the Affordable Care Act and get rid of coverage for Americans with preexisting conditions. "If you love someone who has a preexisting condition, they're coming for you," she warned.
When the topic of race was broached, Harris noted she didn't think the family of Breonna Taylor, the 26-year-old EMT fatally shot by police in Louisville, Ky., received justice. Pence offered his sympathies to her family, but added that he trusted our justice system, and said he and Trump "reject the notion from Joe Biden and others that there's an 'implicit bias' towards minorities in law enforcement," calling it a "great insult" to suggest that.
The final question of the night was read by Page from eighth grader Brecklynn Brown, who asked the candidates: "When I watch the news, all I see is arguing between Democrats and Republicans. When I watch the news, all I see is citizen fighting against citizen. When I watch the news, all I see are two candidates from opposing parties trying to tear each other down. If our leaders can't get along, how are the citizens supposed to get along?" Pence responded to Brecklynn by saying that "in America, we believe in a free and open exchange of debate, and we celebrate that. … But when the debate is over, we come together as Americans." He cited the close friendship between late Supreme Court justices Ruth Bader Ginsburg and Antonin Scalia, whom he called "polar opposites," as an example of that.
Harris, for her part, said to Brecklynn: "When I hear your words … I know our future is bright, because it is that perspective on who we are and who we should be that is a sign of leadership. … You have the ability through your work and through eventually your vote to determine the future of our country and what its leadership looks like."
Harris handled herself well…..she was led astray by Pence on one occasion to debate the Supreme Court….not a good look for me….I think she could have made more attacks about the pandemic and the lies of the present administration.
Major take-a-ways from the debate….not mine but others that get paid a helluva lot more than I…..
Not a game-changer. The debate did nothing to change the trajectory of the race, Shane Goldmacher writes at the New York Times. Despite high expectations from Democrats, Harris "did not eviscerate Mr. Pence," he writes. "As for Mr. Pence, he turned in an effective, dutiful, conservative case for Mr. Trump, the likes of which the president rarely articulates himself. He predicts that "the debate could have a bigger impact on the 2024 race than on 2020."
We are Americans and we need to know who won the night…..it was that tiny fly on Pence's head…..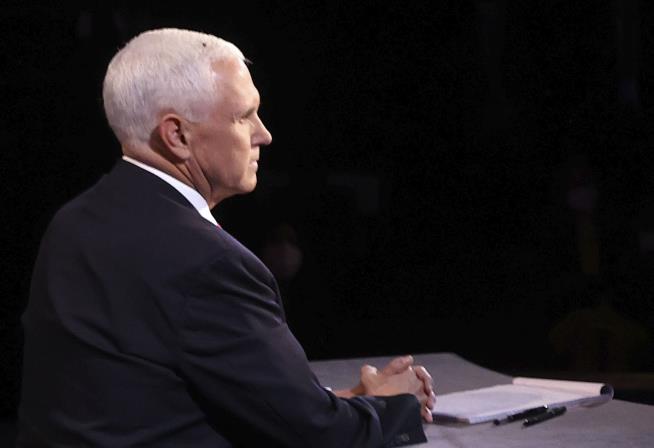 Social media needed this to divert the attention from a bad night for the GOP.
This debate like most debates are as worthless as they can be…first few direct answers are given…they always talk about what they want to talk about…that is not a debate…..this is a waste of time….people already know who they will vote for this is just an exercise in stupid.
Now you know…..
Learn Stuff!
I Read, I Write, You Know
"lego ergo scribo"