On this day in history was a turning point for Europe only a mere 20 years after the end of the Great War (WW1)…..this situation is all but forgotten unless you watch the Hitler Channel….but most Americans have NO idea what this "Pact" actually meant or did……
On this day in 1939 Nazi Germany and the Soviet Union signed a non-aggression pact….called the Molotov-Ribbentrop Pact…..
On August 23, 1939, representatives from Nazi Germany and the Soviet Union met and signed the Nazi-Soviet Non-Aggression Pact (also called the German-Soviet Non-Aggression Pact and the Ribbentrop-Molotov Pact), a mutual promise made by the two leaders guaranteeing that neither would attack the other.

With the imminence of World War II becoming ever clearer, signing the pact guaranteed Germany protection against the necessity of fighting a two-front war. The Soviet Union was awarded land in return, including parts of Poland and the Baltic States, as part of a secret addendum.

The pact was broken when Nazi Germany attacked the Soviet Union less than two years later, on June 22, 1941.
https://www.thoughtco.com/nazi-soviet-non-aggression-pact-1779994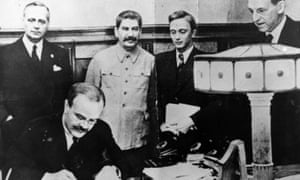 Germany and the Soviet Union have agreed to conclude a pact of non-aggression. The surprising announcement was made in Berlin last night by the official German news agency. It was added that Herr von Ribbentrop, the German Foreign Minister, is flying to Moscow to-morrow to complete the negotiations. Early this morning the Russian Tass Agency issued a similar statement.

The news was completely unexpected. There had been rumours in Berlin of a meeting at Berchtesgaden yesterday between Herr Hitler, Herr von Ribbentrop, and Her von Papen, who had recently visited Moscow, but that was all.

The decision to sign the pact is announced only the day after the signing of a commercial treaty was made known. The Russian press yesterday, suddenly changing its tone towards Germany, warmly welcomed the commercial agreement as being likely to lead to better political relations – "eventually," they said.
https://www.theguardian.com/world/from-the-archive-blog/2019/jul/24/molotov-ribbentrop-pact-germany-russia-1939
Neither party had any intention of keeping this pact…Poland was the prize that both wanted in their spheres….
This was an important event that leads up to September 1939 and the invasion of Poland.
Learn Stuff!
I Read, I Write, You Know
"lego ergo scribo"