Donald the Orange has made the threat that he would deploy US troops to our homeland to quell protests….but such a move would aspirate the situations with the protests…
As the George Floyd Uprising intensified in Minneapolis on Friday and Saturday, President Trump asked Acting Defense Secretary Mark Esper for options to deploy federal troops to the city. He signaled to Minnesota Governor Tim Walz, "We have our military ready, willing and able if they ever want to call our military, and we can have troops on the ground every quickly." Military Police soldiers from Fort Bragg (North Carolina), Fort Drum (New York), Fort Carson (Colorado), and Fort Riley (Kansas) were ordered to be ready to deploy for crowd and traffic control duties, if the state National Guards could not quell the unrest.

On Monday, Trump put Joint Chiefs of Staff chairman General Mark Milley "in charge," lambasted state governors, and said he would soon order active-duty federal troops into U.S. cities to "quickly solve the problem for them." He also indicated that he would soon be deploying active-duty military forces in the District of Columbia, where he has the direct authority to do so.
Deploying Federal Troops in a War at Home Would Make a Bad Situation Worse
As it is now the Supreme Court could move to block any stupid coming from Trump….but will they?
The Supreme Court could announce as early as Monday that it's taking up several cases involving the doctrine. The Court considered 13 different petitions for cases involving qualified immunity at a conference hearing yesterday.

Qualified immunity, created by the Supreme Court in the 1970s, shields police and other government officials from liability in civil rights lawsuits when the illegality of their actions was not "clearly established" at the time of the offense.

Attorneys representing the families of Floyd, Ahmaud Arbery, and Breonna Taylor called for policing reforms—including rolling back qualified immunity—at a press conference today.

"The standard is far too high…for civil rights accountability for law enforcement officers," attorney Lee Merritt said. He continued:
The Supreme Court Has a Chance To End Qualified Immunity and Prevent Cases Like George Floyd's
And if that is not successful then a Congressman is doing his part as well……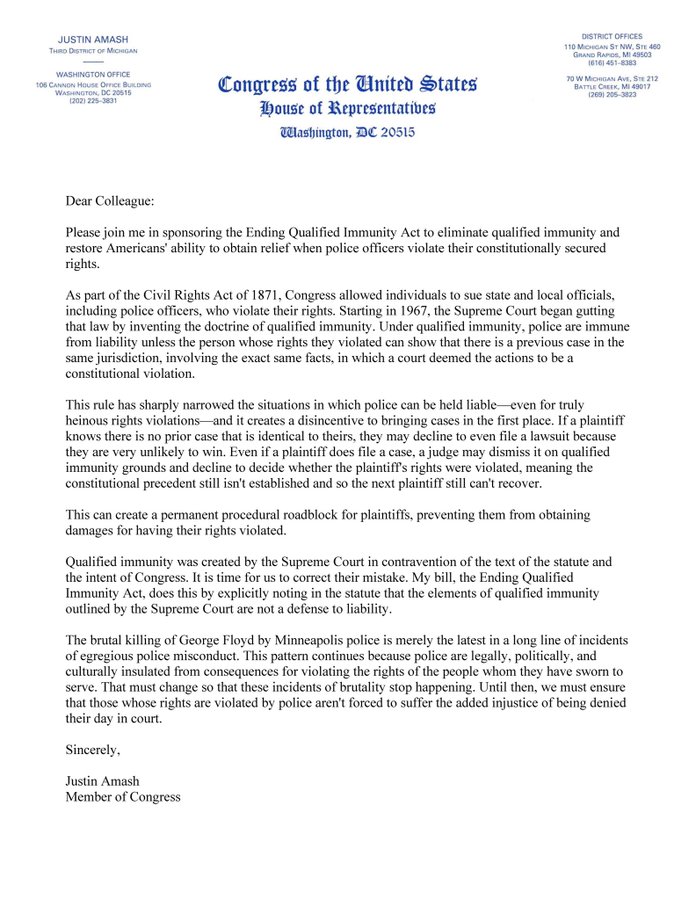 Will either of these attempts be successful?
No….conservs will fight them tooth and nail….the only hope the society has is to replace as many conservs as possible in Congress.
Is the nation capable of doing the right thing?
Don't think so damn positive!
The military has been used before on protesters….think 1932….the Bonus Army……
The commander of the operation was Army Chief of Staff Douglas MacArthur, who branded the BEF traitors bent on overthrowing the government. . . declaring, "Pacifism and its bedfellow communism are all around us." MacArthur's young aide was none other than Dwight D. Eisenhower, while Patton led the Third Cavalry — which spearheaded the eventual eviction of the Bonus Army. Patton shared MacArthur's hatred of "reds" and lectured his troops on how to deal with the BEF: "If you must fire do a good job — a few casualties become martyrs, a large number an object lesson. . . . When a mob starts to move keep it on the run. . . . Use a bayonet to encourage its retreat. If they are running, a few good wounds in the buttocks will encourage them. If they resist, they must be killed."
https://www.zinnedproject.org/news/tdih/bonus-army-attacked/
The leaders of the attacks were some of America's "best" generals…..MacArthur, Ike, Patton…..
These protesters were labeled "traitors" by American leaders…..people that had served the country honorably were now crapped on by the government they were sworn to protect…..very little has changed in almost 100 years.
As I predicted our Orange Man is starting to back up from the use of troops…..
After threatening states that he would dispatch the military to quell protests, President Donald Trump appeared to be privately backing off, with White House officials saying the response to demonstrations across the country indicated that local governments should be able to restore order themselves.

The shift came as protests in Washington and other cities over police brutality against minorities proceeded Tuesday with relative calm, a striking contrast to the harsh crackdowns outside the White House on Monday night. The president wanted to make the aggressive action in the nation's capital an example for the rest of the country, a senior White House official said Tuesday.
Trump Privately Backs Off From Sending Troops Into States Amid Unrest
Learn Stuff!
I Read, I Write, You Know
"lego ergo scribo"