Still on lockdown? What better time to read up on the random reports that were drowned out by Covid-19 news and views……
But first some sad news…..as an ex-union organizer I was sad to see the passing of a fellow organizer….and in my state as well……
Celso Mendoza spent the last two decades of his life scratching out a meager living on the processing line at a chicken plant in Forest, Mississippi. Though he lived humbly, he was an honorable man; a worker leader respected by many in his community.

On May 2, his life was cut tragically short by COVID-19. He was 59 years old.
https://amp.clarionledger.com/amp/3104375001
Now I move on…..news and views……
Stuff the scifi movies are made of……
In a report published last month, a team of scientists discussed how to ensure that human space travelers don't contaminate distant planets — and that they don't bring back extraterrestrial pollutants back to Earth, a topic that seems more pertinent than ever in the midst of a global pandemic.

"In my opinion, and that of the science community, the chance that rocks from Mars that are millions of years old will contain an active life form that could infect Earth is extremely low," said adjunct Stanford professor of aeronautics and astronautics Scott Hubbard, co-author of the report, in an interview with Stanford News. "But, the [Mars] samples returned by [NASA] will be quarantined and treated as though they are the Ebola virus until proven safe.
https://futurism.com/stanford-scientist-warns-risk-alien-pathogens
This report goes into the "No Sh*t File"……
Microbe communities living in the seafloor off Peru haven't bounced back from a deep-sea mining experiment 26 years ago. The populations are still reduced by 30 percent in this part of the South Pacific Ocean, researchers report April 29 in Science Advances.

From 1989 to 1994, the DISturbance and reCOLonization, or DISCOL, experiment plowed grooves into the seafloor to mimic deep-sea mining for valuable metal-bearing rocks. The lumps of rock, known as polymetallic or manganese nodules, contain economically important metals such as copper, nickel and cobalt.

To recover the nodules, miners dredge the seafloor, scraping off much of the top layer of sediment along with the rocks. Researchers have long expressed concern about how this might affect deep-sea ecosystems (SN: 2/19/14). But there is little data about the effects of deep-sea mining on the ocean environment — and particularly on the microbes at the base of the food web, which cycle the nutrient nitrogen between seafloor and bottom waters (SN: 10/10/17).
Deep-sea mining may damage underwater ecosystems for decades
Hope they did not spend too much on that study and for the price of a beer I could have told them the say thing….
For the "Can't Fix Stupid File"…….
A woman illegally visited Yellowstone National Park while it's closed during the coronavirus pandemic and suffered burns Tuesday when she fell into a thermal feature, officials said. She was reportedly backing up while taking photos and fell into a hot spring or hole where hot gases emerge near Old Faithful geyser, park spokeswoman Linda Veress said in an email. Despite her injuries, the woman drove for roughly 50 miles until park rangers stopped her near Mammoth Hot Springs. She was flown to a hospital in Idaho Falls, Idaho, the AP reports. Park officials did not release the woman's name or the extent of her injuries.

Yellowstone National Park has been closed since March 24. Yellowstone and nearby Grand Teton National Park will announce plans for a phased reopening Wednesday. Visitors are warned to stay on the boardwalks near Yellowstone's often boiling or acidic thermal features, which include geysers, hot springs, steam vents, and mud pots. Tourists sometimes go off the designated walkways and are injured or killed. Last fall, a man who was walking off a boardwalk near Old Faithful at night fell into a hot spring, suffering serious burns. In June 2016, 23-year-old Colin Scott of Portland, Ore., fell into a superheated, acidic mud pot and died. His remains couldn't be recovered.
Finally a big step for Utah……
Polygamy is now effectively decriminalized in Utah. Lawmakers passed the bill reducing bigamy from a felony to a minor infraction in February, the governor signed it in March, and it took effect Tuesday. While bigamy had been a third-degree felony for decades in the state, the attorney general's office had declined to prosecute it unless other crimes were also involved. The new law simply makes that policy official, CNN reports. Lawmakers say removing the penalty will make it more likely that victims of abuse will come forward, since they will no longer need to fear arrest.
A final thought….
Lastly…..once seen cannot be unseen…..(so eerie I had to re-post the photo)….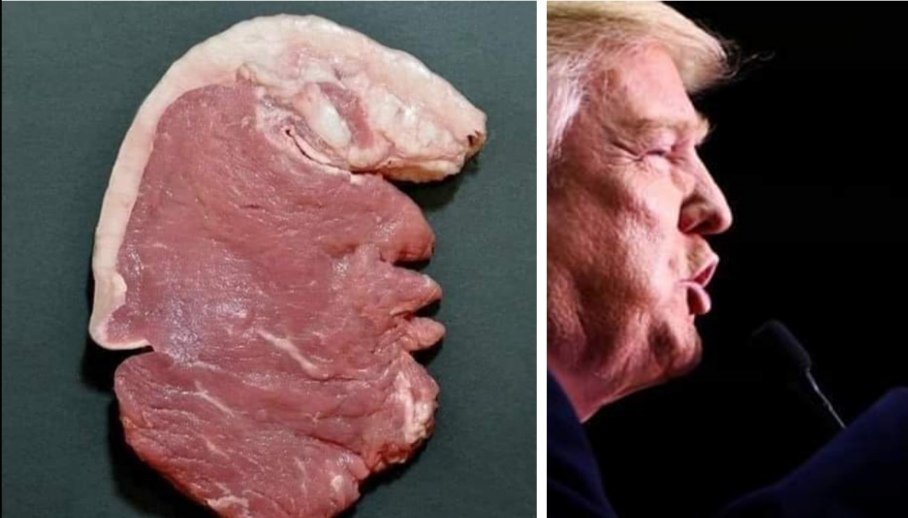 Be Well….Be Safe……
I Read, I Write, You Know
"lego ergo scribo"