Before the days when cops have a free hand at killing American citizens….there were antiwar protests all over the nation……one particularly deadly encounter was Kent State….
Do you remember this iconic photo from the massacre?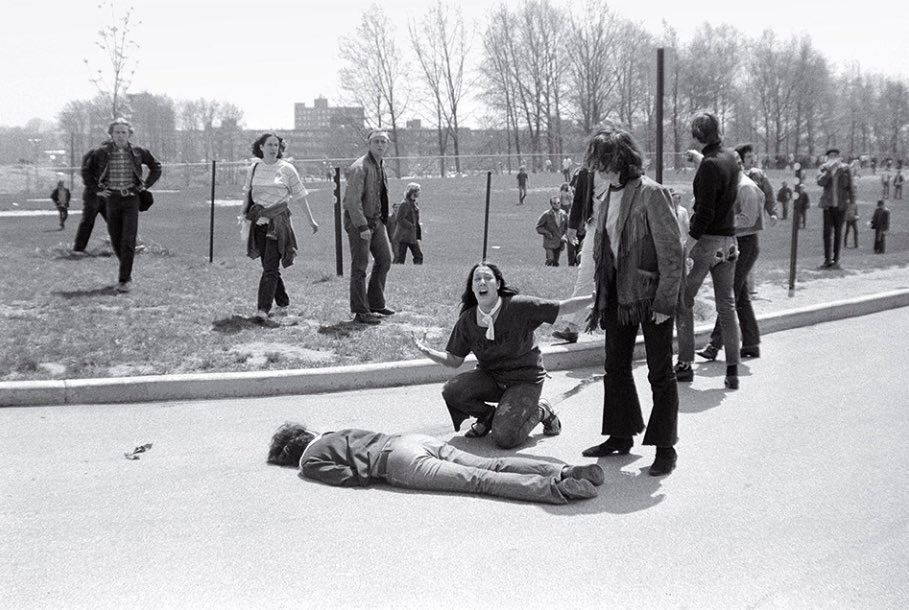 On this day in 1970 Ohioan National Guard open fire on protesting students……with disastrous results….death and maiming……
On May 4, 1970, in Kent, Ohio, 28 National Guardsmen fire their weapons at a group of anti-war demonstrators on the Kent State University campus, killing four students, wounding eight, and permanently paralyzing another. The tragedy was a watershed moment for a nation divided by the conflict in Vietnam, and further galvanized the anti-war movement. 

Two days earlier, on May 2, National Guard troops were called to Kent to suppress students rioting in protest of the Vietnam War and the U.S. invasion of Cambodia. The next day, scattered protests were dispersed by tear gas, and on May 4 class resumed at Kent State University. By noon that day, despite a ban on rallies, some 2,000 people had assembled on the campus. National Guard troops arrived and ordered the crowd to disperse, fired tear gas, and advanced against the students with bayonets fixed on their rifles. Some of the protesters, refusing to yield, responded by throwing rocks and verbally taunting the troops.
https://www.history.com/this-day-in-history/national-guard-kills-four-at-kent-state
What did those deaths accomplish?
https://www.military.com/daily-news/2020/05/03/day-all-hell-broke-loose-local-lives-lost-forever-changed-kent-state-shooting-50-years-ago.html
As usual nothing happened…other than the deaths of some students….of which some were not part of the protest…..and yet they are dead…..
Phillip Lafayette Gibbs met Dale Adams when they were in high school, in Ripley, Mississippi, a town best known as the home of William Faulkner's great-grandfather, who ran a slave plantation, fought in the Mexican-American War, raised troops that joined the Confederate Army, wrote a best-selling mystery about a murder on a steamboat, shot a man to death and got away with it, and was elected to the Mississippi legislature. He was killed before he could take his seat, but that seat would have been two hundred miles away in the state capitol, in Jackson, a city named for Andrew Jackson, who ran a slave plantation, fought in the War of 1812, was famous for killing Indians, shot a man to death and got away with it, and was elected President of the United States. Phillip Gibbs's father and Dale Adams's father had both been sharecroppers:  they came from families who had been held as slaves by families like the Jacksons and the Faulkners, by force of arms.
https://www.newyorker.com/magazine/2020/05/04/kent-state-and-the-war-that-never-ended
For those that did not read the links….these are the names and wounded at Kent State on 04 May 1970…..
Killed (and approximate distance from the National Guard):
Wounded (and approximate distance from the National Guard):
Joseph Lewis, Jr.; 71 ft (22 m); hit twice in the right abdomen and left lower leg
John R. Cleary; 110 ft (34 m); upper left chest wound
Thomas Mark Grace; 225 ft (69 m); struck in left ankle
Alan Michael Canfora; 225 ft (69 m); hit in his right wrist
Dean R. Kahler; 300 ft (91 m); back wound fracturing the vertebrae, permanently paralyzed from the chest down
Douglas Alan Wrentmore; 329 ft (100 m); hit in his right knee
James Dennis Russell; 375 ft (114 m); hit in his right thigh from a bullet and in the right forehead by birdshot, both wounds minor
Robert Follis Stamps; 495 ft (151 m); hit in his right buttock
Donald Scott MacKenzie; 750 ft (230 m); neck wound
Least we forget……may they R.I.P.
I Read, I Write, You Know
"Lego ergo scribo"