There are stories then there are stories…..not all the news makes it to your evening news reports…..and that is why I am here….to keep my readers abreast of the stuff that may not be reported.
This should tell you everything you need to know about the GOP…..Congressman from Indiana thinks the economy is more important than lives…..
A GOP congressman said Tuesday that it's better to let Americans die than deal with a tanking economy, and to do otherwise "is to insult" Americans. "Both of these decisions will lead to harm for individuals, whether that's dramatic economic harm or whether it's loss of life. But it's always the American government's position to say, in the choice between the loss of our way of life as Americans and the loss of life, of American lives, we have to always choose the latter," Indiana Rep. Trey Hollingsworth told WIBC, per the Washington Post. "It is policymakers' decision to put on our big boy and big girl pants and say it is the lesser of these two evils. It is not zero evil, but it is the lesser of these two evils and we intend to move forward that direction," he continued. "That is our responsibility."

"We've got to get Americans back to work, back to their schools, and back to their churches," Hollingsworth went on, echoing President Trump, who in late March said "we can't have the cure be worse than the problem." Reached by CNN, Hollingsworth said it was "hyperbolic" to say that "no economy or widespread casualties" are the only options. "We can … enable as much of the economy to operate as possible while we work to minimize disease transmission." Yet experts say social distancing will ultimately benefit the economy, while reversing the measure will lead to greater hardships. Per MIT Technology Review, economist Michael Greenstone estimates social distancing will save 1.7 million lives by October, which "translates into a benefit of around $8 trillion to the economy."
I hope the Indiana Dems are talking notes to run against the spineless slug…..and he is not alone with wanting more American deaths…Sen. Kennedy from Louisiana……
Sen. John Kennedy (R-LA) authoritatively declared on Wednesday night that the American people understand that the economy needs to be reopened very soon and that when that happens, the deadly coronavirus is "gonna spread faster."

Appearing on Fox News' Tucker Carlson Tonight, Kennedy—whose home state has been one of the hardest hit during the COVID-19 pandemic—insisted that social-distancing restrictions need to be quickly reversed because "very soon, the can is going to run out of road."
https://www.thedailybeast.com/gop-sen-john-kennedy-says-we-gotta-reopen-country-and-coronavirus-is-gonna-spread-faster-when-we-do
Hopefully there is a price to pay for wanting more Americans deaths.
Couple of religious stories that were not that important to the MSM…..
On March 22, Bishop Gerald O. Glenn held a packed church service at Virginia's New Deliverance Evangelistic despite Gov. Ralph Northam urging residents to avoid gatherings of more than 10 people amid the coronavirus pandemic. By April 11, Glenn was dead of COVID-19, People reports. The 66-year-old pastor and founder of the church made headlines with the completely full service, the last in-person one held by the church, and even said during his sermon, "I got way more than 10 people here." He said he considered himself "essential," and chided the government for "making moral decisions for church members." The Washington Post describes him as a "prominent" evangelical leader in the area.

The day after the service, March 23, Northam officially banned gatherings of more than 10, and shuttered non-essential businesses. Glenn started feeling ill March 25. On April 3, his daughter said on Facebook Live that her dad was in "pretty critical condition" in the hospital, and by the following day she had confirmed both he and her mother had tested positive for the virus. Three of their children and a son-in-law also tested positive, WRIC reports. "It is with an exceedingly sorrowful and heavy heart that I come to you this morning, and regret to inform you that on last night, April the 11th at 9pm, our father Bishop Gerald Glenn transitioned from labor to reward," a church official said during the church's Easter livestream service.
Was that the reckoning that some were preaching?
Next is a religious school trying to profit off the pandemic…..
A new lawsuit accuses Liberty University of profiting off the coronavirus pandemic by offering reduced services while refusing to refund student fees. The class-action suit—filed Monday by "Student A," who opted for anonymity "out of fear of retaliation and harassment"—claims Liberty allowed students to return to campus in Lynchburg, Va., even as classes and religious services moved online, so as to justify holding onto student fees which, excluding the cost of tuition, range from $9,200 to $16,000 for the academic year, per CNN. The evangelical school has said it welcomed back students with no safer place to go. Some 1,900 had returned as of March 24, with up to 5,000, or roughly a third of the student population, expected. But the campus "did not reopen" and "looks like a ghost town," President Jerry Falwell Jr. said in late March.

Student activities are canceled, recreation centers are closed, and food service offers take-out only. Liberty said "certain students who have opted to move from the residence halls" would receive a credit of $1,000 toward the fall semester. But it doesn't apply to non-returning students, excluding graduates, and students had to opt-in by March 28, the suit claims. "When Liberty has shut down the majority of student services for the rest of the semester … it should not be allowed to keep the fees paid by students to run those operations," a lawyer for the plaintiff tells WSET. Liberty now accuses counsel of trying to "profit from a public health crisis." Changes in operations have been "required by governmental officials," which "leaves the plaintiffs without a legal case," it says. Similar lawsuits have been filed against Drexel University and the University of Miami
Some of the religious types are money hungry and are allowed to get away with it because it is some sort of religion.
Some of the models for this pandemic lay out a dire prediction…..
If a coronavirus vaccine fails to become available quickly, social distancing might be here until 2022. That's according to new research published in the journal Science on Tuesday. Researchers from Harvard took what is known about COVID-19 and other coronaviruses and used computer models to simulate various scenarios for how the pandemic could play out, CNN and Bloomberg report. The key line: In order to contain the virus, "Intermittent distancing may be required into 2022 unless critical care capacity is increased substantially or a treatment or vaccine becomes available." And even then, if the virus appears to have been eliminated, "surveillance should be maintained since a resurgence in contagion could be possible as late as 2024." Researchers warn that if social distancing is practiced intermittently, outbreaks could occur quickly each time restrictions are lifted.

That's why, they say, widespread testing would need to be carried out so it quickly becomes clear when a certain threshold has been passed and restrictions need to be reinstated, per ScienceAlert. This intermittent approach will work better than keeping things locked down indefinitely—one model showed that it's possible for social distancing to be "so effective that virtually no population immunity is built," leading to an eventual peak as bad as letting the virus spread uncontrolled. A lot remains unknown, but Forbes reports researchers believe resurgences are likely each winter similar to the flu or the common cold—which is often caused by less severe coronaviruses. Not happy about the idea of social distancing through 2022? The researchers say "new therapeutics, vaccines, or other interventions such as aggressive contact tracing and quarantine" could all help with controlling the virus and lessening the need for distancing measures.
One final note…this one is just for our Fearless Leader The Donald the Orange……
Around 90% of those dead could have been saved…..
As it currently stands, the U.S. is predicting that COVID-19 will kill about 60,000 Americans over the next four months. But if the government had acted and urged everyone to physically distance themselves just two weeks sooner than it did, that number could have been slashed by 90 percent.

That's according to epidemiologists Britta Jewell of Imperial College London and Nicholas Jewell of the London School of Hygiene and Tropical Medicine, who wrote in a Tuesday New York Times op-ed that just two additional weeks of stay-at-home orders and other self-isolation recommendations could have saved tens of thousands of lives.
https://futurism.com/neoscope/scientists-prevented-deaths-shutting-down-earlier
That is about 3000 dead instead of 30,000….now that is a savings we all could live with, right?
News that should be the star of the evening news…..
One final thought on TP shortage……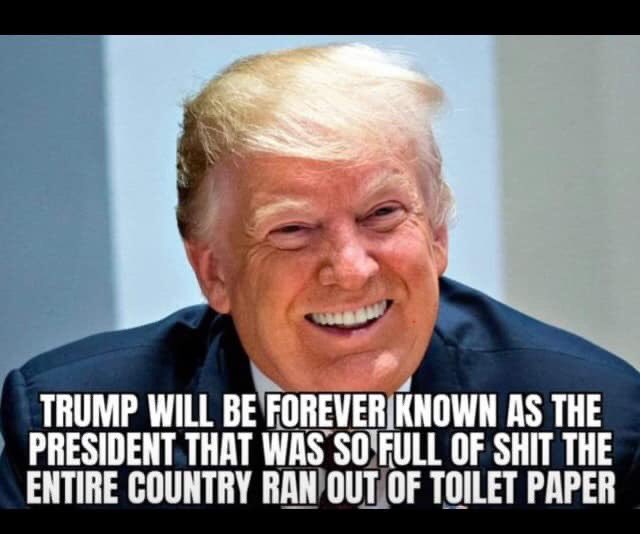 Watch This Blog!
I Read, I Write, You Know
"lego ergo scribo"