I start each of these posts with the same thought…"I do this stuff so you do not have to"…..you are welcome!
The fifth debate of 2019 is in the can……and as usual it was mostly a beauty contest and not a true debate…..
The November Dem debate was last night ….and the summaries are as follows……
Ten Democratic candidates are debating in Atlanta—including five of the senators who will serve as jurors if there is an impeachment trial for President Trump. Sens. Elizabeth Warren, Bernie Sanders, Kamala Harris, Cory Booker, and Amy Klobuchar are on stage, along with Joe Biden, Pete Buttigieg, Tulsi Gabbard, Andrew Yang, and Tom Steyer. The first question at the debate, which is being hosted by the Washington Post and MSNBC, was on impeachment. Warren, asked if she would try to convince fellow senators to convict Trump, said: "Of course I will." More:

Warren added that US Ambassador to the EU Gordon Sondland, who testified earlier in the day, should never have been appointed to the position in return for donating $1 million to Trump. Harris said the impeachment inquiry proves "we have a criminal in the White House," the Guardian reports. Sander stressed that to defeat Trump, Democrats need to focus on issues beyond the inquiry, while Biden argued that the fact Trump and Vladimir Putin don't want him to be president helps make the case for his candidacy.
Warren and Booker clashed over her proposed wealth tax. "I'm tired of free-loading billionaires," Warren said. Booker called the tax "cumbersome," saying: "We as Democrats need to fight for a just taxation system" but "Democrats also have to talk about how to grow wealth as well."
Buttigieg argued that Democrats shouldn't turn off Republican and independent voter with massive social programs like Medicare for All, reports the New York Times reports. He invoked President Obama and said: "Even on issues where Democrats have been on defense, like immigration and guns, we have a majority to do the right thing, if we can galvanize, not polarize that majority." Sanders promised to pursue Medicare for All in his first week in office.
Harris and Gabbard clashed after Gabbard slammed the "ongoing Bush, Clinton, Trump foreign policy doctrine of regime change war." Harris accused Gabbard of "buddying up" to Steve Bannon and said it was "unfortunate" that one of the candidates onstage was somebody who "during the Obama administration spent four years full time on Fox News criticizing President Obama."
A line from Klobuchar is going viral: "If you think a woman can't beat Donald Trump, Nancy Pelosi does it every single day."
Sanders declined to disavow "Lock him up" chants directed at Trump, saying "the people of this country are catching on to the degree this president thinks he is above the law."
Booker said he would deal with the housing crisis by giving tax credits to people who paid more than a third of their income in rent, while Warren and Steyer said they would use federal funds to build affordable housing, the AP reports.
On paid family leave, Klobuchar declined to commit to more than three months, saying: "We have an obligation as party to, yes, be fiscally responsible, yes, think big, but be honest." Yang said the only countries that don't provide paid leave for new moms are the US and Papua New Guinea, and "we need to get off that list," Politico reports.
In a discussion of climate change, Biden accused Steyer of having a terrible record on the issue, saying: "My friend was producing more coal mines and produced more coal around the world … than Great Britain." Steyer said like unlike Biden and Warren, the issue was his No. 1 priority.
On foreign policy, "Donald Trump got punked" by North Korea, Harris said. "He has conducted foreign policy since Day 1 borne out of a very fragile ego," she said, calling the president the "greatest threat" to America's national security.
Yang got some laughs when he was asked what he would say in his first conversation with Vladimir Putin after being elected president. "Sorry I beat your guy," Yang responded.
Sanders, asked about the US relationship with Israel, said the US need to think about the Palestinians as well, reports FiveThirtyEight. "It is no longer good enough for us simply to be pro-Israel, I am pro-Israel, but we must treat the Palestinian people as well with the respect and dignity that they deserve," he said.
Booker criticized Biden for opposing marijuana legalization, saying he thought he "must have been high" when he remarked on the issue recently. Biden went on to say he "comes out of the black community" in terms of support and claimed to have been endorsed by the "only African-American woman that had ever been elected to the United States Senate." The Guardian notes that he was quickly corrected by Harris, the second African-American woman to have been elected to the Senate.
On abortion, Warren declined to denounce Louisiana's Democratic governor for signing a strict anti-abortion bill in the law, but promised to defend abortion rights.
Buttigieg and Gabbard, who are both veterans, clashed on foreign policy, with Buttigieg slamming Gabbard's "outlandish" claim that he wanted to send the US military to deal with Mexican drug cartels, MSNBC reports. He responded to her suggestion he was inexperienced by questioning her judgment in sitting down with murderous dictator Bashar al-Assad.
In closing statements, Booker urged voters to help him qualify for the December debate. Yang warned that the American dream is vanishing. "Our kids are not alright," he said. "They're not all right because we're leaving them a future that is far darker than the lives that we have led as their parents." Steyer said he was best qualified to call Trump "a fraud and a failure on the economy," and Klobuchar said she was the candidate who could carry "red districts, suburban purple districts and bright blue districts."
Sorry Biden supporters Uncle Joe looked his age and tired….he did not gain many more supporters.  Booker had a good night but will it be enough?  Harris needed a win and the best she did was a draw…..
We heard all the usual terms like "on day one"……slogans are the fodder for the pundits and the headlines…..I do not think many people changed their minds on who to support…..I did not…..I support Gabbard and still do so….even as the media tries desperately to get her support to wane……Me?  I do not let toadies working for corporations tell me who my candidate should be.
Sen. Harris is still doing the work for Hillary and Mayor Pete is still a centrist that will change NOTHING if elected….and the candidate that MSNBC's Matthews wants to be the president….he still has a hard on for the "hard Left"…..I listened to the Dems talk like Neocon warmongers……and then the pundits jumped into the same boat…..
Who was the biggest loser in this debate…once again it was the voter…they had very little diversity just the same non-starter policies with some new window decoration.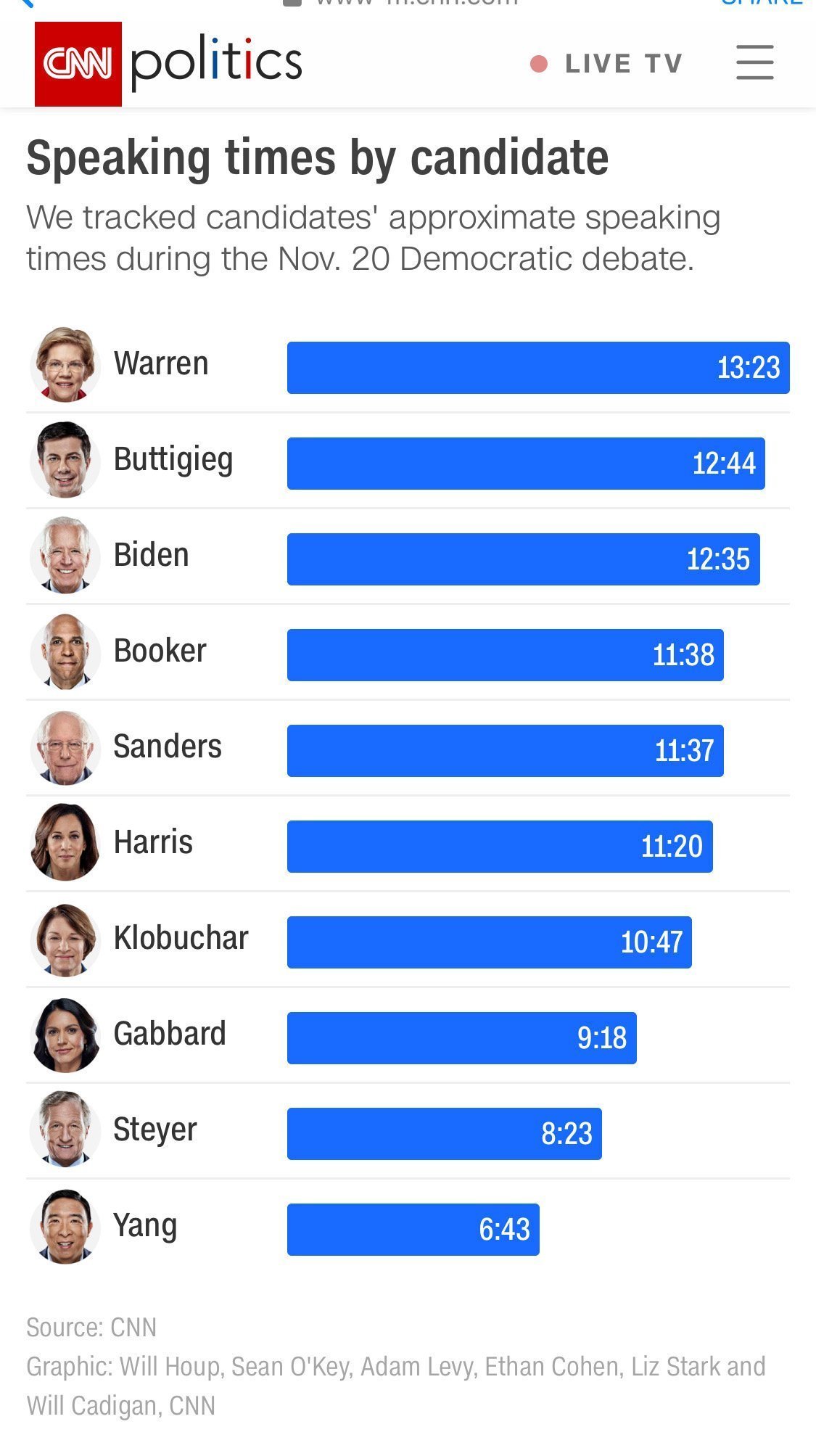 THe MSM pulled NO punches in their attacks on Tulsi……they want her gone, the only antiwar candidate…..now once they succeed who will they come for next Yang or Steyer…..once they eliminate all the "radicals" they will then set their sights on the Left leaning meaning Warren, Sanders…then they will have the roster they want…..centrists fighting it out……
I aw nothing in this debate that has changed anything…..As the election comes closer it is shaking out as a usual election…..the voter will hold their nose and vote for the least offensive candidate….policies be DAMNED!
Status quo wins again!
I Read, I Wrote, You Know
"Lego Ergo Scribo"