We now have a new president….under really disturbing circumstances Joe Biden took the oath of office sans Trump in the handover (breaking another American tradition)…..
Joe Biden swore the oath of office Wednesday to become the 46th president of the United States, during an inauguration ceremony with few parallels in history. He was administered the oath by Chief Justice John Roberts as three former presidents—Bill Clinton, George W. Bush, and Barack Obama—looked on. The New York Times reports he took the oath with his hand on a family Bible that dates to 1893. It has been present at his prior swearing-ins as senator and vice president, and son Beau Biden used it when he became Delaware attorney general. Biden comes to office with a well of empathy and resolve born by personal tragedy, as well as a depth of experience forged from more than four decades in Washington. At age 78, he is the oldest president inaugurated, reports the AP.

The theme of Biden's approximately 30-minute speech will be "America United," and aides said it would be a call to set aside differences during a moment of national trial. Biden will then oversee a "Pass in Review," a military tradition that honors the peaceful transfer of power to a new commander in chief. Then, Biden, Vice President Kamala Harris, and their spouses will be joined by that bipartisan trio of former presidents to lay a wreath at the Tomb of the Unknown Soldier at Arlington National Cemetery. Later, Biden will join the end of a slimmed-down inaugural parade as he moves into the White House. In the evening, in lieu of the traditional glitzy balls that welcome a new president to Washington, Biden will take part in a televised concert that also marks the return of A-list celebrities to the White House orbit after they largely eschewed Trump.
And we also have a history making Vice President…..
For more than two centuries, men have occupied our country's top offices. No more. Kamala Harris was on Wednesday sworn in as the first female vice president. The 56-year-old is also the first Black woman and person of South Asian descent to hold the role, reports the AP. She was sworn in by Supreme Court Justice Sonia Sotomayor, the first woman of color to serve on the high court, using two Bibles: one that belonged to Supreme Court Justice Thurgood Marshall, the late civil rights icon whom Harris often cites as inspiration, and the other to Regina Shelton, a longtime family friend who helped raise Harris during her childhood in the San Francisco Bay Area. Harris will address the nation late Wednesday in front of the Lincoln Memorial.

Another longtime Harris friend, Lateefah Simon, tells the AP that Harris—the child of immigrants, a stepmother of two, and the wife of a Jewish man—"carries an intersectional story of so many Americans who are never seen and heard." Her swearing-in comes almost two years to the day after Harris launched her own presidential bid on Martin Luther King Jr. Day in 2019. Her campaign fizzled before primary voting began, but Harris' rise continued when Joe Biden chose her as his running mate last August. Harris had been a close friend of Beau Biden, the elder son of Joe Biden and a former Delaware attorney general who died in 2015 of cancer.
There is so much work to do…..they need to double down in their campaign promises and get to work.
A closing note….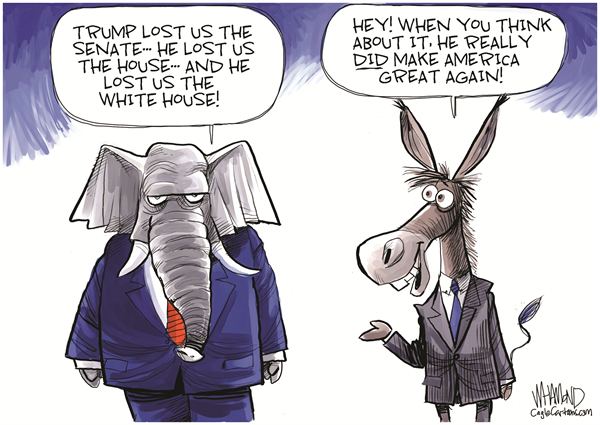 I Read, I Write, You Know
"lego ergo scribo"