If you are worried about the trajectory of this country….then take the title seriously…….
It is less than two months from the election…..it is time for the voter to pull their head out of their butt and pick a candidate….one that has the best interest of the country at heart….
Yes, I know…..I was a supporter of Bernie Sanders at least originally…..he was a progressive choice to support against the neocon Clinton……and I sure as Hell was not going to support anything on the GOP side….a biggest bunch of egocentric crack pots on the planet.
But in case you have any misconceptions about Bernie……
New aggregated poll data from hundreds of polls nationwide have delivered Clinton and Trump the lowest favorable ratings of presidential candidates since polls began 30 years ago.

Clinton's favorability rating has slumped to 41% among all eligible voters, according to the Huffington Post, while Trump's remains steady at a low 36%.

Sanders meanwhile has surged to his highest favorable rating of the election season. His 53.4% favorable rating is so far ahead of both candidates it suggests that he would trounce them both and win the election in a landslide if it was held today.
Source: Polls Shows Bernie Sanders Would Win Election By Landslide | Your News Wire
Now that Bernie has decided to drink the "unity" kool-aid and endorse Clinton I have to find an alternative……and now I am thinking Green……
If you are a true progressive and do not know what to do this election…then maybe a look at a good alternative will help……
We are grassroots activists, environmentalists, advocates for social justice, nonviolent resisters and regular citizens who've had enough of corporate-dominated politics. Government must be part of the solution, but when it's controlled by the 1%, it's part of the problem. The longer we wait for change, the harder it gets. Don't stay home on election day. Vote Green.
Source: www.gp.org
The Green Party candidate for president is Dr. Jill Stein….she is a progressive and a person that actually has a vision for the United States…..unlike our two major party candidates…..
I recently read a good debate on why us progressives should not support Clinton in her bid…..
After a tension-filled opening day of the Democratic National Convention that saw Senator Bernie Sanders endorse his former rival Hillary Clinton, we host a debate between Green Party presidential candidate Dr. Jill Stein and Ben Jealous, former NAACP president and CEO and a Bernie Sanders surrogate.
Source: Jill Stein vs. Ben Jealous: Should Progressives Reject Hillary Clinton & Vote Green? | Democracy Now!
She made, to my mind, excellent reason why we should run from the candidacy of Hillary Clinton…..
There is still time for you, the voter, to check out a real alternative to the raging bullshit of the two major parties……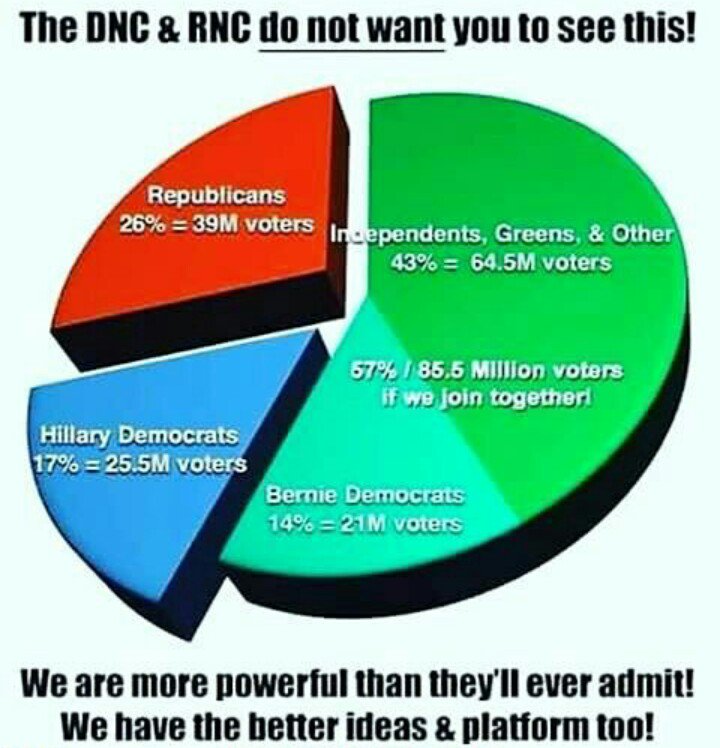 After listening to Dr. Stein at the townhall on CNN she said one thing that made my choice easy….
Americans who tuned into CNN's Green Party town hall last night were exposed to political ideas and analyses that are rarely given airtime on mainstream news networks.
Moderated by CNN host Chris Cuomo, the town hall allowed people in the audience to ask questions of Green Party presidential candidate Jill Stein and her running mate Ajamu Baraka.
An audience member identifying herself as a US army veteran expressed dismay at Stein's support for the Palestinian-led boycott, divestment and sanctions (BDS) movement that seeks to hold Israel accountable for ongoing human rights abuses against Palestinians.
"Why do you single out Israel being that they are a democratic ally to us?" she asked, reciting a standard pro-Israel talking point. "Why don't you do the same for other Middle Eastern States, many of which are committing horrific crimes and abuse of people?"
Source: No special treatment for Israel, Jill Stein says | The Electronic Intifada
Finally a candidate that does not kiss Israeli ass!
Is there a reason to vote Green?
Source: Time to Vote for a Third Party? – LA Progressive
If you as a voter is still on the fence for this election…may I suggest that you check out the Green Party platform…..
Source: Jill Stein on The Issues – Campaign 2016 – Council on Foreign Relations
Source: Platform – GPUS
THINK GREEN!  That is unless you are one of those that lets others make up your mind for you……then….never mind!