My last post of the day and I just could not resist mentioning the debate tomight….not that it is important….just that it is just so damn silly.
Tonight is the 2nd in a list of GOP debates…..the stage will be crowded with 11 candidates all vying for a noteworthy quote that will make the evening news…..do not forget that the Kiddy Table debate is just before the main event (neither of which will be carried on pay-per-view).
The Kiddy Table debate will be one short….Perry has suspended his campaign and his numbers went up….go figure……
Since I do not plan on watching this clown show I will give you a few pre-debate thoughts…..
The second Republican debate is tonight and nobody—least of all host network CNN, which describes it as "Round 2 of a heavyweight bout"—is pretending it's going to be anything other than another episode of the Donald Trump Show. CNN is expecting a record audience for the debate at the Ronald Reagan Presidential Library in Simi Valley, Calif., the Los Angeles Times reports, and here are a few reasons why there could be more fireworks than in last month's debate:

Overcrowding. "We've never had this many candidates on one stage, standing this close together, for so long," and unlike the last debate, "candidates will be standing shoulder-to-shoulder and constantly on camera," writes Mike Allen at Politico, wondering who will be caught "looking awkward/embarrassed/mad while being attacked" and if any of the candidates will physically touch each other.
Attacks on Trump. The frontrunner says he'll be walking into a "lion's den," Voice of America reports, and while not all of the 10 people sharing a stage with him can be expected to go on the attack, some have probably been practicing anti-Trump lines for weeks. Rand Paul, for one, tells CNN that he plans to go on the offensive and that his pre-debate prep will be going "out shooting target practice in the morning." His target: the tax code.

Carly Fiorina. She's rising in the polls and moving to the main stage, and a lot of people are expecting a showdown tonight with Trump, who insulted her looks in a recent interview. "This is going to be a defining moment in Carly's career," Fiorina supporter Boris Feldman tells the New York Times. "What's selling tickets to this is the Trump-Carly card," he says. "Trump has a thing about anybody questioning him, but especially a woman."
Desperation. "These debates are increasingly life-and-death moments for candidates who started out as the presumptive frontrunners" but no longer "control their own destiny," including Jeb Bush, Marco Rubio, and Scott Walker, GOP strategist Steve Schmidt tells CNN. Schmidt says only Ben Carson is currently in reach of beating Trump. Mike Huckabee, Rand Paul, Chris Christie, Ted Cruz, and John Kasich will also be scrambling to make an impression, and those who fail may not make it to the next debate.
Ronald Reagan. Reagan's legacy will loom large at the debate and candidates, including Trump, can probably expect to be asked why their position on immigration differs so much from that of Reagan, who granted amnesty to 2.7 million people. "How they handle that is very important," GOP pollster Frank Luntz tells USA Today. "Reagan was very much about America being a place where people can come and start a new life."
Maybe to pass the time during this excruciating ordeal…perhaps a drinking game will help….every time someone mentions Reagan….take a shot of tequila….by half way through the debate you should be numb from the head down…..
Here's the deal….I gave you what to look for tonight and you watch the show and tell us what happened……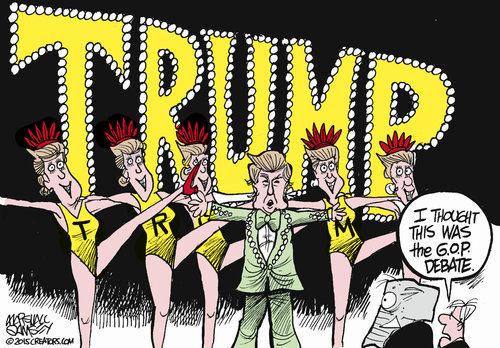 Can you dig it?
One final thought of the day…..