CPAC was a joke for American politics……it had very little to do with conservatism and everything to do with the worship of an orange god.
You don't think that he is a god?  Then are these mental midgets praying around the idol?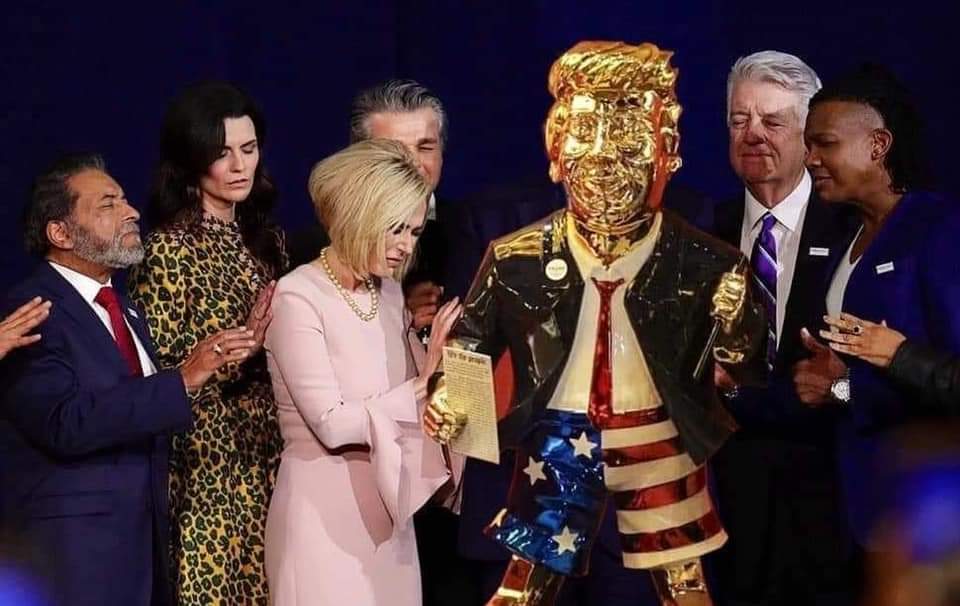 How sick is that?
As I thought there was NO vision for the GOP….all they did was relive the 2020 election…and worship of the Orange god they created…..nothing on the GOP horizon for the future.
Could the GOP be wallowing in the muck and mire of an end stage?
We are living in a time of bad metaphors. Everything is fascism, or socialism; Hitler's Germany, or Stalin's Soviet Union. Republicans, especially, want their followers to believe that America is on the verge of a dramatic time, a moment of great conflict such as 1968—or perhaps, even worse, 1860. (The drama is the point, of course. No one ever says, "We're living through 1955.")

Ironically, the GOP is indeed replicating another political party in another time, but not as the heroes they imagine themselves to be. The Republican Party has become, in form if not in content, the Communist Party of the Soviet Union of the late 1970s.

I can already hear the howls about invidious comparisons. I do not mean that modern American Republicans are communists. Rather, I mean that the Republicans have entered their own kind of end-stage Bolshevism, as members of a party that is now exhausted by its failures, cynical about its own ideology, authoritarian by reflex, controlled as a personality cult by a failing old man, and looking for new adventures to rejuvenate its fortunes.
https://www.theatlantic.com/ideas/archive/2021/02/the-republican-party-is-now-in-its-end-stages/618132/
I love it!
After all the grief I took as a radical in the 60s and 70s the GOP is now being compared to the Russian Communist Party…how delicious is that?
There is NO unity within the GOP….we have wings…the intellectual wing and that of the 'stump jumpers'…..
Will the party wither and die and be reborn as something unholy…more so than it is today?
Fueling the divisions within the party……https://lobotero.com/2020/11/02/gop-enemy-within/
The right wing is now wanting to control social media…if successful then real and true conservatives will no longer have that voice that this country needs.
The anti-tech fervor took center stage on Friday morning, with Sen. Josh Hawley (R–Mo.), Rep. Kevin McCarthy (R–Calif.), and Donald Trump, Jr., each of whom presented their case against social media with claims of censorship and bias against conservatives.

"With our base, across the country, this is probably a top 3 issue," Trump Jr. declared. "It's not free market, because they're getting so many benefits and protections from the federal government that they cannot discriminate so flagrantly the way they have against conservatives."

Hawley agreed. "We've got to make sure that we get the fair treatment that everyone else does," he said, noting that Facebook, Twitter, and Google should not be getting "special deals from government."

This was a reference to Section 230 of the Communications Decency Act, which lets companies remove user-generated content without being held liable for the millions of daily third-party posts on their platforms. Anti-230 activists often claim that dead-tree publishers are legally responsible for the posts they put out, so Section 230 draws an unfair distinction between publishers and platforms. But that dichotomy is entirely false and remains one of the biggest misconceptions about the law. Section 230 does not delineate between "publishers" and "platforms"; it applies to anyone who runs a site with user-generated content.
'Conservatives Will Cease To Exist Online': CPAC Speakers Fret About the Tech Bogeyman
They want to control the content of the very platform that brought their worthless asses to prominence….
Will the GOP morph or just eventually disappear?
Watch This Blog!
I Read, I Write, You Know
"lego ergo scribo"