As the Senate Trial of Trump is entering the final stage……Americans hold their breath waiting for the outcome…but they are not alone…..
He, Trump, is waiting in the shadows for now….waiting for the end of the trial….waiting for the chance to reemerge and doll out his retribution…..
He being Donald the Orange.
He is waiting to consolidate is iron grip on the GOP….and then he can doll out retribution on all those that he perceives as disloyal.
Only logical because he did so as president to those people that within the GOP that did not give him the support he thought he deserved.
He will step out of the shadows after te trial and return to his former self.
Now, heading into what could have been an historic bipartisan rebuke, the former president and his team are confident both of his acquittal and that he'll come out of the trial with his influence over the Republican party all but cemented.

…

"He's Teflon, right. It's been a month since the Capitol riot and I would say, for the most part, the GOP has coalesced back behind him," said a former Trump campaign official.

…

Already, Trump aides contend, the impeachment process has proved beneficial to the ex-president — exposing disloyalty within the party's ranks and igniting grassroots backlash against Republicans who have attempted to nudge the GOP base away from Trump. Nebraska Sen. Ben Sasse spent last week fending off constituent criticisms and censures from state party officials after he compared Trumpism to "a civic cancer for the nation." And Trump's allies believe the ex-president's impending impeachment trial will further illuminate who the turncoats are.

"It's going to help expose more bad apples that he can primary if any senators vote to convict," added the former campaign official.
https://www.politico.com/news/2021/02/09/trump-impeachment-reputation-467825
We all know that the day of reckoning is approach and soon he will exact his retribution on those that wronged him.
Will his antics finally drive that last nail inn the coffin of the GOP?
Some say yes….but I say NO way…..this is the GOP of today and the amount of supporters show their popularity with the people.
Be prepared for more Trumpian antics……he will NOT be silenced.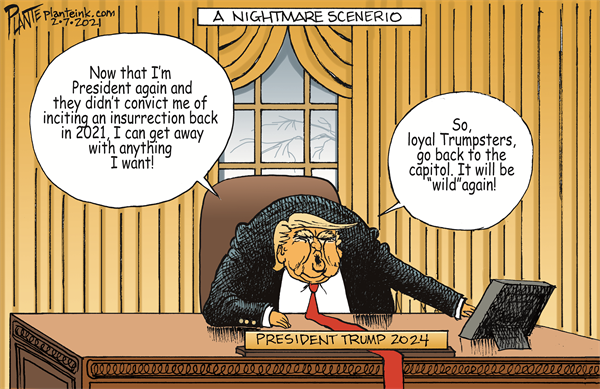 I Read, I Write, You Know
"lego ergo scribo"