The war that most Americans are clueless was fought between Armenia and Azerbaijan in the south Caucasus region……while we Americans were fixated on the election people were dying in an old hatred….
First where is this problem region?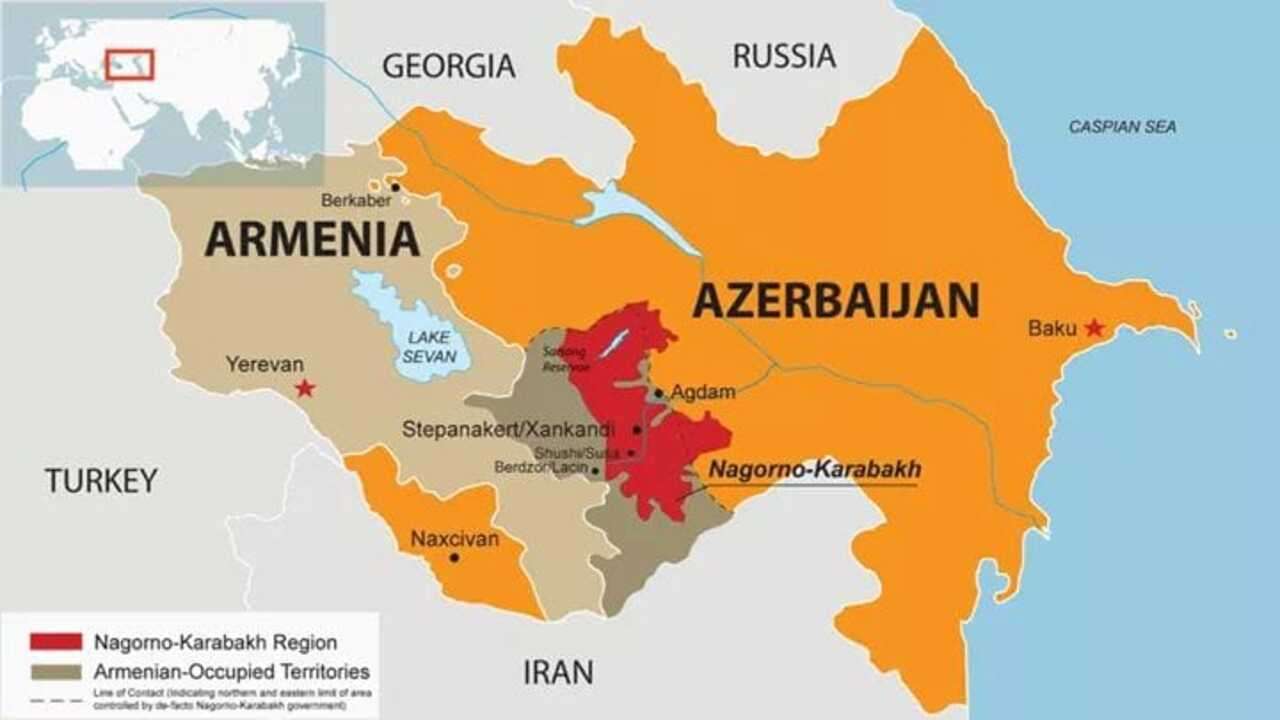 To explain the feelings and desires of the region…..
I will let others trying to fill in the blanks for my readers…..
For now the fighting has ceased and a ceasefire is in place……
Troops from Azerbaijan have begun occupying some of the disputed territory….
Azerbaijan said Friday its troops had entered a district bordering Nagorno Karabakh handed back by Armenian separatists after almost 30 years as part of a Russian-brokered peace deal to end weeks of brutal fighting in the region.

Troops moved into the district of Aghdam, one of three due to be handed back, the Azerbaijan defense ministry said, a day after columns of Armenian soldiers and tanks rolled out of the territory.

Armenia will also hand over the Kalbajar district wedged between Nagorno Karabakh and Armenia on November 25 and the Lachin district by December 1.

On Thursday Armenian residents of Aghdam hurriedly picked pomegranates and persimmons from trees surrounding their homes and packed vans with furniture, before fleeing ahead of the official deadline to cede the mountainous province.
Azerbaijan Troops Enter First District Handed Over by Armenia
Hopefully the ceasefire holds and no more people have to die…..
But most Americans will want to know who won the war.  It is an American obsession to put everything into wins or losses…..
My thought is that the outside instigators actually won not those fighting and dying…..Turkey/Russia comes to mind…..
Turkey's intervention in September with military advisers, precision drones and Syrian mercenaries allowed Azerbaijan to wrest back all its territories occupied by Armenia for almost three decades in six bloody weeks. The country's strongman President Ilham Aliyev has been given a big boost. Turkish hard power has shifted the balance in the south Caucasus, much as it's done in Syria and Libya. Yet Moscow, which sat on its hands through much of the conflict, is seen by many as the real winner. Is it?

Defeat has been cruel and humiliating for Armenia. Its leaders are being assailed by a furious public as traitors. Its lost at least 1,500 soldiers, with an unstated number missing, a sizable portion of its military kit and all the land it hoped to barter for a future deal that would have given Armenian-majority Nagorno-Karabakh the right to self-determination — read: union with Armenia. A nine-point cease-fire deal brokered by the Kremlin that took effect on Tuesday effectively salvaged Armenian control over around 70% of Nagorno-Karabakh proper. Around 2,000 Russian peace keepers will be deployed in and around the enclave, spelling a return of Russian forces to Azerbaijan as well. Russia's stranglehold over Armenia is near complete, its leverage over Azerbaijan arguably greater, to the extent that it can re-ignite hostilities.
I have a follower from Armenia and I hope to get her in-put into this situation….
Learn Stuff!
I Read, I Write, You Know
"lego ergo scribo"