Weekend again and my FYI attempts are running hot and cold today….I got some pretty cool stuff and one that needs an explanation….
First, there is a debate going on among space geeks that Pluto has a massive ocean under the ice and maybe even life….
According to new research, the frozen dwarf planet Pluto may have started its life as a hot world with a massive underground ocean of liquid water — suggesting, tantalizingly, that it could have harbored life.

Until now, Pluto was widely believed to be a giant boulder of ice, shielded from the Sun's radiation thanks to the sheer distance from its star. But new evidence, scientists say, suggests that it once had a liquid ocean — and that it may still be there, under its frozen surface.

"Even in this cold environment so far from the Sun, all these worlds might have formed fast and hot, with liquid oceans," Carver Bierson, UC Santa Cruz graduate student and first author of a new paper about the work published Monday in the journal Nature Geoscience, said in a statement.
https://futurism.com/pluto-start-hot-water-world
That is pretty cool considering that Pluto is billions of miles from the heat source, the Sun……
Remember New Horizons space probe?  Not to worry few will remember it…….
An extremely-distant NASA spacecraft is giving us the ability to look at the universe from a new perspective.

New Horizons is a NASA probe that was launched in the beginning of 2006. Since then, Popular Science reports, it's traveled 4.2 billion miles from Earth. It's so far away that when it looks out at the sky, nearby stars appear to be in different places than they do when seen from Earth.

New Horizons captured images of two nearby stars, Proxima Centauri and Wolf 359, in April. Precise instruments measure the position of distant stars relying on slight shifts in perception called parallax, Popular Science reports. But this is the first time that such a shift is visible to the eye.
https://futurism.com/the-byte/nasa-spacecraft-stars-different-angle
One last space thingy…the US Space Force…the service not the series……
The United States "must be capable of winning wars that extend into space," asserts a just-released "Defense Space Strategy" report. It is the first space strategy document issued by the U.S. since President Donald Trump, after declaring that the U.S. must achieve "dominance in space," signed a measure this past December authorizing establishment of a Space Force.

The U.S. space strategy is highly aggressive.

"The Department of Defense is embarking on the most significant transformation in the history of the U.S. national security space program," the report says. "Space is now a distinct warfighting domain, demanding enterprise-wide-changes to polices, strategies, operations, investments, capabilities, and expertise for a new strategic environment."
Masters of Space: Deep Space Strategy in the Age of Trump
Finally we go to Merry Old England…well in this case Scotland sorry for the error.  Maybe my friends in the UK can shed some light on this hoax?
People think a tourist's incredible photographs have captured the Loch Ness Monster with some claiming it is 'the best picture ever' of all the sightings. 

Steve Challice, from Southampton, photographed a creature from the shore opposite to Urquhart Castle on the banks of the Lock Ness when on holiday in Scotland. 

Steve said he saw a ripple in the water and assumed it was a big fish that he estimated was eight feet long.
https://www.dailymail.co.uk/news/article-8451857/Tourists-photo-showing-creature-rising-water-sparks-online-claims-Nessy.html
There you have it…nothing you can actually use but maybe a little entertaining…..
I know I said there was no pandemic news….but I just had to share this cartoon…..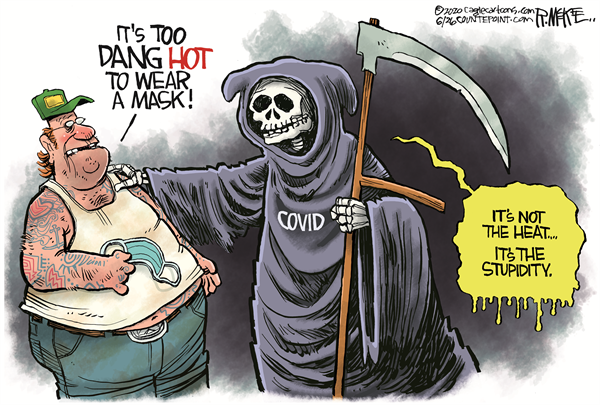 And this one as well….
This one is for the idiot in the White House…..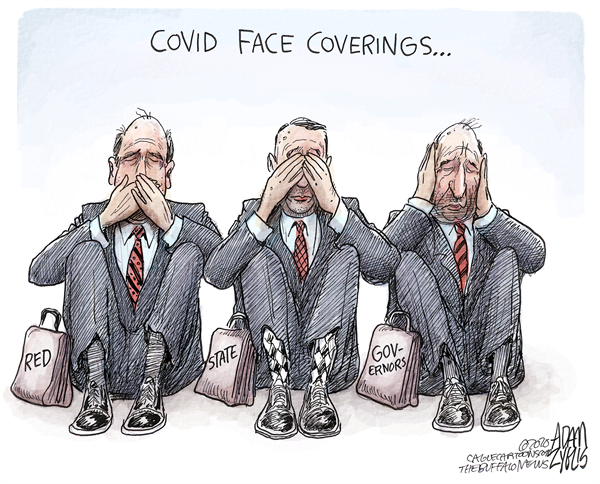 This one is for the idiot in the White House…..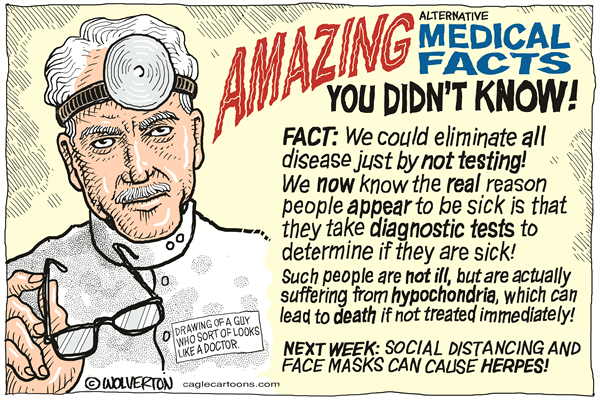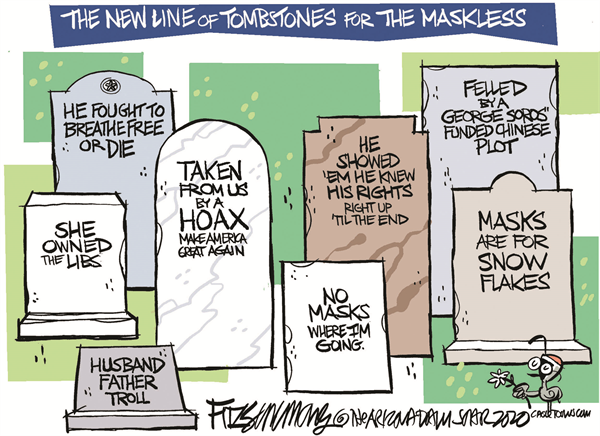 Be Well…..Be Safe……
I Read, I Write, You Know
"lego ergo scribo"