A take-off of the silly book written by our 'president', The Art Of The Deal….even after Biden has been certified as the winner Trump continues to fight to throw out the vote in many states because he lost.
In an extraordinary scene of political warfare, a total of 44 of the 50 states have filed briefs with the US Supreme Court arguing for and against honoring the results of the 2020 presidential election won by Democrat Joe Biden over President Donald Trump. Only six states did not file briefs by the 3 p.m. Thursday deadline set by the high court.

The state of Texas filed the first brief Monday, directed against four "battleground" states won by Biden over Trump: Georgia, Michigan, Pennsylvania, and Wisconsin. The brief asked the Supreme Court to overturn the results of the vote in those four states and to refer the appointment of electors to the state legislatures, which are Republican-controlled in each state.
https://www.wsws.org/en/articles/2020/12/11/elec-d11.html
AS I wrote…Trump's Art of the Steal……..
The shock of defeat appears to have dimmed some of the golden boy's luster as well as whitened his faux blond hair and lightened his spray-on tan. Still, not only has Trump not conceded, he has, at current count, mounted over thirty-eight unsuccessful lawsuits to overturn the election or, at best, stall his ouster from office. Undaunted, the self-avowed stable genius's latest Wile E. Coyote move has been to pressure Republican state legislators to choose pro-Trump electors when the Electoral College convenes this month. Having apparently failed at that, his only hope now is a Supreme Court Hail Mary. It doesn't matter that he may fail; it's the smoke, mirrors, and gaslight that ultimately count. None of this suggests that Trump is even remotely entertaining conceding.

In fact, it's highly likely Trump will never concede, despite media speculation that his reticence is actually yet another of his three-dimensional chess gambits, the current one, according to some pundits, designed to make possible his own Murdock-like media empire to sustain his brand until he (or one of his felonious spawn) runs again in 2024. All this Occam razor-rejecting media confabulation refuses to accept the simple fact that toddler Trump is throwing a tantrum and that the true intent of his intransigence is to remain in power by any means necessary.
Grab 'Em by the Ballot: The Art of the Steal
I do not think his attempts will be successful….but I do think he is setting the stage for 2022 and 2024.
I like this Tweet as well….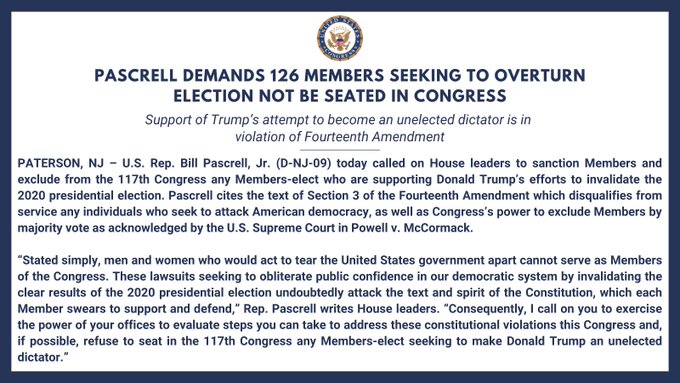 Read the rationale of this proposal…..https://www.rawstory.com/2020/12/democrat-wants-to-use-civil-war-law-about-traitors-to-ban-126-republicans-from-being-seated-in-congress/
I say use it!  If they cannot defend the US from enemies domestic or foreign then they should not be allowed to take the oath of office.  PERIOD!
To be fair…my representative Steven Palazzo is one of the signers….(more about him later today)…..another gutless GOP toad….and the sooner the people of my area realize what a d/bag he is the sooner we can eliminate him.
Looks like the Supreme Court is not having any of the silly Trump games…..
The Supreme Court on Friday afternoon rejected a lawsuit backed by President Trump to overturn President-elect Joe Biden's election victory. The decision ends a desperate attempt to get legal issues rejected by state and federal judges before the nation's highest court, the AP reports. The court's order was its second this week rebuffing Republican requests that it become involved in the 2020 election outcome. The justices turned away an appeal from Pennsylvania Republicans on Tuesday. The Electoral College meets Monday to formally elect Biden as the next president.

Per Axios, the court wrote: "The State of Texas's motion for leave to file a bill of complaint is denied for lack of standing under Article III of the Constitution. Texas has not demonstrated a judicially cognizable interest in the manner in which another State conducts its elections. All other pending motions are dismissed as moot."
Then there is not moron of the GOP, Alan West, the GOP Chair from Texas……
126 GOP House members and 17 other state attorneys general was rebuffed by the nation's highest court, Texas GOP Chair Allen West, a retired US Army lieutenant colonel and former congressman, issued a statement noting his displeasure, and offering an eyebrow-raising suggestion, per CBS Dallas-Fort Worth. "This decision will have far-reaching ramifications for the future of our constitutional republic," West said. "Perhaps law-abiding states should bond together and form a Union of states that will abide by the constitution." West's remarks brought swift backlash from both sides of the aisle, per the Hill.

"I believe @TexasGOP should immediately retract this, apologize, and fire Allen West and anyone else associated with this," Illinois GOP Rep. Adam Kinzinger tweeted. Democratic Sen. Brian Schatz of Hawaii added, "They have lost their minds. … These people are deadly serious about secession and sedition." Also disappointed in the Supreme Court's rebuff: President Trump, who was said to have nixed an appearance at a White House holiday party Friday night, per the New York Times. Later that evening, he tweeted, "The Supreme Court really let us down. No Wisdom, No Courage!" He continued mulling over the situation well past midnight, adding his final thoughts on the matter: "It is a legal disgrace, an embarrassment to the USA!!!" Trump lawyer Rudy Giuliani appeared on Newsmax Friday night, vowing the fight isn't over. "We're not finished, believe me," Giuliani said, per the Times. The Electoral College is set to formally elect Biden as the next president on Monday.
I believe that Alan West has earned his new pair of Trump knee pads for this Christmas.
Be Smart!
Learn Stuff!
I Read, I Write, You Know
"lego ergo scribo"