Trump has got his wish and the economy is trying to make a comeback….well idiots are rushing out to show their solidarity with the mindless beast in White House…..
The Memorial Day weekend marking the unofficial start of summer in the US meant big crowds at beaches and warnings from authorities Sunday about people disregarding the coronavirus social-distancing rules and risking a resurgence of the scourge that has killed nearly 100,000 Americans, the AP reports. Sheriff's deputies and beach patrols tried to make sure people kept their distance from others as they soaked up the rays on the sand and at parks and other recreation sites around the country. Among the Memorial Day scenes and warnings:

In the Tampa area along Florida's Gulf Coast, the crowds were so big that authorities took the extraordinary step of closing parking lots because they were full. Pinellas County Sheriff Bob Gualtieri said about 300 deputies were patrolling the beaches to ensure people didn't get too close.
In Missouri, people packed bars and restaurants at the Lake of the Ozarks, a vacation hot spot popular with Chicagoans, over the weekend. One video showed a crammed pool where vacationers lounged close together without masks, St. Louis station KMOV-TV reported.
In West Virginia, ATV riders jammed the vast, 700-mile Hatfield-McCoy network of all-terrain vehicle trails on the first weekend it was allowed to reopen since the outbreak took hold. Campgrounds and cabins were opened as well.
At New York's Orchard Beach in the Bronx, kids played with toys and people sat in folding chairs. Some wore winter coats on a cool and breezy day in which temperatures struggled to reach 60 degrees. Many wore masks and sat apart from others.
Meanwhile, President Trump went golfing for the second day in a row at his private club in Virginia. Trump had not played for weeks before this weekend.
On the Sunday talk shows, Dr. Deborah Birx, coordinator of the White House coronavirus task force, said she was "very concerned" about scenes of people crowding together over the weekend. "We really want to be clear all the time that social distancing is absolutely critical," she said on ABC's This Week. "And if you can't social distance and you're outside, you must wear a mask."
Gov. Mike DeWine of Ohio, who has been targeted by protesters opposed to masks and social distancing, insisted the precautions should not be a partisan issue. "This is not about politics," the Republican said on NBC's Meet the Press. "It's been very clear what the studies have shown, you wear the mask not to protect yourself so much as to protect others."
In Missouri all is open even those stylish hair salons….and two beauticians have infected many…..
One hundred and forty clients at a Missouri hair salon were potentially exposed to the coronavirus after two hairstylists worked while symptomatic, and then later tested positive for COVID-19. The Great Clips in Springfield says it is reaching out directly to all customers impacted and that all will be offered tests, NBC News reports. After the first stylist tested positive, the city on Friday said 84 customers and seven employees had potential exposure; on Saturday, the city revealed the second stylist had tested positive and had worked while "experiencing very mild symptoms," adding 56 customers to the list of potential exposures.

The first stylist worked eight days while symptomatic, the second worked five. Both were wearing face coverings, as were customers. The salon has since been closed for cleaning and sanitizing. One customer whose hair was cut by the first stylist says officials have asked him to self-quarantine for 14 days while monitoring himself for symptoms. "All this because someone wasn't responsible," he tells KY3, adding that he came in contact with 15 to 20 people before he was notified of his potential exposure. "I know that the employee feels really bad about what happened. I'm sure they both do but you have a situation that caused a chain reaction."
Then there is the idiot in Florida that spit and coughed on police after claiming to have the virus……and now his penalty….
A Florida man who spat and coughed on a police officer after claiming to have COVID-19 was indicted on federal terrorism charges.

A federal grand jury in Tampa returned the indictment Wednesday against James Jamal Curry, 31, for committing a biological weapon hoax, a local CBS affiliate in Miami reported.

Curry had previously been charged by criminal complaint last month and could face up to five years in prison if he is convicted.
https://thehill.com/homenews/state-watch/499306-florida-man-who-spit-coughed-on-police-officers-after-claiming-to-have
Not to worry…..do you know someone that has these traits?
Lie, con, and exploit others
Act rashly
Be irritable and aggressive
Fight or assault other people
Break the law
Not care about the safety of others
Not show signs of remorse after hurting others
I know someone with those traits…..and he will kill many from his lack of empathy…..and his reckless behavior…..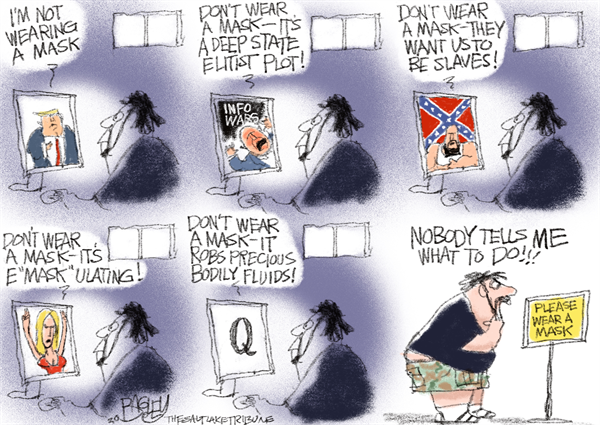 I Read, I Write, You Know
"lego ergo scribo"