It seems that Donald the Orange has a problem with the latest economic relief package…..he will screw seniors over cuts in Social Security that he and those spineless pricks in the GOP desire.
"Trump's actions are a war on seniors. He is insisting on threatening Social Security on which most seniors rely for their food, medicine, and other basic necessities."
Grassroots advocacy groups representing millions of retirees and seniors across the United States are speaking out against and urging Congress to oppose President Donald Trump's threat to block desperately needed Covid-19 relief legislation if it does not slash the payroll tax, which funds Social Security and Medicare.

"It is outrageous, callous, and cruel for President Trump to hold the American people, and seniors in particular, hostage if Congress doesn't go along with his plan to gut Social Security for current and future retirees," said Richard Fiesta, executive director of the Alliance for Retired Americans, an organization with over four million members nationwide.

"The president's plan is also bad economics. Social Security puts more than $800 billion into the economy each year. Destabilizing the system when we are in the middle of an economic downtown is exactly the opposite of what we need to do," Fiesta added. "The 4.4 million members of the Alliance for Retired Americans call on all members of Congress to refuse to make such a deal. We will fight this attempt to gut Social Security and in November we will remember who was willing to defend and protect our earned benefits."
https://www.commondreams.org/news/2020/05/05/outrageous-callous-and-cruel-seniors-rip-trump-holding-covid-19-relief-hostage-push
Once again the GOP is screwing the very people that are most loyal to the party…..and these same old farts will allow them to get away with these attacks every election…..the same old farts that cares nothing for poor people or homeless…..the same old farts that care only about abortions and some religious iconography at Christmas…..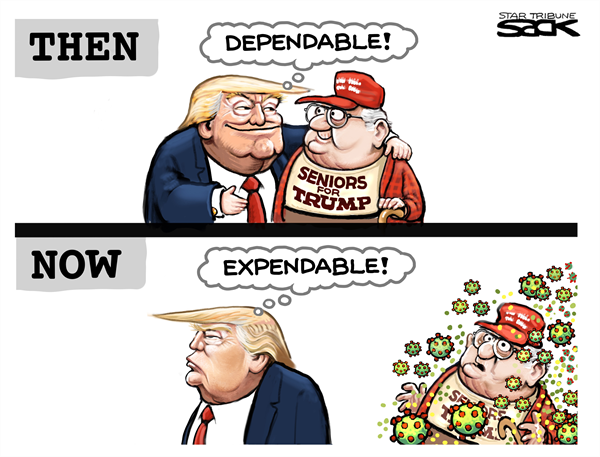 You would think that age would make them (us) more cynical but instead it seems to make them (us) more ignorant.
I Read, I Write, You Know
"lego ergo scribo"