I guess I need to address that damn 300 lb gorilla in the corner…..
Friday our Dudley-Do Right in the White House signed the CR to fund the government (photo not available) and issued his declaration that he promised to do…..the problem is in his usual bluster Trump may have turned and bit his own ass……
As expected, President Trump declared a national emergency on Friday over the US-Mexico border. A big legal fight looms, but first comes the initial reaction. First up: George Conway, husband of Trump adviser Kellyanne Conway, thinks the president made a big mistake by saying, "I didn't need to do this" during his Rose Garden speech. "This quote should be the first sentence of the first paragraph of every complaint filed this afternoon," he tweeted. Trump's full quote: "I could do the wall over a longer period of time. I didn't need to do this. But I'd rather do it much faster." (Watch the clip here.) More reaction, to that quote and the declaration in general:
I shall give Trump some advice my mother would give me…"Make damn sure your brain is loaded before you fire off your mouth"……
His babbling is that of some mental midget that cannot get past some event that occurred….
I agree with an article that I read in the Daily Beast…..https://www.thedailybeast.com/trumps-immigration-emergency-raises-a-false-flag-and-demeans-the-constitution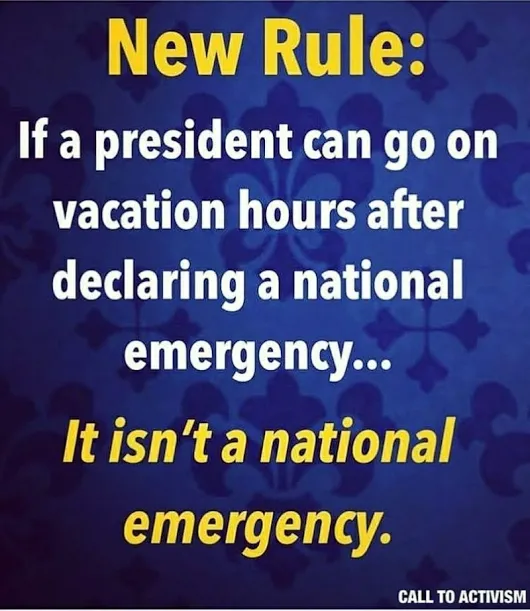 While Trump was ranting and acting like a spoiled 4 year old a REAL national emergency was unfolding…..yet more gun violence…..we are getting close to the number of one a day with multiple victims……
Six people are dead and five officers are wounded after a shooting at a business in suburban Chicago, per the AP. The gunman, identified as 45-year-old Gary Martin, was among the dead at the Henry Pratt Co. building in Aurora. The Chicago Sun-Times talks to Martin's mother, who says he was "way too stressed out" after being laid off recently. The officers who were wounded were fired upon as soon as they entered the building, police said. All are in stable condition.

John Probst, an employee at Henry Pratt, tells ABC7 that he ran out of the back door as the shooting unfolded Friday afternoon. Probst says he recognized the gunman. "What I saw was the guy running down the aisle with a pistol with a laser on it," Probst says. Illinois Gov. J.B. Pritzker commended the "amazing" work of law enforcement officers who responded to the scene, crediting them with saving "countless lives." The company makes valves for industrial purposes; its location in Aurora is about 40 miles west of Chicago. (Read more mass shootings stories.)
The fence thingy is nothing more than a way to appease his low mental activity base……but there may be a problem there as well…..his main media advisers are Hannity, Coulter and Rush…..one has now decided his is an "idiot"…..
"Thank god he's relieved me any responsibility for what he's been doing," Coulter told the radio hosts. "That was the biggest favor anyone could do for me today." Declaring that "the country is over" now, she said she didn't need a Tarot card reader to know that Trump would "totally f-over his base."

The president's "mandate," Coulter said, was to build the wall. And even though that's what he plans to do by declaring a national emergency, she's not happy about it. "The only national emergency is that our president is an idiot," she said.
Will the loss of Coulter's support harm the president…..probably not for the "Bobble-heads" hang on every word Trump has to say so Coulter's words will fall on def ears.
The "Border Crisis" is only in the mind (of the imagination) of a spoiled 6 year old with a constipation problem. 
I am thinking this "wall" is an ego trip like everything he does….something he can hang his name on….