Surely the myopic population of this country can remember back to 2008, right?  I know it is a stretch for most so-called conservs to think back that far….
2008?  Mindless drones that was the year of the Wall Street meltdown lead by the illegal practices of our biggest banks….does it ring any bells in that thick skull now?
Guess what?  The Trumpian bullshit is about to set the wheels of yet another meltdown in motion…..
The Senate passed bipartisan legislation Wednesday designed to ease bank rules that were enacted to prevent a relapse of the 2008 financial crisis that caused millions of Americans to lose their jobs and homes. The Senate voted 67-31 for a bill from Republican Senator Mike Crapo of Idaho that would dial back portions of the law known as Dodd-Frank, the AP reports. The legislation would increase the threshold at which banks are considered so big and plugged into the financial grid that if one were to fail it would cause major havoc. Those banks are subject to stricter capital and planning requirements.

"The bill provides much-needed relief from the Dodd-Frank Act for thousands of community banks and credit unions, and will spur lending and economic growth without creating risks to the financial system," the White House said in a statement after the vote. Republicans unanimously supported the bill, while Democrats splintered into two camps. One included several senators from rural states who worked out the compromise with Crapo. The other, led by Sens. Elizabeth Warren of Massachusetts and Sherrod Brown of Ohio, said the bill catered too much to the banks that contributed to the financial crisis and would increase the likelihood of future taxpayer bailouts. (President Trump complained that Dodd-Frank made it hard for friends to borrow money.)
It is amazing how when Repubs are in charge they kill regulation and then things go to shit and a Dem usually has to clean up their economic messes…..looks like that trend will not end with this president…who is still dick deep in the financial world and I am guessing that this will benefit him and his buds on Wall Street.
This is why Democrats have a problem with message…..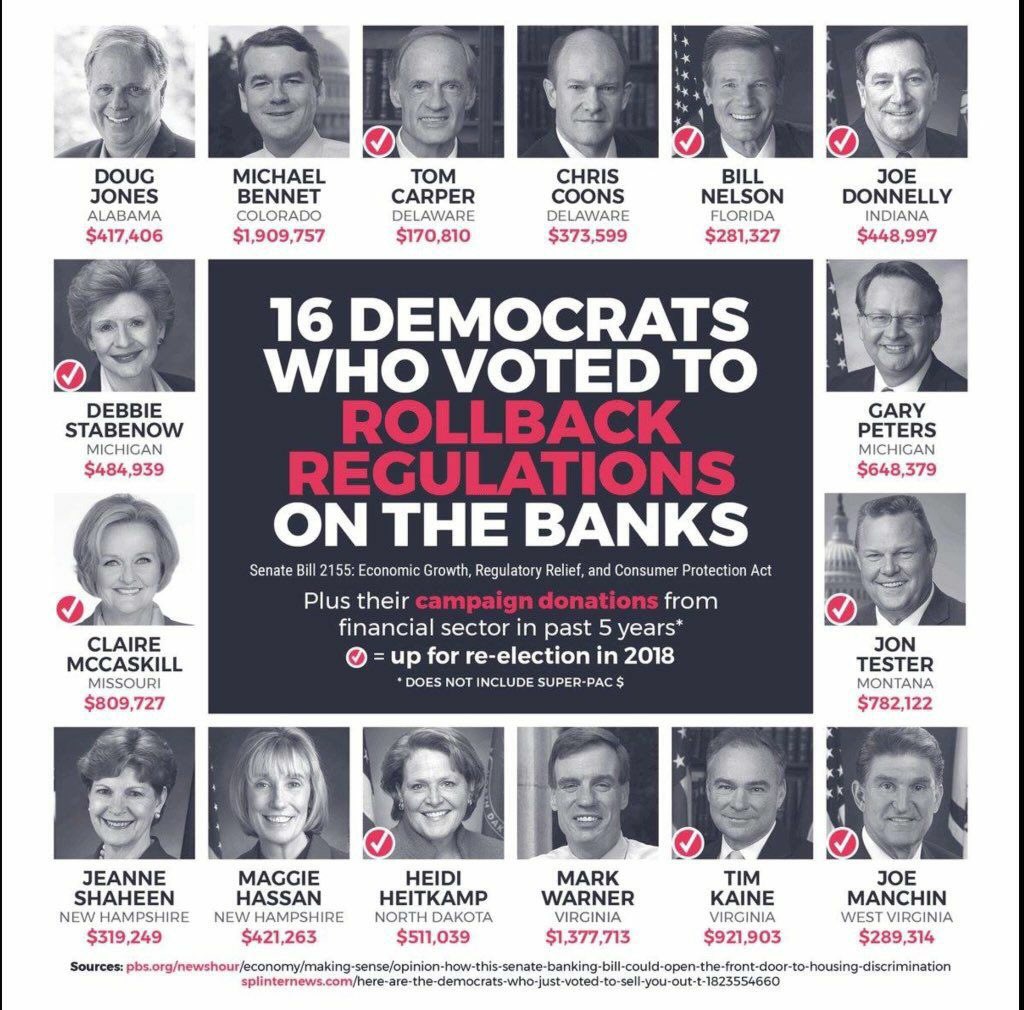 Bought and paid for by Wall Street…..TRAITORS!