There those out there (of which I am one) that believes that there needs to be a standardize educational program on civics.
For too long the subject of civics has been ignored and attempted to reign the subject to the dust bin of history (I always like the saying)…. most Americans are ignorant on the use of civics and how the government works….
Look at the last election and the response by Americans…..where about 10 millions Americans think the election was stolen or somehow illegitimate…. which NO evidence has proven the claims of a stolen election….all of which lead to the insurrection of 06 January….
So I agree with a statement from the Claremont Institute…..that there needs to be an educational counter-revolution.
Claremont Institute president Ryan Williams says that American civic education faces an acute crisis. In his estimation, essentially every institution – the vast complex of media, Big Tech, Hollywood, Fortune 500 companies, and education and government bureaucracies – teaches "vicious lies about America's Founders" and our nation's "heritage, heroes, accomplishments, and people."

Williams argues that what passes for civic education today advances "the goal of wholesale revolution and the institution of a monstrous and unnatural tyranny."

…

In light of these daunting circumstances, however, he counsels hope: "We at Claremont are happy warriors, and there's no work we'd rather be doing with friends and fellow citizens."

Williams describes The Claremont Institute, founded in 1979, as a think tank fomenting a "counterrevolution" to recover civic education through teaching, writing, and litigation. Its mission, he continues, is to restore the natural law and natural rights principles of the Declaration of Independence, the "ingenious political science of the Constitution," and the "popular constitutionalism and reverence necessary for the maintenance of free government" to "their rightful, preeminent authority in our national life."
https://realclearwire.com/articles/2021/04/16/the_claremont_institutes_counterrevolution_to_save_america_772948.html#
I believe that civics is one of the most important subjects that needs more attention in our educational system.
Any thoughts?
Coming soon is a post on a new civics project….something that is desperately needed….some may ask why….this cartoon says it all for me….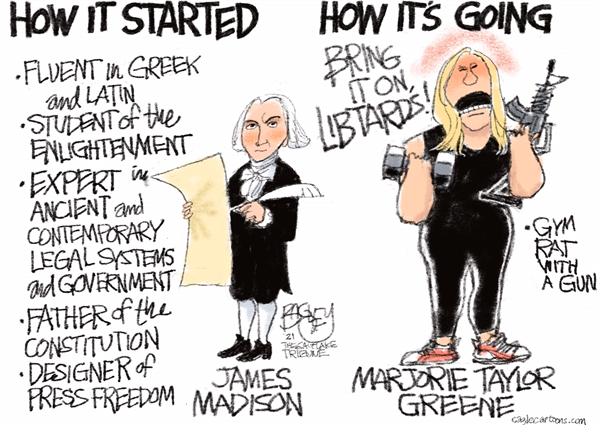 Turn The Page!
I Read, I Write, You Know
"lego ergo scribo"