It is Spring the weather is nice and it makes it easier to stay home when I can sit in the garden and enjoy the Spring….and some cheese and fruit….maybe a glass of wine as well.
Time for the Old Professor to venture around the world and give my readers locked in their homes some entertainment.
The first bit is from New Orleans……the city has become point zero now and a son of the city has stepped up….Drew Brees…..
Drew Brees just announced he's donating $5 MILLION to the State of Louisiana to help with coronavirus relief efforts … just days after signing a new $50 mil contract with the Saints.

"Brittany and I are committing $5,000,000 to the State of Louisiana in 2020," Drew says … "The priority now is helping our communities get through this tough time."

"After considerable research and conversations with local organizations, we will be mobilizing our partnerships with Second Harvest Food Bank, Ochsner Health Systems, Walk-Ons, Jimmy Johns, Smalls Sliders and Waitr to prepare and deliver over 10,000 meals per day throughout Louisiana for as long as it takes to children on meal programs, seniors, and families in need."
https://www.tmz.com/2020/03/26/drew-brees-donating-5-million-covid-19-relief-new-orleans-saints/
Nice to see a player giving back to the city and state that has supported him for decades.
Next….you have seen those vacuum ads from Dyson, right?  Well the man behind the item has designed a ventilator to be used for virus treatments and it only took 10 days….
British company Dyson — best known for its sleek vacuum cleaners — has announced it has designed a new ventilator called the "CoVent" in just ten days, according to CNN, to help the UK treat coronavirus patients.

The company is planning to produce 15,000 ventilators to help fight the pandemic, 5,000 of which will be donated to other countries.

"A ventilator supports a patient who is no longer able to maintain their own airways, but sadly there is currently a significant shortage, both in the UK and other countries around the world," company founder James Dyson wrote in an open letter, as quoted by CNN.
https://futurism.com/the-byte/vaccuum-maker-dyson-designed-ventilator
I have been told that Dyson will do anything he must to get a knighthood…..this could well be the ticket.
I am waiting for American manufacturers to step up voluntarily….so far they want free money before they go to work…..
The virus hysteria has caused a shortage of toilet paper and there is a new invention that could do away with the need for TP…….altogether…….
While the United States is often at the forefront of many trends, it still lags behind the rest of the world in some respects. And one example is the country's strange reluctance to embrace the bidet toilet seat. Perhaps due to curious culture reasons that probably date back to the Mayflower, Americans still depend on dry and often substandard toilet paper for bathroom needs. Not only is traditional toilet paper harder on our bodies, it's also harder on the environment. But with toilet paper being a little bit more of a concern these days, it might be time for the country to get on board with the bidet – and there's no better way for us to do it than with a Tushy bidet toilet seat.
https://futurism.com/tushy-bidet-toilet-seats
Rightie journo Rush has weighed in on what he thinks of Trump's health team……
Far-right talk radio host Rush Limbaugh, like President Donald Trump, has been a frequent source of nonsense during the coronavirus crisis: on his February 24 show, he equated COVID-19 with "the common cold." And on Friday, the 69-year-old Limbaugh argued that health officials at the Centers for Disease Control and Prevention (CDC) and the National Institutes of Health (NIH) cannot be trusted because they are part of "the Deep State" and have an anti-Trump agenda.

In audio that Media Matters has posted on its website, embedded above, Limbaugh can be heard on Friday telling listeners, "We've talked about the Deep State all these years since Trump was elected — the Trump-Russia collusion, the FBI — well, the Deep State extends very deeply. And the American people did not elect a bunch of health experts that we don't know. We didn't elect a president to defer to a bunch of health experts that we don't know."
https://www.salon.com/2020/03/28/rush-limbuagh-says-trumps-coronavirus-task-force-is-part-of-the-deep-state-cant-be-trusted-_partner/
Nice….we have not heard from the floating Fat Man for awhile…I guess he got tired of others making news and he had go come out with something as stupid as the president he tries to defend.
Just a few thoughts that could help lift one out of the cabin fever of this virus……
A parting cartoon…..or two……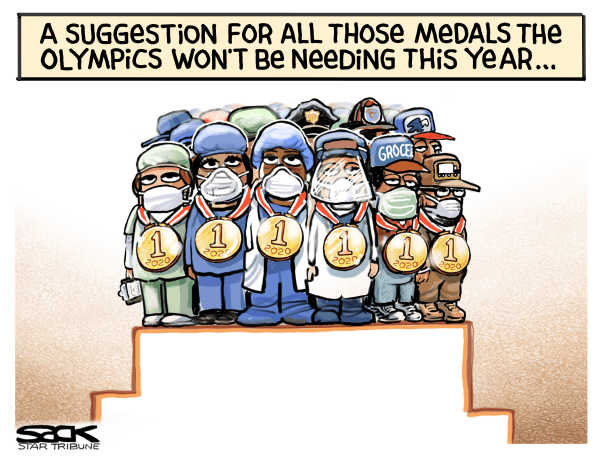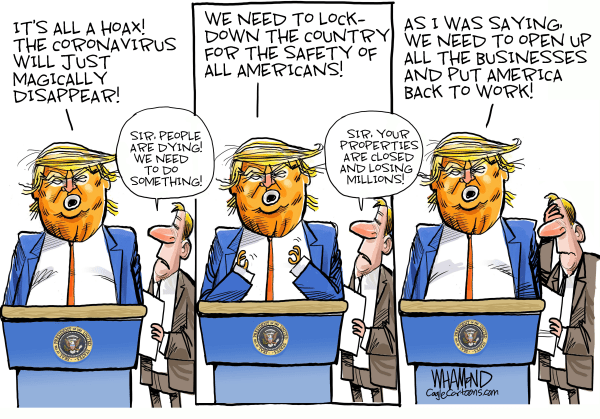 Stay calm……avoid crowds……wash hands often…..stay prepared
Be well….Be Safe…..
I Read, I Write, You Know
"lego ergo scribo"