And I cannot look away!
I have people ask me all the time just how I can watch/read about the politics of this country day after day….
It is just fascinating watching the conversation coming from the president change almost hourly…..Trump presidency is truly a train wreck in progress…..
In the corrosive and dangerous Trump presidency, the outrages fly so fast and the chaos mounts so thoroughly that it's easy to pass off the entire unsettling phenomenon as one more made-for-TV-and-Twitter unreality show. New outrages drive the previous ones from our minds.

In recent days, two questions have dominated the discussion: Did he abuse his presidential power to boost his own political fortunes by pressuring Ukraine to investigate former Vice President Joe Biden and his son Hunter? And is he obstructing justice by not cooperating with an impeachment inquiry?

These two questions have such enormous consequences for the nation that they may overshadow other alarming actions and traits. But we must not disregard the many other actions that have led to the hollowing out of our institutions, the cheapening of our spirit, the undermining of our values. Faced with the challenge to unseat, indeed to repudiate, Trump and his pernicious program for America, it's essential not to forget the true damage he has done, continues to do and threatens to continue.
https://www.latimes.com/opinion/story/2019-10-20/trump-failures-outrages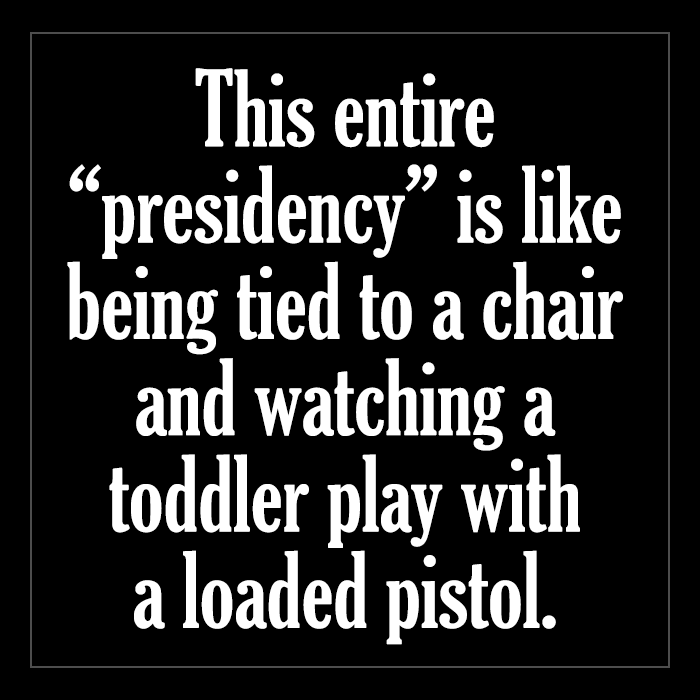 The nation's government is looking like a tragedy….in 3 acts……
As the Ukraine scandal unfolds, President Donald Trump and former New York mayor Rudy Giuliani are frequently compared to a Mafia boss and his lawyer. We should be so lucky, because that would certainly mean the end of the mob.

It's difficult to put into words how inept Giuliani is. But we'll try… by making him a character in one of the most iconic mob movies in history: The Godfather.

It is the story of Don Corleone, a Mafia boss portrayed by Marlon Brando. Trump is often compared to this character while Giuliani is seen as playing the role of Corleone's right-hand man (consigliere) Tom Hagen.

A key difference is that, while Hagen is extremely capable and effective, Giuliani clearly isn't. So we thought it would be fun to imagine a mafia film modeled after scenes from the Godfather trilogy.

Our version stars Don Trump and his trusty sidekick Consigliere Giuliani as they hatch a foolproof plan to get prosecutors in the Ukraine to dig up dirt on their hated enemy, Sleepy Joe. We call it "The Ukraine Scandal — a Tragedy (for Democracy) in Three Acts."
A Tragedy (for Democracy) in Three Acts
This whole drama begs the answer to one outstanding question….Is The US Political System Beyond Repair?
Well is it?
Moving ahead with the impeachment of Donald Trump is a good idea. Indeed, the fact that it is moving forward is a sign of the deep fissures in the ruling class. They are very divided. Even if it is done within the limited parameters hoped for by Pelosi and other mainstream Democrats, the process should expose the criminality of one party of the ruling class and the venality of both.

Despite the claim by some, the impeachment inquiry of Donald Trump and others in his administration is not just cosmetic. Furthermore, because it is part of a process to ensure the government continues—to repair it, if you will—impeachment will not change the system.
Is the US Political System Beyond Repair?
Matters not if one is a supporter of Trump or not…..it is just fascinating watching the hole get deeper and deeper with every Tweet…..
So much happening and so little time…..we had better get this whole thing right or we could possibly kiss our way of life goodbye.
I Read, I Wrote, You Know
"Lego Ergo Scribo"