I have said numerous times that the Trump White House has no other policy in foreign relations than that of knee jerk BS and CHAOS…..I have made my thoughts known on the stupidity on foreign policy….
https://lobotero.com/2019/05/20/feeding-the-lord-of-chaos/
https://lobotero.com/2019/07/29/political-chaos-theory/
To say that I approve of any of our international entanglements would be an out right lie.
One of the best examples of the chaos spread by the Trumpian foreign policy….this time it is a simple letter…..
Top Pentagon leaders said Monday that the US has no plans to withdraw troops from Iraq, despite a draft letter from a senior military officer that appeared to suggest a withdrawal was being planned. Gen. Mark Milley, chairman of the Joint Chiefs of Staff, told reporters the US is "moving forces around" Iraq and neighboring Kuwait. He said a draft letter circulated internally by a Marine commander was "poorly written" and should never have gotten out, the AP reports. The draft letter appeared to suggest the US was preparing to pull troops out of Iraq in response to a vote by its Parliament over the weekend. The draft said troops would be "repositioning over the course of the coming days and weeks to prepare for onward movement" and warned of an increase in helicopter travel around the Green Zone. It added, "We respect your sovereignty decision to order our departure."

Milley and Defense Secretary Mark Esper, however, said the US has been repositioning troops, largely due to increased security threats from Iran. The letter was meant to coordinate with the Iraqi military on an increase in US helicopter and troop movements. "There's been no decision whatsever to leave Iraq," Esper said. Some language in the letter "implies withdrawal," Milley acknowledged. "The long and the short of it is, it's an honest mistake." Esper said the US remains committed to defeating the Islamic State group in Iraq and the region. Pro-Iran factions in the Iraqi Parliament have pushed to oust American troops following the killing of a top Iranian general in Baghdad in a US drone strike last week. A three-ship US naval group that includes 2,200 Marines and a helicopter group is on its way to the Persian Gulf region, per Bloomberg.
This back peddling is normal for the Trumpian toads dishing our our foreign policy……
In case you want to see the original….then look no further.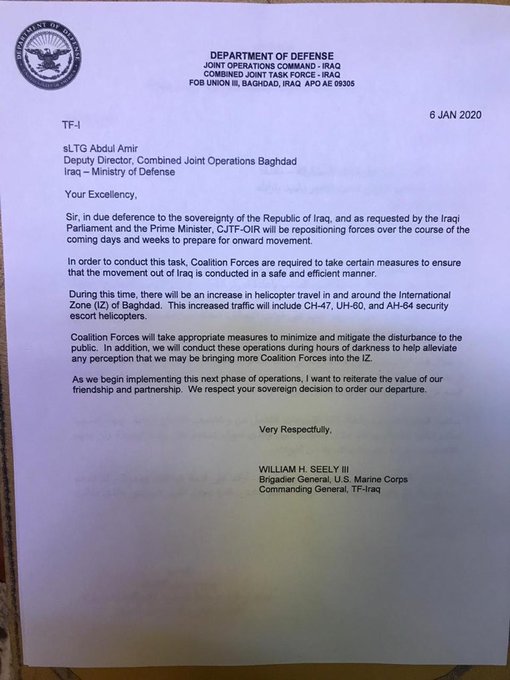 https://www.thenational.ae/world/the-americas/pentagon-says-iraq-withdrawal-letter-a-mistake-1.960854
This is just one small example of the inept leaders this country is depending on to keep us safe…..
Here is a quick look at where our troops are stationed around the Middle East……
the Pentagon announced that it was sending an additional 3,500 soldiers to the region, stationed between Kuwait and Iraq, while troops in Italy were put on standby, according to defense officials. The troop escalation came just days after President Trump ordered an additional 750 U.S. soldiers to the Middle East and 3,000 more to be on alert for future deployment, after pro-Iranian forces stormed the U.S. Embassy as part of a worsening cycle of violence.
The United States has tens of thousands of military personnel at bases and aboard ships across the Middle East, as well as arrangements with various countries to move soldiers and military equipment through airstrips and ports. Here's a look at some of these places, which could now be targets.
Every day I feel less safe with this admin in place…..and every day I feel we inch closer to a larger war in the Middle East.
I Read, I Wrote, You Know
"lego ergo scribo"