But unfortunately it is the only way we will thin out the herd of Dem candidates….tonight we begin that process to be continued Thursday night as well…..
I appears that the polls are starting to move….Biden has been in control of the polls for over a month and now he is losing votes and others are started to inch up…..
A poll out of South Carolina reflects what's going on nationally: Joe Biden's numbers are dipping while Sen. Elizabeth Warren and South Bend Mayor Pete Buttigieg are gaining ground—but not enough to take his place, the Post and Courier reports. Biden still holds a 20-point lead in the upcoming South Carolina primary, but his support has fallen from 46% in May to 37% now, while Warren has risen from 8% to 17% and Buttigieg from 8% to 11%, pushing Sens. Bernie Sanders and Kamala Harris from the top three. Composites by Real Clear Politics show similar national trends over the past month. The South Carolina Democratic presidential primary will be held Feb. 29
These debates should help some candidates and hurt others chances of ever getting to the next stage of this election…..
I offered my thoughts shortly after the candidates that made the cut…….https://lobotero.com/2019/06/14/debate-night-is-set/
The line up for the debates is as follows…..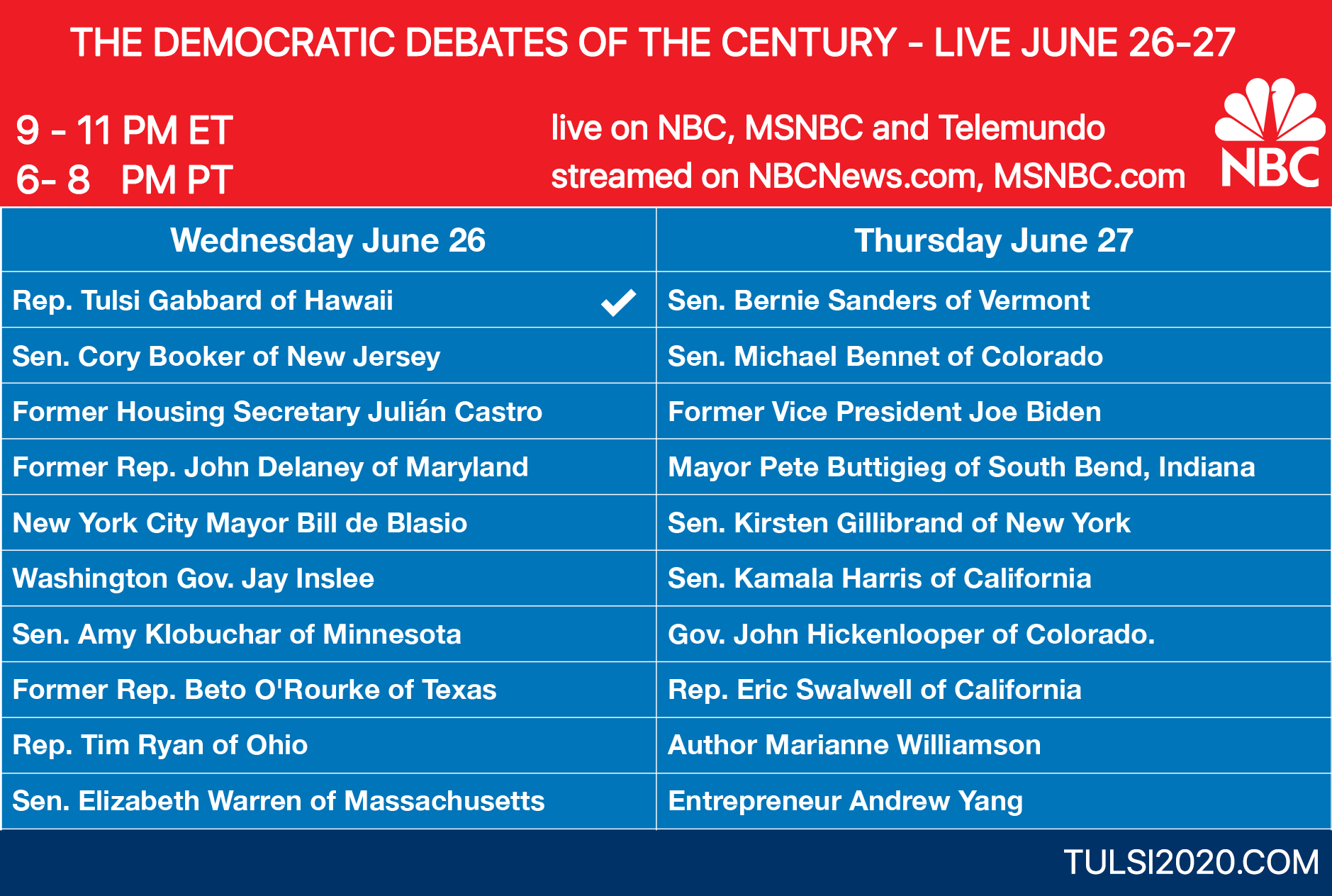 Look for a few to drop out as soon as the debates are over…..money will start getting tight…..donors will be looking for the best person to support.
A Primer for the debates…..
With 20 candidates vying for attention—a number more suited to wrestling's Royal Rumble than a traditional debate—Democrats have split the field into two groups for debates in Miami on Wednesday and Thursday nights. Republicans who took part in their party's 10 and 11-person 2016 debates, however, say Democrats could still find it a struggle. "A 10-person debate is a mess," Sen. Ted Cruz tells the New York Times. "It's a cacophony." Chris Christie adds: "With 10 people on the stage, you know, you'll get seven to nine minutes, usually, of time to talk. So it's very difficult to break through." More:

No "undercard." NPR, which profiles all 20 candidates, reports that the Democratic National Committee and NBC wanted to avoid the "undercard" debates that the GOP had for low-polling candidates. Instead, they divided them into those polling above 2% and below 2%, then split them evenly between the two nights through random drawing.
The moderators. NBC, which will air the debates starting at 9pm Eastern, says it will have the same five moderators both nights: Lester Holt, Savannah Guthrie, Chuck Todd, Rachel Maddow, and Jose Diaz-Balart.
The candidates. Wednesday night's debate will feature Elizabeth Warren, Cory Booker, Amy Klobuchar, Beto O'Rourke, Julian Castro, Jay Inslee, Bill de Blasio, Tim Ryan, John Delaney, and Tulsi Gabbard.
The frontrunners. Warren is the only one of the candidates who is polling in the top five. The other four—Joe Biden, Bernie Sanders, Pete Buttigieg, and Kamala Harris—will be onstage Thursday.
The format. Don't expect many long-winded speeches: Wired reports that each candidate will get 60 seconds to answer questions and 30 seconds for follow-ups. They will also be allowed to make closing remarks, but not opening ones.
The issues. The Washington Post predicts that there will be broad agreement on issues like health care and climate change—but it could get messy when it comes to more controversial questions like socialism, how civil to be to Republicans, how best to defeat President Trump, and whether frontrunner Joe Biden is out of touch.
If you do watch the debate then watch for Warren on Wednesday…she is the only front runner on the stage and should have a commanding spot.  But will she stand out?
I will reserve my analysis until after the last debate on Thursday…..analysis to be posted on Friday.
Be Smart!
Learn Stuff!
VOTE!