In recent weeks there has been an uptick of chest thumping by the GOP and their leader over what is happening in North Korea.
I do not normally keep my attention on the Asia region but there is too much macho bullshit coming from Foggy Bottom.
I a always on the outlook for a problem that could lead to the ultimate use of force…war.  And the language around North Korea is starting to worry me.
The US has depended on sanctions for damn near 30 years now and so far it has done little to change the situation in any way…..maybe it is time for a re-think.
The Trump administration has yet to fill out its foreign policy team—but the international challenges won't stop. There is broad agreement that North Korea is one of the central problems, if not the biggest challenge, facing the new president.

The government of Kim Jong-un won't give Washington a break. The latest mid-range missile test was routine, if unwelcome. But the apparent public assassination of Kim's half-brother, Kim Jong-nam, with deadly VX nerve agent at Malaysia's Kuala Lumpur airport, demonstrates a willingness of the North Korean regime to ostentatiously flout the international sensibilities of friend and foe alike.
Source: How to Engage North Korea | The American Conservative
But since a re-think is probably out of the question…we can always use our stand-by plan……
The Trump Administration, and Deputy National Security Adviser K.T. McFarland in particular, are seeking "outside the mainstream" options for dealing with North Korea, according to reports, and that among these options would be attacking North Korea outright.

While the US has kept a large number of troops on North Korea's border for generations now, but has long centered that deployment on deterrent factor, keeping the two sides, though technically still at war, from too much direct fighting with one another.

McFarland requested multiple options along with the usual one, citing a "fresh series of provocations" from North Korea, including a possible US military attack on North Korea and also the possibility of just recognizing North Korea as a nuclear state.

(antiwar.com)
It is truly sad that there are only two options open to the masters in DC…sanctions and/or war…..
How long?
After writing this draft further NK news has come to light……
North Korea on Monday fired four banned ballistic missiles that flew about 620 miles, with three of them landing in waters that Japan claims as its exclusive economic zone, South Korean and Japanese officials say. The move was an apparent reaction to huge military drills by Washington and Seoul that Pyongyang insists are an invasion rehearsal, the AP reports. It was not immediately clear the exact type of missile fired, but the tests will be viewed as a provocation by the Trump administration in Washington, which is working on its policy for North Korea.

At least one of the missiles landed as close as 190 miles from Japan's northwest coast, leading Japanese Prime Minister Shinzo to condemn the "extremely dangerous action," which he noted was clearly in violation of United Nations Security Council resolutions, Reuters reports. US national security adviser HR McMaster and senior South Korean presidential official Kim Kwan-jin held a phone conversation after the missile firings. The two condemned the launches and agreed to boost cooperation to get the North to face more effective sanctions and pressure, according to South Korea's presidential office.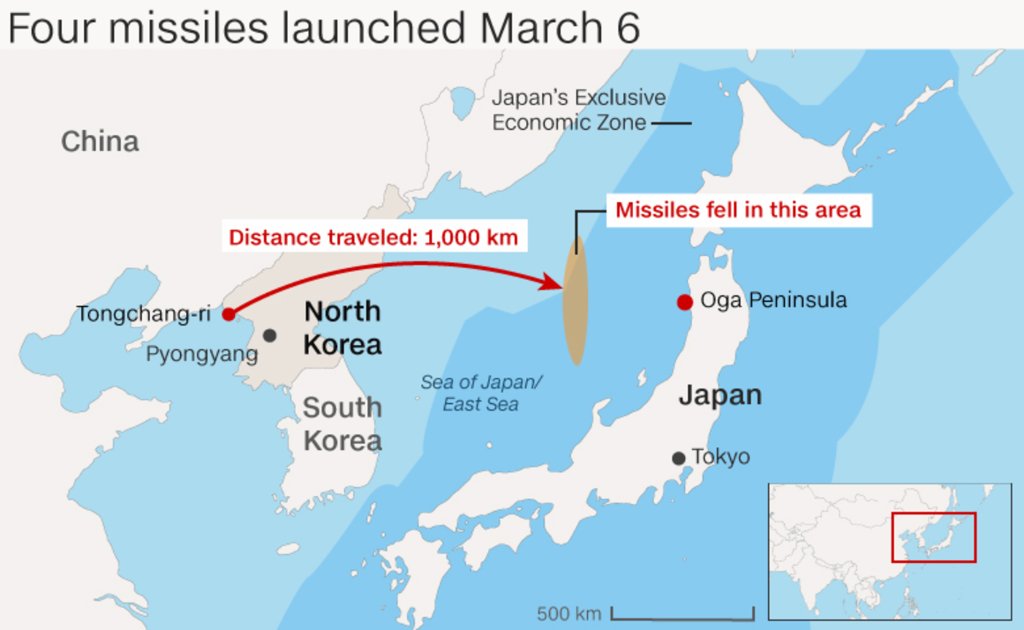 Time to get serious about North Korea….lip service has accomplished little….time to get serious.