I am sooooooo Borrrrrrrred with the election process so I think I will go off track and ask some questions…..not that I would get any answers…..does anyone have a "real" reason for voting for their fave candidate?  Is anyone taking either of the two seriously?  Really?  Why?
I have for a long time now tried to figure out just what it is about the candidates that make the people like them over the other.
To me they are just babbling twats that are trying to lie their way into the presidency….
Like I say I cannot see what makes one favorable over the other…..that is until I read this article……and now it is perfectly clear…..(not really but it is a good start)…….
A new Pew Research Center study finds that a third of Clinton and Trump supporters are most strongly motivated by opposition to Trump and Clinton.

The biggest reason supporters of Donald Trump and Hillary Clinton support their candidate is because they're not the other.

That's the finding from a Pew Research Center study of a month's worth of survey data. Pew found, from more than 4,000 interviews conducted online and by mail, that the "main reason" supporters of both candidates were voting for their candidate was because "he is not Clinton," and "she is not Trump." Almost one out of every three people said so.
Source: Donald Trump's And Hillary Clinton's Supporters Are Motivated By Opposition To The Other : NPR
It makes sense now!
It is a contest of personalities…..issue and solutions be damn!
And Americans wonder what has gone wrong with their "near perfect" system……(The obvious always alludes them)…..
All I can do is laugh at the ignorance (used that for stupidity has already been used)…..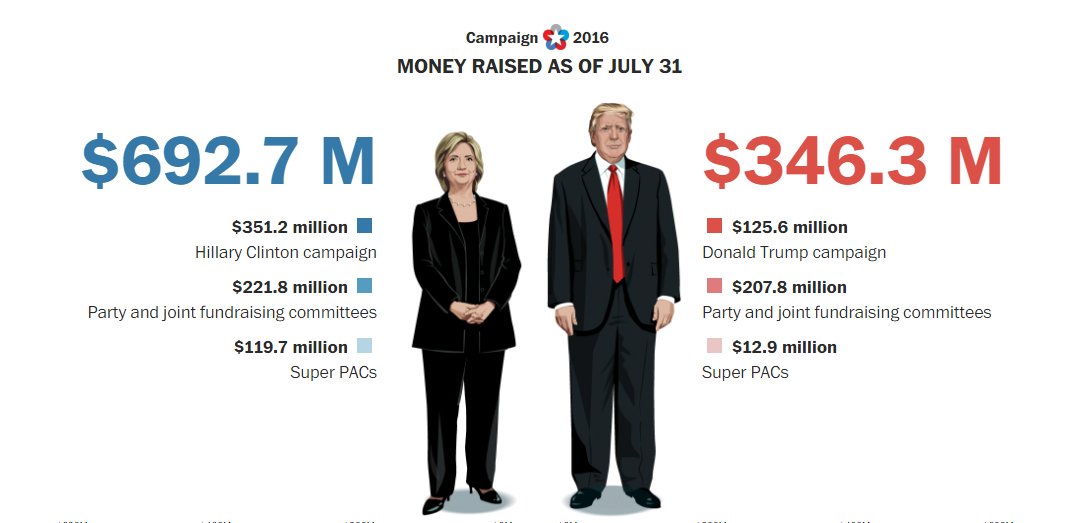 A billion…that is billion with a "B" wasted on this Reality show featuring "Dumb and Dumber"…….and you think wasting money on hungry kids is worthless…..