My Sunday begins and I anxiously await the Italian Gran Prix at Monza…..I have been a huge Formula One fan since 1959 when I was a teenager I watched my first race at the French Gran Prix held at Reims….and from then on I have been a Ferrari fan.
Also Monza is the course that my favorite driver in those days was killed in 1961…..von Trips…..I had met him in 1959 at Reims….he did not qualify for the race but was there as a spectator……I got to walk around the pits and sit in a Ferrari GP race car……as a 12 year old I was thrilled……a nice guy…..thanks to him I have a 55 year love affair with Formula One……
The Wall Street Journal gave a great remembrance of Wolfgang von Trips in 2011…..
They began the race as friends and rivals, knowing that one of them was almost certain to be crowned world champion at the end: Phil Hill of Santa Monica, Calif., and Count Wolfgang Von Trips of West Germany. They were Ferrari teammates, each a master of speed. The date: Sept. 10, 1961. The place: the Italian Grand Prix at Monza.

Two hours, three minutes and 13 seconds later, Hill had become America's first Formula One champion. Von Trips was dead along with 14 spectators-killed when his Ferrari scythed into the crowd like a helicopter blade.
Source: Formula One: Remembering a Racing Tragedy – WSJ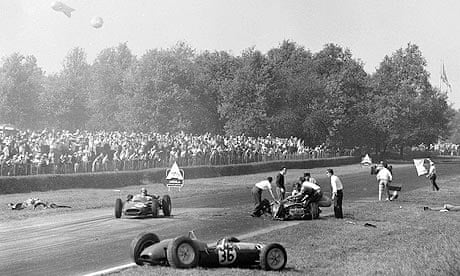 These days Mercedes seems to be the racing team to beat…they have out  run even the mighty Ferrari team for a couple of years now….to the point of the F1 races becoming a bit boring…..they are almost predictable….he who leads at the start will win…….like I said boring….the more fun in the races are the 3-10th position….everybody trying to get those points….to be truthful the better racing occurs in the minors of Formula One…GP2 and GP3…..if only that same intensity could somehow return to F1 racing….
I bring all this up because of an interview I read with F1 champion Jackie Stewart about the Mercedes and F1 racing…..
The three times world champion offers these thoughts in Simon Taylor's final 'Lunch with' interview for the magazine, and as usual with JYS there's a blunt logic to what he says. In Formula 1, it's only downhill from here for Mercedes, surely?

Stewart also has advice for another of F1's manufacturers.

"If I was Honda, I'd stay in until they become real winners," he says. "They have massive resources, and there's an awful loss of dignity for them, and for McLaren. They must stay until they get it right."

Such assertions come from the age-old assumption that car manufacturers never consider motor sport, and most pertinently F1, as a binding commitment. They come and they go, as history shows.
Source: Stewart: Mercedes should quit F1 | Motor Sport Magazine
As a Ferrari fan of course I would agree with him on all points…..but also in these days of massive sponsorship I do not think they would go anywhere…they are here to stay……besides in the 1950's there was not the massive amount of sponsors and the millions team make off of this ……back in those days there was very little sponsors…..
As you can see…there are NO tags on the cars…it was all about the racing and not so much about the PR…..the good old days…
In those early days of GP racing it was always a matter of life or death……in those days it was about the driver not the technology….no sensors, no computers, just man, car and track…..the way racing should be…….today it is wrapped up in technology….NASCAR is the only one left with driver input (mark this…it will be the only nice thing I will ever say about NASCAR)
Source: When motor racing was a matter of life and death | Richard Williams | Sport | The Guardian
There you go….a little slice of the old professor's life……
Hope all have a wonderful day……