None of us like to be told what to do by the government…..but then there are those people that will allow it as long as it does not pertain to their lives….
We are having a debate over where someone pees…..my thought is how will you determine if the person belongs there or not….the only way to do that is by becoming a peeping Tom or the person walks in with genitals a in hand and announces they are there….to me this is a silly debate to be wasting our time on…..
Then there are the people that are pissed about a gay person wanting a cake, among other services,
More than 30 ministers from around the state and nation published an open letter Monday saying the so-called "religious freedom" law goes against Christian teachings to love and respect all people. The group joins major businesses, human rights groups and legal experts in opposing the incoming law, which they say discriminates against the lesbian, gay, bisexual and transgender community.

The law lets churches and some private businesses deny services to gay, lesbian, bisexual and transgender people because of religious beliefs. It's similar to one vetoed by Georgia's governor in late March. Mississippi Gov. Phil Bryant signed the measure into law earlier this month.

Supporters of the law include the American Family Association and the Southern Baptist Convention. They say it protects those who decline services to people whose lifestyles violate religious beliefs that marriage should only be between a man and a woman; that sexual relations should only take place inside such marriages, and that a person's sex is determined at birth and is unchangeable.
Another Southern state has passed another law……this one centers around therapists but I am sure that it will be expanded……
Mental health therapists and counselors in Tennessee can now turn away gay patients or others whose "goals, outcomes, or behaviors" conflict with their "sincerely held beliefs." Republican Gov. Bill Haslam signed Bill 1556 into law on Wednesday, saying it doesn't "address a group, issue, or belief system," though opponents say it's a troubling attack on gay rights, CNN reports. The bill was created in response to the American Counseling Association's 2014 change to its ethics code, which required counselors to avoid imposing their own values on clients, the Tennessean reports.

The ACA says the Tennessee legislation, which is the only such law in the country, is an "unprecedented attack" on the profession, the AP reports. ACA spokesman Art Terrazas says the group is "extremely disappointed" that Haslam has ignored the backlash to similar "religious freedom" bills in states like Georgia "and has elected to sign this dangerous bill into law. Plain and simple, this bill codifies discrimination." The final version of the bill removed references to religion and added requirements for therapists to treat people who are in immediate danger of harming themselves or others, and to refer rejected clients to other therapists or counselors
All this is just absurd….I mean one goes into business to sell services and make money….but yet some money is different from other money?  And then when people retaliate with a boycott these same people start whining about the loss of business.
We got rid of one form of segregation (sort of) and replaced it with another…..where will this type of pure CRAP end?
Maybe this cartoon will show you…….the path of absurdity.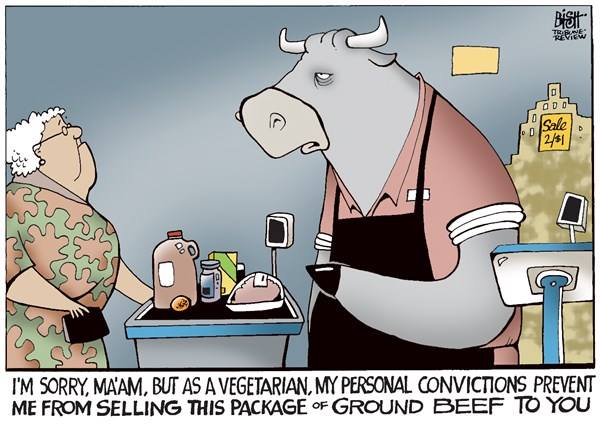 Oh wait there is even more of this conservative absurdities.
Being a single mom in Springfield, Illinois could get a little more difficult if certain GOP lawmakers get their way.

According to the proposed bill HB6064 filed last week by Reps John D. Cavaletto and Keith Wheeler, if a father is not listed on a newborn child's birth certificate, the birth certificate will not be issued for the child and any future financial assistance will be denied.
Where do these mental midgets draw the line?
What the Hell will be next for the slugs of the American political system?